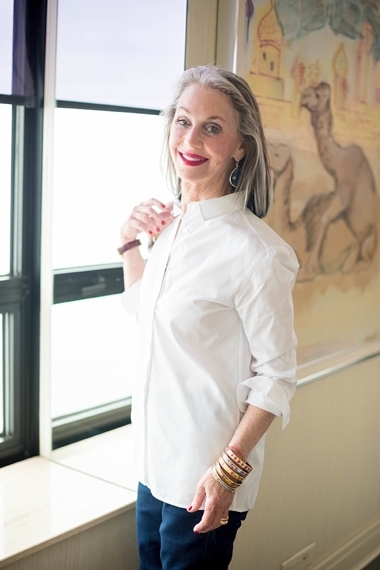 Mornings are my favorite time of the day. Why? I have the whole day to capture new moments in my life.
I am sitting up in bed with my computer on my lap, a cup of freshly brewed steaming coffee next to me on the night table, my pooch Orchid snoring softly beside me with the sun streaming in from the East. Of course, my ultimate concierge is next to me reading the Wall Street Journal and listening to the news. I stare at my husband, pooch and the stunning huge high rises outside our window on a beautiful sunny day, Sunday, January 1, 2017, and I am filled with optimism, gratitude and excitement.
"I am so busy, I am dizzy," I think to myself, smiling.
At my stage of life, to be in hustle and bustle mode is wonderfully empowering. I think to myself... I am thankful that I OWN my mom's true grit.
I am thinking of my web site, HoneyGood.com, the girls who work with me -- Carolyn, Johanna, Susan and Sarah -- the daily ups and downs of running a once-upon-a-time hobby that turned into a business, my personal life consisting of my ultimate concierge, my pooch Orchid, our children and 24 grands, a huge and demanding social life that includes, friendships, travel, charities and business and my personal time ...manicures, shopping, hair dresser, returns, etc. etc. etc. And, my alone time with my husband, Sheldon Good.
No I am not a manic woman. I am an engaged woman. I am motivated.
I like the word, motivation. A motivated woman is a force with family, friends, business and social life. Life is her carrot, so to speak. Sure she has her problems, like every other person, but she is, once again, motivated, to solve her trials and tribulations.
This morning I will share my newest stepping stone, an event that is propelling and motivating me toward my new goal.
I am revamping my website for you, dear readers. This has been an ongoing endeavor for the last five months. The baby will be born at the end of the sixth month and show her face to you on February 1, 2017.
Building a new site is really fascinating. Pretend you are going to build a home. The first thing you do is decide on your lot. Then, you hire an architect to design the home you are going to build and hire a decorator to decorate it with color and style. That, dear readers, is the way you build or redesign a proper website.
A web site has to sit on a property. I have chosen a company called Word Press, a publishing software and content management system. It allows architects and decorators to create a wide array of themes called plug-ins; a piece of software that provides the group of functions every site needs, for example the content you read and widgets that provide design and structure to the site.
Wordpress is the choice of 75 million websites. I know this is very confusing, dear readers. In simple terms, the plug-ins and widgets allow the architect and decorator to put their architecture and colorful designs onto the HoneyGood.com Wordpress site.
As in traditional architecture, the architect of a website, has to focus on the owner and her requirements. In planning a new home, an architect listens to the owner's needs because it is her job to make certain there is a beautiful flow throughout her home. The same rules for a website.
Valeria is my website architect. She had to pay attention to my personality, my way of expressing myself in content, you -- the readers who enter my space -- a business plan, the organization of my content so you, my readers, can navigate without confusion, have a positive experience finding the content easily and on and on.
Valeria was able to pick up on my personality and yours better than a shrink or "a stretch," as my ultimate concierge, calls a psychiatrist! Valeria's job as the architect of HoneyGood.com is critical and priority #1.
My decorator's name is Angela. She is an artist. Her job is to design my new website. She has redesigned the new Honey Good logo and the style and layout of all the images you will see.
She and I will pick the print you read (the font) and introduce colors I choose for my website and logo. When you see the way a page looks it will be my taste with Angela's guidance. The decorator's job is to pick up on my style and decorate the new updated site of HoneyGood.com.
So, dear readers, I have been very involved with the redesigned site as well as writing my stories and doing everything else in my very busy life. I am motivated. And it is stimulating; makes me want to rise and shine, use my mind and grow, as a person.
Yes, it is extremely overwhelming at times, and I am more frazzled than dazzled, but I am in the hunt and I want you to be, too, because it is mentally and physically healthy.
I am just as happy and motivated when I am walking with my pooch or needle pointing a new pillow or trying to make sure the brussel sprouts turn out beautifully when I bake them in the oven with sea salt and olive oil.
This is not to say that there are times I want to collapse and do nothing. I do. But I always pick myself up because I've got my mom in me: I OWN her true grit.
I hope you learned a little about designing a website. I may not know every aspect of designing a site, though I have learned much, but I do know what it takes to design a fruitful life. It is called motivation and my wish for you is that you too have a motivated 2017.
Calling all HuffPost superfans!
Sign up for membership to become a founding member and help shape HuffPost's next chapter