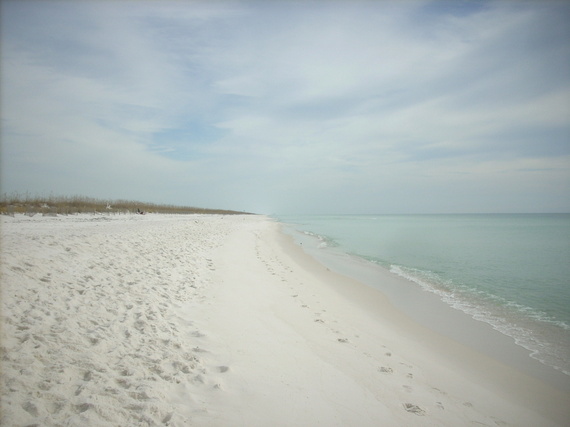 Pensacola got hit with a tornado last week, an event which raises a question: Was moving eight months ago to a place with great beaches and no state income tax a mistake?
Surely that's a question which must have occurred to someone. After all, a tornado that squashed an apartment building, uprooted trees and damaged homes is not something anyone wanted or expected. The last time a tornado touched down in Pensacola before this year was in 1988, a time when Michael Dukakis ran for president and a postage stamp cost 22 cents.
The tornado missed our house by a few miles. A shift in the weather patterns might have produced a radically different outcome. We could be among the people shivering in the night. As the old Phil Ochs' song explains, "there but for fortune go you or I."

Pensacola & The Good Life
We had lived in the Washington, DC area and after almost 30 years in the same house my wife and I wanted to move. I longed for warm weather, a beach, a smaller house, and a welcoming place to grow our communications, culinary, and
. My wife wanted warmth but also seasons and civilization. A toasty beach near the equator was out, but a home in northern Florida could work for us both.
We started visiting places and doing research. We discovered that Pensacola was roughly 18 degrees warmer than DC in the winter - and only two degrees warmer on average in the summer. The city is 136 miles from the nearest nuclear generating plant and the last local earthquake took place in 1781. The beach is immaculate, the seasons are mild and there's something else: unlike many coastal Florida towns, Pensacola has a good elevation. The city is generally 55 feet above sea level compared with just a few feet for Miami or Naples.
According to WalletHub, Pensacola is one of the best places to live in the US; it ranks 52 on a list of 1,268 best and worst small cities -- Princeton is first. There's no state income tax and housing is perhaps a half or maybe a third of what homes cost in high-priced metro areas.
Unemployment is lower than in the US generally. Two people with reasonable jobs can readily afford a mortgage - and the home they can buy here is just a few minutes from one of the ten best beaches in the US according to Trip Advisor. Plus, that house won't be far from a terrific downtown that's centered on one of the "ten best streets" in the country according to the American Planning Association.
But what about that tornado? Doesn't it change everything?
If Pensacola had tornadoes every few years and other places had objectively better weather than the local climate would be an issue, but have you watched the news lately? Yes, Pensacola had tornadoes this month for the first time in three decades but there was no Superstorm Sandy, 50,000 acres weren't on fire, and there's surely no drought.

Tornado Response
The
reports that because of the storm last week there were 44 destroyed structures, 241 with major damage and 87 with minor damage. For context, in January there were 3,063 area homes listed for sale according to PAR, the
. Listings, of course, are just a small part of the total housing stock.
The tornado struck with 155 MPH winds and surgical precision. While one townhouse cluster along the Escambia Bay was demolished, a cluster next door was relatively untouched. Where one area saw massive destruction neighboring homes had only minor and superficial damage. As these things go, it could have been far worse. At our house, amazingly, the lights didn't even flicker.
Meanwhile, in Pensacola the earth does not shake, massive fires are not a problem, the streets aren't flooding every day, drought is not an issue, there's no nearby fracking, the air is fresh, and nobody worries about three feet of snow.
The truth is that no place is perfect. Pensacola - like every community - has blemishes and imperfections, but there's a grace, friendliness, and gentility here that we have come to admire.
Moreover, this is a city where a lot of things work. When the tornado hit emergency crews were instantly on the scene, shelters were opened, donations were made, volunteers were everywhere, and people were helped. In the middle of brutal weather the police were out closing roads, one reason there were no fatalities. At one relief center 35,000 pounds of food and other goods were donated.
It's easy to get new car licenses here and at the same time you can register to vote. From our house it's about ten minutes to downtown and the international airport is just a few minutes away. The chain stores you have are pretty much the chain stores we have and Pensacolians have access to the very same Internet as everyone else.
Of course, there are also special attractions which make the area unique. There are more than 50 miles of immaculate beaches with crunchy white sand. The Blue Angels and the amazing National Naval Aviation Museum are here, as well as our historic places (Pensacola was discovered by the Spanish in 1559). The best seafood market you can imagine -- Joe Patti's -- is here and so are the Bodacious Olive and So Gourmet at Palafox and Main, treasures for anyone who enjoys culinary delights. On Scenic Highway is the wonderful and quirky Apple Market. We have a number of high-tech firms, there's a port, and it's in Pensacola that GE manufactures turbines for wind generators worldwide.
So nope, no remorse, no mistake. Things happen and they happen everywhere. I'm going to the beach.
___________________________
Published originally at OurBroker.com and re-posted with permission.