Ruth Wilson may be off having an Affair, but her red lipstick is all over the latest incarnation of BBC America's Luther (Thursday, 9 p.m.).
Idris Elba returns to star as John Luther in what's billed as the show's fourth season, and he hasn't lost a step. Apparently playing a severely damaged London detective is like riding a bicycle, if you're Idris Elba.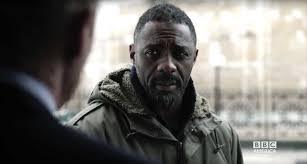 Because Luther's job is helping hunt down psychotic serial killers, humor has never been the most prominent selling point of this series. There's something amusing right up front this time, however - the idea that it's being billed as a "season."
It's actually one two-hour movie - 2:45 with commercials - and sorry, the fact it was shown over two nights in the U.K. hardly makes it even a miniseries.
Presumably because Elba is in such demand, the producers take him for as much time as they can get him. Season five, one imagines, might be an hour, followed by a 30-minute season six. Season seven will be a PSA.
It's a little frustrating for Luther fans, but it's not really a complaint, since we're still getting a couple of hours of first-rate television.
We've seen many of Luther's moves at this point, physical and psychological, but he's surrounded here by enough new and interesting people that the dynamics feel fresh.
The story picks up several months after the last episode ended. He's taking a break from the job, though not from the specter of Alice Morgan (Wilson), the very bad girl with whom he shares a bond of deeply troubled attraction.

Wilson (above) is off filming Showtime's The Affair. But without giving anything away, suffice it to say Alice plays a prominent role in this new story, albeit not always in a conventional way.
Luther's new in-the-house colleagues include, on the law-and-order side, Detective Sergeant Emma Lane (Rose Leslie), who has her own issues, but shares Luther's less than by-the-book approach to catching bad guys.
On the shady side he deals with two folks from the grey areas in which the show loves to operate. Debonair con man George Constantine (Patrick Malahide) proves both useful and annoying, while the more potentially important Megan Cantor (Laura Haddock) employs some of the same mind games Luther has always played with Alice.
In fact, some viewers might see Megan as Alice 2.0, and it's hard to deny a resemblance. She's seductive, cool, crafty, manipulative and cheerfully amoral.
She also teases Luther about the real Alice, a string-along that does not please him.
At times the Alice dance here overshadows the main cops-and-criminal storyline, which isn't easy with a villain as loathsome as this one.
Steven Rose (John Heffernan) is your basic deceptively bland psycho who feels the world has ignored him. In search of the meaningful life he's convinced he has been wrongfully denied, he turns to a pastime technically described as "cannibal eroticism."
Because Elba stays on screen for virtually every minute, his methodical style sets the show's pace just as his tormented soul sets its mood.
Also, perhaps surprising to viewers who would take as much John Luther as they can get, this story feels right at the length it's filmed. The procedural element is covered and the longer arc of Luther's battle with himself inches painfully forward.
Like the last season, this one could end the Luther story. Or not. Truth is, if you want simple, easy, clean closure, you shouldn't be watching in the first place. Reach for the clicker and gently but firmly switch to Hallmark.
In an early flashback scene Thursday, we hear Alice ask, "What's next?"
Calling all HuffPost superfans!
Sign up for membership to become a founding member and help shape HuffPost's next chapter