When the movie "Back to the Future II" came out in 1989, the joke was self-evident: Things are so crazy in the far-off world of 2015 that the Chicago Cubs win the World Series.
Then came the 2015 Chicago Cubs. Suddenly, the Cubs-defeat-Miami gag doesn't seem quite so jokey.
The Daily Herald of Arlington Heights caught up with "Back to the Future II" screenwriter Bob Gale, who explained the origin of the Cubs' famous futuristic cameo. The interview also turned up a few interesting ironies connecting the movie and the real 2015 Cubs.
"Being a baseball fan, I thought, 'OK, let's come up with one of the most unlikely scenarios we can think of,'" said Gale, who co-wrote the screenplay for the film with Chicagoan Robert Zemeckis.

"Back in the day, seeing the movie with an audience, that always got a laugh," Gale recalled.

That's where things get really interesting.
If the Cubs are to make Gale's screenplay look prescient, they'll need to defeat the St. Louis Cardinals en route to the World Series. Turns out Gale is a lifelong Cardinals fan with deep ties to St. Louis:
Gale was 7 or 8 when he went to his first baseball game, at old Sportsman's Park in St. Louis.

The Cardinals were playing the Cubs, and the hometown crowd applauded a "spectacular play" made by Ernie Banks.
When Gale wrote the movie, there was no Major League Baseball team in Miami, or anywhere in Florida for that matter. So making the Cubs defeat "Miami" in 2015 only added to disorienting nature of the story.
While the real team from Miami is in the National League and thus can't face the Cubs in the World Series, there definitely is a real-life connection between the two. In 2003, it was a the then-Florida Marlins who broke Cubs fans' hearts when the Cubs came within five outs of making it to the World Series.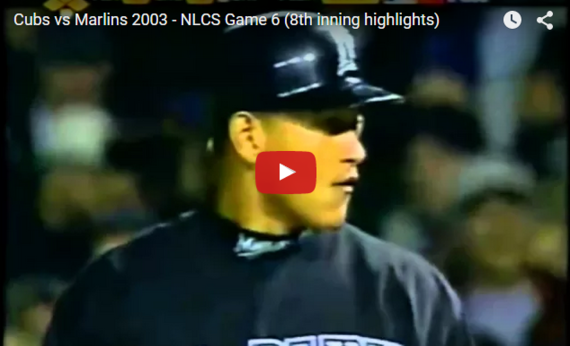 Director Robert Zemeckis, a native Chicagoan, also adds a twist to the movie's Cubs connection, the Daily Herald notes...

Calling all HuffPost superfans!
Sign up for membership to become a founding member and help shape HuffPost's next chapter