Ohio's three largest cities want to host one or both of the major political party conventions in 2016, events that could elevate the state's already high political capital and mean hundreds of millions of dollars for a city's economy.
Officials in Cincinnati, Cleveland and Columbus plan to apply to host either the Republican or Democratic national conventions. Despite Ohio's importance as a swing state in presidential elections, the state has not hosted a major political party convention since 1936. The state held five conventions since 1856, two for Democrats and three for Republicans.
Columbus 2016, a group that includes the city of Columbus, the convention and visitors organization Experience Columbus, the Columbus Partnership and both state parties, has been formed to take the lead on landing one of the events. Columbus is farther along in the planning stage than Cincinnati or Cleveland.
Landing one of the conventions can bring in as many as 45,000 visitors and up to $200 million for the local economy. However, the host cities have to raise around $50 million in private funds to be considered.
A business impact report issued earlier this year said the Tampa, Fla., region saw a more than $400 million impact from hosting the Republican convention in 2012.
Brian Ross, president and CEO of Experience Columbus, says the city is in great shape to meet the national parties' criteria to land a convention. He said Columbus compares favorably against the 2012 host cities of Charlotte, N.C., and Tampa.
"When you look at Tampa and Charlotte, our convention center is larger than both of their centers," he said. "We have a very walkable destination. The proximity of our arena to our convention center is definitely a benefit of ours."
Columbus is the fastest growing urban area in Ohio, gaining more than 150,000 residents since 1990. It is the 15th largest American city with more than 800,000 residents and 1.9 million in the region, according to recent census estimates.
Columbus is also a key market for presidential candidates. President Barack Obama, Vice President Joe Biden, Republican nominee Mitt Romney and Republican vice presidential nominee Paul Ryan made 77 visits to Columbus in 2012.
If Columbus lands a convention, the main events would likely be at Nationwide Arena, which holds more than 20,000 people. The nearby convention center on High Street could house media, according to Ross. There are also several large hotels nearby including a new Hilton and a Hyatt that could be used for security and VIPs.
"We have about 25,000 hotel rooms available and the majority of those are around (Interstate) 270," Ross said. "The travel times you're looking at is 25 minutes to a half hour maximum."
Hamilton County Republican Party Chair Alex Triantafilou said Cincinnati may be a little "late in the game."
"I've had probably a half a dozen meetings where we've had serious conversations about it. It's embryonic for sure," he said.
But he said Cincinnati's importance in the general election, especially for Republicans, could make it an attractive choice for the party.
"You need a lot of votes in southwest Ohio as a Republican candidate to counterbalance what's happening in the rest of the state," Triantafilou said.
If a convention was held in Cincinnati, U.S. Bank Arena is the most likely location of the major events. Like Columbus, the arena is just blocks from the city's convention center.
Cincinnati also has plenty of hotel rooms to house the delegates, media and others.
"Within the vicinity, we have about 3,000 hotel rooms," said Julie Calvert, vice president at Cincinnati USA Convention and Visitors Bureau.
However, because southwest Ohio traditionally goes with the Republican presidential candidate and northern Ohio tends to go Democratic, some say that the politics of the state increases the importance of winning Columbus.
"As the Columbus area has gone in the past, whether it's fallen toward the Democratic side or the Republican side is sort of how the state has gone," said Ross.
While Franklin County has gone Democratic in every election since 1996, the suburban Columbus counties are solidly Republican, causing the region to go back and forth.
In 2012, Cleveland was one of the final three cities on the Democratic Party's short list as a convention site. Ultimately, the party went to Charlotte.
Maureen Harper, chief of communications for Cleveland Mayor Frank Jackson's office, said the city also placed a bid in 2008 for the Republican National Convention, but lost to St. Paul, Minn.
With a new convention center and a resurging downtown, "Cleveland is a fantastic destination city, with outstanding amenities," Harper said.
If a convention went to Cleveland, events would likely center around Quicken Loans Arena, which holds more than 20,000 and is home of the Cleveland Cavaliers.
Both parties agree, it's Ohio's time
Ohio Democratic Party Chairman Chris Redfern and state Republican Party Chairman Matt Borges may not agree on much, but one thing they do agree on is that it is Ohio's turn to host a convention.
World War II had not started the last time Ohio hosted a national convention. This comes as a surprise to both party chairmen since every four years Ohio is a crucial swing state.
Ohio has gone with the winning presidential candidate in every election since 1964. The state has only backed the losing presidential candidate three times since 1892 going against Grover Cleveland (1892), Franklin Roosevelt (1944) and John F. Kennedy (1960).
"I'm thrilled that we have two and probably three cities that are very seriously considering," said Borges. "I think that we will end up with at least one and maybe two that go to the next step of trying to get a bid in."
Borges is concerned about three cities from the state competing with each other.
"What we don't want to end up with is a situation where we're hurting our own chances of landing one by having multiple cities compete against each other," Borges said.
Redfern doubts all three Ohio cities will be in the running, but said all three have positives.
"Columbus, Cleveland and Cincinnati all have enormous opportunities for nightlife and social events," Redfern said. 'The cities are very inviting."
Redfern was sure that Columbus and Cleveland could handle the party requirements for hosting a convention. He was not familiar with Cincinnati's effort. However, he said getting support from the business community is key for any city trying to land one of the events.
"The real question is how do you raise tens of millions of dollars to support the project? That's where the corporate community has to step forward and be enormously generous to help pay the bills," he said.
Host cities will need to raise around $50 million to help with logistics, transportation and law enforcement. "All of those things cost cities money and any time you can offset those costs through the private sector is a huge advantage," Redfern said.
Landing a convention does not mean success for a party come Election Day. Tampa hosted the GOP in 2012, but Obama won Florida. Charlotte hosted the Democrats, but Romney took the state back for Republicans after Obama won there in 2008.
Conventions could start earlier, other cities competing
Las Vegas, Kansas City and Phoenix are mentioned as possible convention locations for 2016. Two recent cities that held Democratic conventions, Charlotte and Denver, are also planning bids. Denver this time is going for the Republican convention.
Las Vegas is viewed by many as the most aggressive in its pitch to land the Republican convention. The city has already launched a website at lasvegas2016.com for the effort.
Las Vegas could be an attractive location for Republicans since the city has more than 150,000 hotel rooms and support from billionaire casino and hotel magnate Sheldon Adelson, who donated millions of dollars to Republicans in 2012. Though it has just six electoral votes, Nevada has emerged as a swing state in recent years. Like Ohio, Nevada went for Obama twice, George W. Bush twice and Bill Clinton twice.
But of the states mentioned as possible host cities, Ohio is tops on the list in electoral vote power having 18 -- the 7th highest in the nation.
In the 2012 primary cycle, Republicans held more than 20 debates or forums and some party officials believe the drawn-out cycle hurt Romney because it gave Democrats lots of ammunition for the general election. GOP sources told CNN recently that the party is looking to streamline the process and the Republican convention could be held as early as June.
An earlier convention would allow candidates to focus on the general election sooner. The last time an early summer convention was held was in 1948 in Philadelphia.
"The wrench thrown in here is the summer Olympics," Redfern said. The two weeks of events start the first week of August in Rio de Janeiro.
In recent years, the Republican and Democratic conventions have been just days apart around Labor Day, but in 2016 there could be weeks and maybe months separating the events.
By tradition, the Republican convention will be first because the party in the White House always goes last.
Cities are expected to have bids in for the Republican convention as early as late February. Borges said the cities will make presentations and then a short list will come out and the parties will do site visits to those cities. The Democratic party will be on a later schedule. Redfern said they would expect to announce a location about 18 months before the convention date.
-- History of political conventions in Ohio
Since Ohio has a large population and status as a swing state, it could be in a prime spot to land its first national convention since 1936. Here's a look at the five conventions Republicans and Democrats have held in Ohio:
Democratic Convention in 1856
Democrats held their 1856 convention in Cincinnati, then the nation's 6th largest city. At the time, Cincinnati was only behind New York, Baltimore, Boston, Philadelphia and New Orleans in population. The convention was held in Smith and Nixon's Hall and was the first national party convention outside the original 13 states. The party that year nominated James Buchanan of neighboring Pennsylvania. Buchanan defeated Republican John Fremont and former President Millard Fillmore, who was then running on the American Party ticket. Buchanan however lost Ohio to Fremont.
Republican Convention of 1876
One of the earliest national Republican Party conventions was in Cincinnati in 1876. The convention was held at the Exposition Hall from June 14-16. The party nominated fellow Ohioan Rutherford B. Hayes, then serving as governor. According to the 1870 census, Cincinnati was the 8th largest city in America at that time. Now it is the 65th largest city, the metro area ranks 28th. Hayes won Ohio on Election Day and also won nationally, defeating Samuel Tilden to become the 19th president of the United States. However, it was one of the few elections where the loser actually won the popular vote.
Democratic Convention in 1880
The last time a Democratic convention was in Ohio was in 1880. At Cincinnati's Music Hall, the party nominated Civil War General Winfield Hancock of Pennsylvania. The vice presidential nominee was William English from neighboring Indiana. The Republican nominee was Ohioan James Garfield. The race was one of the closest in American history. Garfield won 48.3 percent of the popular vote to 48.2 percent for Hancock. Garfield easily won the electoral vote 214-155 and won Ohio.
Republican Convention in 1924
The Republican convention in 1924 was at Cleveland's Public Auditorium and the party re-nominated President Calvin Coolidge. At the time, Cleveland was the 5th largest city in America. It was larger than Boston or Philadelphia. It is now the 48th largest city in America and the 29th largest metro area. This was the first Republican convention to give women equal representation. Coolidge went on to win Ohio's then 24 electoral votes and easily defeated Democrat Charles Bryan and Progressive Party candidate Robert La Follette.
Republican Convention in 1936
The last time Ohio had a convention was in in 1936 when Republicans returned to Cleveland's Public Auditorium. The building is actually still in use and held the 2012 Rock and Roll Hall of Fame inductions. In 1936, the party nominated Gov. Alfred Landon of Kansas. In the 1930 census, Cleveland was the 6th largest American City, right behind Los Angeles. The city of Cleveland then had more than 900,000 residents. In 1936, Ohio had 26 electoral votes. It now has 18. The election of 1936 was one of the most lopsided in American History. President Franklin Roosevelt defeated Landon, 523 electoral votes to 8. FDR easily won Ohio that year with 58 percent of the vote, the highest of his four elections. ___
(c)2013 the Dayton Daily News (Dayton, Ohio)
Distributed by MCT Information Services
Before You Go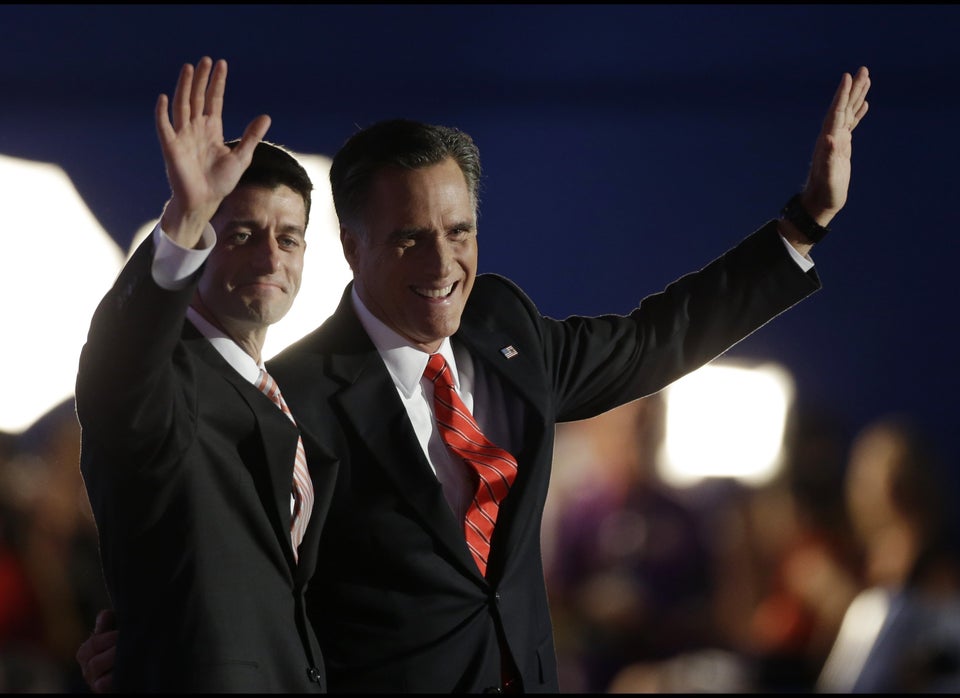 Republican National Convention 2012
Popular in the Community