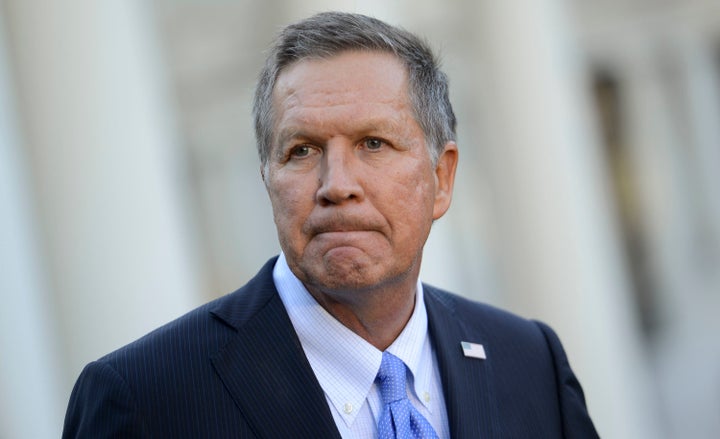 WASHINGTON― Ohio Gov. John Kasich (R) signed a 20-week abortion ban into law on Tuesday, making the state the 18th to do so. 
At the same time, the governor vetoed a bill that would have banned abortions after six weeks of pregnancy― before many women even realize they're pregnant. Nicknamed the "heartbeat bill," it would have threatened doctors with up to a year in jail if they performed an abortion after detection of a fetal heartbeat. The law would have been the most extreme anti-abortion restriction in the country.
Ohio's Republican-controlled House and Senate passed both the six-week ban and the 20-week ban last week. Kasich, who strongly opposes abortion rights despite his reputation as a moderate, was expected to sign the 20-week ban.
The Supreme Court's decision in Roe v. Wade protects a woman's right to have an abortion up until the fetus is viable outside the womb, around 22 to 24 weeks of pregnancy. Fewer than 1 percent of abortions occur after 20 weeks, and most women who make the decision at that point have discovered a severe fetal anomaly or health issue that had not been detected earlier in the pregnancy.
Kasich said the heartbeat bill was "clearly contrary" to current Supreme Court rulings, and that the 20-week ban is "the best, most legally sound and sustainable approach to protecting the sanctity of human life."
But abortion rights advocates are more concerned about the 20-week bans than the six-week ban, because the latter has no chance of standing up in court, while the former could actually be a vehicle to overturn Roe.
Reproductive rights supporters have been fiercely protesting the Ohio abortion restrictions, attaching coat hangers to the fence of the Statehouse to remind lawmakers of a time before abortion was legal when women resorted to dangerous measures to end their pregnancies.
Dawn Laguens, a spokeswoman for the Planned Parenthood Action Fund, said the 20-week ban is "just another shameful attempt by John Kasich to make abortion illegal."
"Kasich is on a mission to make abortion illegal in Ohio, and he's intent on using smoke and mirrors and backdoor politics to do it," she said. "He may hope that by vetoing a six-week ban – which would have virtually banned abortion with almost no exceptions – he comes off as moderate. But Ohio women see right through this and reject this extreme agenda. The 20-week ban will force women to travel long distances and cross state lines in order to access safe, legal abortion –– a barrier that many women simply cannot afford."
Calling all HuffPost superfans!
Sign up for membership to become a founding member and help shape HuffPost's next chapter
BEFORE YOU GO