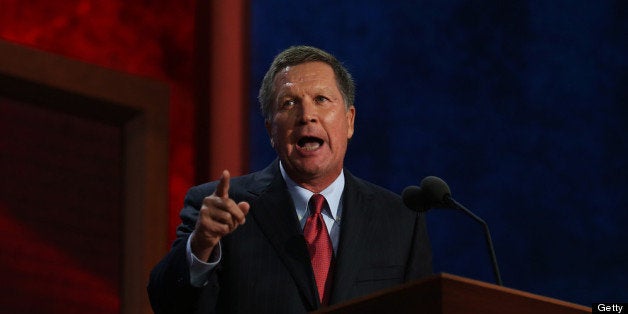 Last week, as the Ohio legislature was wrapping up work on our state budget, representatives from the furthest reaches of the right wing took the opportunity to sneak in several provisions that attack women's health. Instead of vetoing these ridiculous provisions, Governor Kasich supported the legislature and signed the bill into law.
Ohio residents expect their representatives to keep their eyes focused on growing Ohio's economy, improving education, creating jobs, and simplifying tax policy for middle class families. But last week they showed that they're more concerned with looking for ways to limit the rights of women to make decisions about their own health care. We all should be disappointed.
Here are three of the provisions that were crammed into the state budget last week:
FORCED ULTRASOUNDS. The Ohio budget would require doctors to inform women in writing of the presence of a fetal heartbeat, detected by using an external ultrasound, before performing an abortion. However, because doctors would be subject to criminal and civil penalties if they do not provide written notification, it's likely that an invasive, trans-vaginal ultrasound would be required if the heartbeat could not be detected using an abdominal scan -- as is often the case in the first trimester. This provision also changes the definition of the words "fetus" and "pregnancy," impacting access to many commonly used forms of birth control.
ATTACK ON WOMEN'S HEALTH CARE. The budget would defund Planned Parenthood and prevent public hospitals from having emergency transfer agreements with clinics that provide abortion services. As a result, clinics will be forced to secure legally required transfer agreements with private hospitals, which may choose to not enter into such an agreement. This is nothing but a scheme to reduce health care options for women. It will force clinics to shut down, preventing women from having access to clinics that provide safe, legal procedures, leaving some women to make choices that put their health -- and lives -- at risk.
MAKE AFFORDABLE CARE LESS ACCESSIBLE. The budget also changes how federal grant money for family planning may be used. Instead of continuing to provide high quality, affordable health care to a large number of patients at the lowest cost via channels we know are working, it eliminates competitive bidding to divert the funds to smaller, private entities that simply can't handle the number of patients that Planned Parenthood can.
Some politicians in Ohio have explicitly said their goal is to make our state more like Texas. So there's a great irony that, just as one brave woman in Austin was standing up to protect reproductive health choices for women, men here in Columbus were plotting ways to take them away.
Ohio residents would be better served if their governor and representatives in the Statehouse focused on the real priorities impacting our families every day instead of looking to drive a wedge into a place where it doesn't belong.
The fact is, the only way to ensure Ohio has a government that shares the priorities of common sense, middle class families is to demand change. When our governor and the members of the far right in the legislature use our budget to advance their extreme agenda, it's time for new leaders to step up and get us back on track.
I refuse to believe that these are the kind of decision makers we want leading our state. We can do better.
I encourage every Ohio resident who shares my outrage over the budget and its misplaced priorities to get involved, register to vote, and take action.
Connie Pillich currently represents the Cincinnati area in the Ohio House of Representatives. She is a Democratic candidate for state treasurer.
Popular in the Community