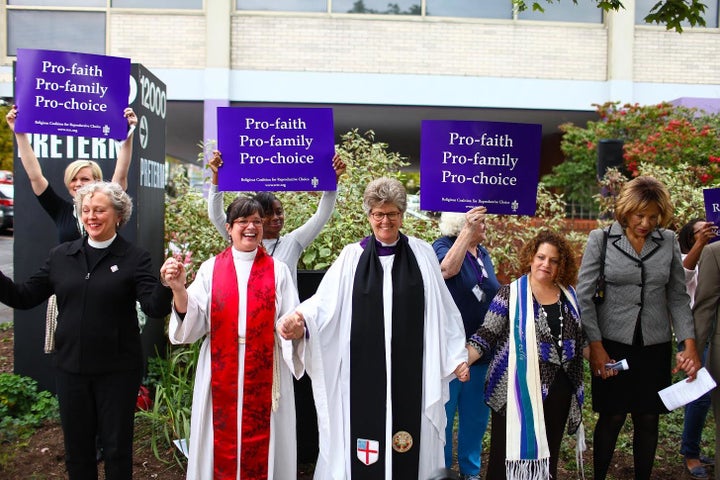 Few would guess that a religious group assembled outside an abortion clinic was there advocating for women's reproductive rights. Last week in Ohio, a group of clergy members tried to change that.
The Religious Coalition for Reproductive Choice (RCRC), a pro-abortion rights coalition of leaders from different faiths, gathered at and blessed the Preterm abortion clinic, which has operated in Cleveland since 1974, last Thursday as part of its mission to show women that some religious people do support a woman's right to choose, despite how vocal the opposition from wings of more conservative faiths is.
"We want to show the clinic staff and the women who obtain their services and the community that there are people of faith who do believe that abortion is sometimes necessary and that it should be done in a safe, dignified way without shame," Rev. Laura Young, a United Methodist minister who serves as the executive director of the RCRC Ohio affiliate, said. "The religious right has really hijacked the conversation on this issue, and we need to let women know that there are people of faith who are in favor of safe and legal abortion."
She estimates that about 40 people participated in the gathering, including about 15 clergy members.
"There were many people who were tearful, who were visibly moved," she said, describing the moment when all the clergy in attendance circled around the clinic's staff and patients.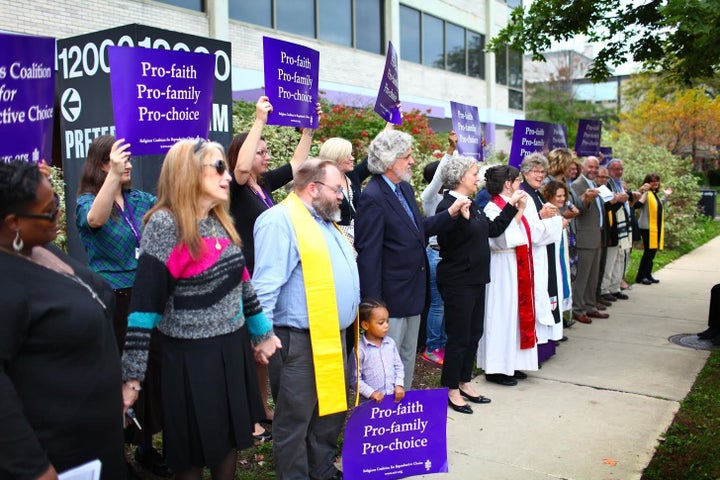 "We laid hands on [the patients and staff] and prayed," she said. "People were praying for healing and praying for justice, and they were visibly moved. The staff of the clinic suffers so much abuse from protesters outside of the clinic just about every day."
Chrisse France, executive director of Preterm, said she was grateful for RCRC's presence.
"At a time when abortion care providers are under attack, we are so thankful to be surrounded by the faith community as they share their powerful voices in saying no to the shame and stigma," she said at the event, The Columbus Dispatch reported.
In a prepared statement to the crowd, Rev. Harry Knox, the president of the RCRC, declared to the crowd, "I'm here today standing alongside my fellow clergymen and clergywomen to say: Thank God for abortion providers," the Dispatch reported.
Support from pro-abortion rights religious leaders is especially needed in Ohio, Young said, where it's becoming increasingly difficult to seek an abortion. She and her colleagues are currently working on preventing four bills from passing in the state that would further restrict abortion access: an effort to defund Planned Parenthood, a bill that would ban abortion once the fetus's heartbeat is detected, a bill making it illegal for providers to perform an abortion after 20 weeks gestation and a bill making it illegal for women to choose to end a pregnancy at any time if it is determined the child would be born with Down syndrome.
"It's rough in Ohio," Young said.
One of the biggest challenges her group faces is getting clergy members who support abortion rights to be more vocal about it.
"You're not hearing about abortion from progressives at the pulpit because it's such a divisive issue," she said. "The progressive religious community has really sidestepped the conversation."
She said it "breaks her heart" to think about women sitting in church pews not hearing that support vocalized from her faith leaders.
"We need to believe out loud," she said. "We need to stop the silence."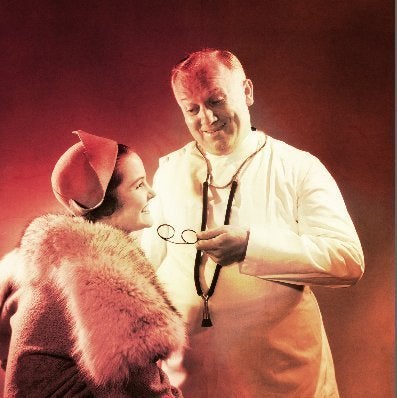 Myths About Abortion That Need To Be Busted
Popular in the Community