 WASHINGTON -- A number of Ohio voters who asked for absentee ballots may have had their requests incorrectly rejected because of a glitch in Ohio's voter registration records, reports The Plain Dealer of Cleveland.
The newspaper writes: "Even though the deadline for voters to register or change their address was three weeks ago, Ohio Secretary of State Jon Husted [R] just this week sent about 33,000 updated registration records to local elections officials. The local boards had to immediately process the records to ensure those voters could properly cast a ballot in the Nov. 6 election."
It's unclear how many applications for absentee ballots were rejected in the state because of the delay that impeded election offices from having voters' current addresses. The newspaper said the delay was caused by "a breakdown in the data-sharing partnership between the Secretary of State and the Bureau of Motor Vehicles."

"The secretary of state needs to explain why this happened," Ohio state Senate Democratic Leader Eric Kearney told The Plain Dealer. "We're just very concerned about the confidence people have in the voting system in this state."
Democrats have raised concerns that Republicans, in trying to win Ohio for Republican presidential hopeful Mitt Romney, may be intentionally making it harder for Democratic-leaning voters and minorities to vote, as Alec MacGillis recently reported in an in-depth article for The New Republic. Republicans typically respond to Democrats' claims by saying they are only trying to crack down on voter fraud and ensure that only eligible voters cast ballots.
Here are some other election-related items from around the country this week that The Huffington Post found:
-- In Greenville County, South Carolina, the crash of the state's electronic voter registration list on Tuesday caused a 2 1/2 hour delay for some voters who were casting absentee ballots, according to the Greenville News. The normal waiting time for people voting at County Square is around 30 minutes, Conway Belangia, the county's director of voting and registration, told the paper.
-- In Marion County, Ohio, a voting machine malfunctioned on Monday and repeatedly tried to change one resident's vote for Mitt Romney to a vote for Barack Obama, the Marion Star reported. Voter Joan Stevens selected Romney's name on the electronic touch screen three times until her choice was properly recorded. "You want to vote for who you want to vote for, and when you can't it's irritating," she told the newspaper. Sophia Rogers, director of the county's board of elections, said the machine was recalibrated and should now work properly. Residents who worry about electronic voting in Ohio can request a paper ballot instead.
-- Because of Hurricane Sandy's disruption of election offices in eastern Pennsylvania, Gov. Tom Corbett extended the deadline for voters to ask for absentee ballots by two days, to Thursday at 5 p.m., according to the Washington Post. But the Republican governor hasn't extended the Friday deadline yet to return absentee ballots. The storm is also impeding the processing of new voter registrations. In Philadelphia County, election officials are trying to process 28,000 new registrations in time for Election Day, according to Ellen Kaplan of the Committee of Seventy, a nonprofit voting advocacy group.
-- And the Associated Press' Curt Anderson writes in a compelling story that, as the election nears, more misinformation about voting instructions is being circulated across the country. He writes: "With a week to go until Election Day, the nasty campaign tactics are coming out. People in Florida, Virginia and Indiana have gotten calls falsely telling them they can vote early by phone and don't need to go to a polling place. In suburban Broward County, Fla., a handful of elderly voters who requested absentee ballots say they were visited by unknown people claiming to be authorized to collect the ballots."
Support HuffPost
The Stakes Have Never Been Higher
Before You Go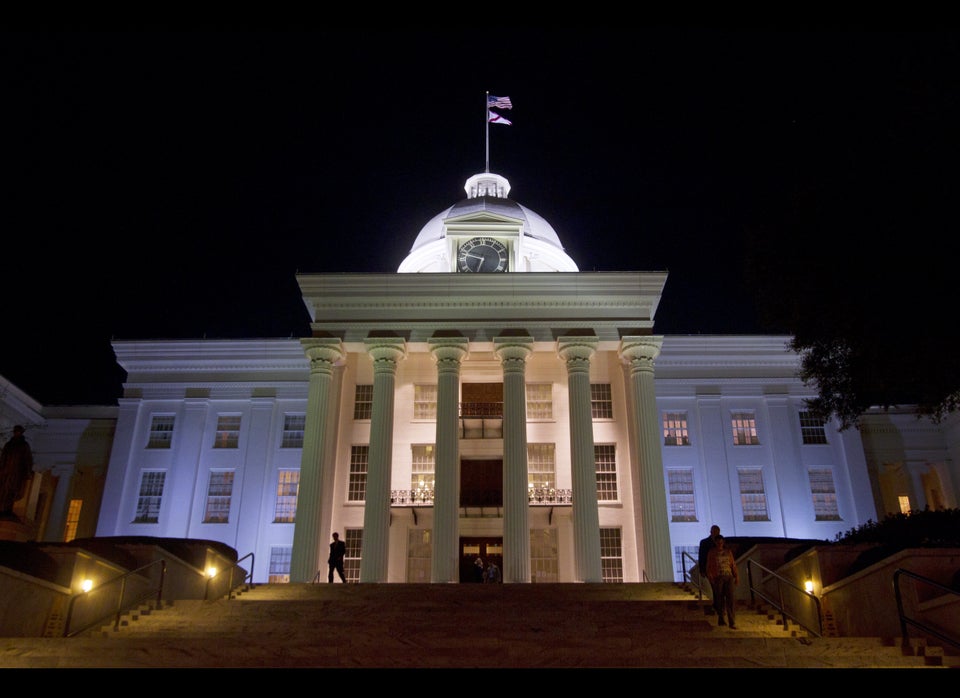 U.S. State Capitol Buildings
Popular in the Community