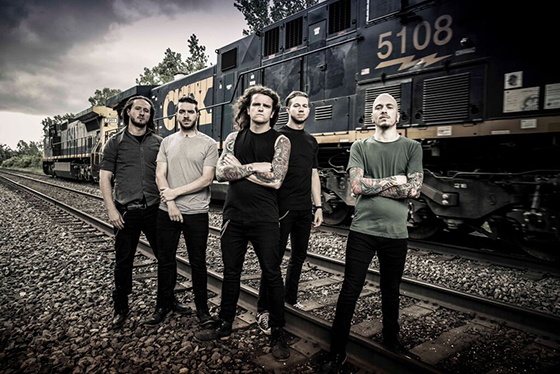 Miss May I is a five-piece metalcore band from the town of Troy, Ohio. Not exactly one of the big cities in Ohio, but they were able to take advantage of the awesome MySpace era for music and catapult themselves into a thriving band since their debut album Apologies Are For The Weak in 2009. Coming out a great class of late 2000s Midwestern metal bands of all flavors, Miss May I is just a group of close friends that have been able to live the life to play music everyday since they formed and even got signed to Rise Records while still in high school.
Just before they embark on a tour with We Came As Romans, I was able to chat with Miss May I's lead singer Levi Benton about touring and the band's beginnings.
You are about to tour with We Came As Romans. How is tour life for you guys? Does everyone enjoy it?
Oh yeah, we've been doing it for so long, its like home to us. We've been touring since 2009, so we to tour. I'm actually going a little crazy being home for so long.
When you're on tour, what do you do to decompress?
We work out a lot on tour, at least me and our drummer Jarod [Boyd] do. We've been doing a lot of stuff. We also play a lot of video games, really big on the online video games.
When you're on stage, what goes through your head up there?
You know what, its really weird. It's sort of like you black out, like I don't remember what I really think about when I go up there. We all think when we go up to be the best band that's there that day or best playing that night, and that's always our main goal, but then you put so much into it and you zone out playing the songs that you sort of just space out and forget what happened. There's nothing like it, I can tell you that.
Since the band's inception, you've pretty much retained the same lineup. Why do you think you were all able to stay together for so long?
I think its because we're just basically all best friends. We don't really think of it as a job, even though it is our job and it's our main thing we do, its never felt like that on stage. So to us, its just five best friends that get to jam every night and there's a lot of people watching. I think that's why we've been able to keep the original lineup.
When you look back to those early years of forming the band on through the first album Apologies Are For The Weak, what are your memories of that time?
Oh man! That was just the best time ever because we wanted everyone to hear us. Like right now, we've been around for so long, that we're just doing our thing and experimenting with being musicians. At that time, it was just different because we just wanted people to hear us and know who we were. I don't know. It's hard to explain what was going through our minds. It just felt like a kid in a candy store. Everything was so new and fresh. Every city we never played when we were there, like our first in Chicago, first time anywhere, I just remember going out into the crowd and selling our CDs. We just wanted everybody to hear us. Real good time.
How did this band originally form?
Basically, just playing in high school. We needed something to do after school and that was our go-to was to just start jamming. We played a bunch of covers at first and we never really had legit written songs or anything, but I think our junior of high school, we started playing and no one came. There was like 10 or 30 at shows, so we started writing our own stuff, then we sort of blew up during the MySpace and shows got to like 500-600 kids locally, then record deals started coming in. We signed a record deal when we were still in high school and we toured ever since.
You guys are from Troy, Ohio. That's like half hour from Dayton and longer to Cincinnati or Columbus. What's its like there? How were you able to jump off this band from Troy?
Just playing a lot of local shows. It was really hard. If it wasn't for MySpace, I feel like we wouldn't have jumped off because the Internet had such a big part of people hearing us and knowing what we were about. There was so many amazing bands at that time. It was just a weird time, not weird, but amazing time in music in Ohio. Our local shows consisted of The Devil Wears Prada, Attack Attack!, Twenty One Pilots, I See Stars, The Crimson Armada, At The Throne of Judgment, We Came As Romans; all those signed now that have done all these big things, that was local shows back when we were growing up. It was sort of a phenomenon at the time. It sucks because I'm waiting for that to happen again in another state, like wow, so much stuff is coming from here, but we were part of that. It was really cool because now to see everyone grown up and doing big, great things, it's just great to remember playing in VFW Halls for 10 people with your band. That's awesome.
Miss May I play The Crofoot in Pontiac, Michigan on Sunday, April 17th along with We Came As Romans, Wilson, Sworn In and Behind The Silence. For more information on Miss May I, visit missmayimusic.com.
Calling all HuffPost superfans!
Sign up for membership to become a founding member and help shape HuffPost's next chapter