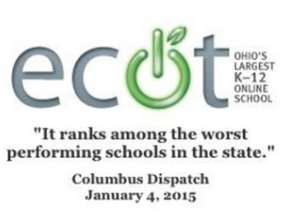 "You can't make a silk purse out of a sow's ear" is an old English proverb (c. 1500) that basically means you can't turn something ugly, a pig's ear, into something beautiful, a silk purse. Can we blame the pro-charter school Thomas B. Fordham Institute from arguing that ugly features of the Ohio charter school system will somehow miraculously become beautiful if we give reform a chance? You bet we can and better! Fordham and other charter school advocates including President Donald Trump of Secretary of Education Betsy DeVos are pressing for the adoption of seriously flawed charter schools all over the country.
The Ohio State auditor is demanding that companies owned by Bill Langer, founder of the charter school network ECOT (Electronic Classroom of Tomorrow), return millions of dollars to the State Education Department, money they "over-collected" because of inflated attendance claims. An attendance review found that ECOT was paid for 9,000 more students in 2015-2016 than it could document, an almost 40% overstatement.
A business, not a school system, ECOT is threatening to shut down its programs in the middle of the school year if the Ohio State Education Department does not stop efforts to recoup what may be as much as $60 million. That could mean 600 lay-offs as well as suspended education for thousands of students. Ohio has already started to reduce monthly payments to ECOT to collect what it claims must be reimbursed. ECOT is seeking to block state education using Ohio courts. Smaller online Ohio "schools," also really businesses, have joined the ECOT legal challenge.
According to a report in the Columbus Dispatch, ECOT may have been using tax dollars targeted for educating students to purchase political commercials attacking the Ohio Department of Education. The ECOT Board of Directors authorized unlimited spending on a "strategic communications" campaign in response to what they consider "negative portrayals" of the school.
The school's non-profit corporation board "authorizes and approves the allocation of any funds at the (school's) disposal to be paid to vendors, professionals, or other outside entities for purposes of defending the corporation and/or promoting the mission."
A National Education Association report documents that "one out of every six dropouts in Ohio are ECOT students. More ECOT students either leave or fail to finish high school within four years more than at any other school in the nation. And ECOT repeatedly scores F's on state report cards." Becky Higgins, president of the Ohio Education Association called ECOT "the poster child for the worst of Ohio's struggling charter schools." ECOT requested that the State Education Department designate it as a dropout-recovery school to avoid being closed because of low student-achievement scores.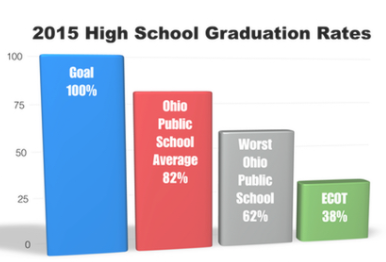 ECOT is only one of the Ohio charters under investigation by state auditors. Educational Service Center of Lake Erie West, is being ordered to return almost a million dollars it was overpaid because of inflated enrollments. This is the first time Ohio is demanding repayment from contractors and sponsors who received state money channeled through charter "e-schools."
State Auditor Dave Yost, while demanding the refunds, argued "If a school was overfunded, it must not result in a windfall profit for a private company, while the school itself suffers with reduced funding." Yost also threatened to penalize the schools and school board members if the money was not collected. "They have a public duty and we're going to insist they follow that duty and get that money back for the kids." ECOT's Board President accuses the Ohio Education Department of being "unelected bureaucrats" who are attacking the school because it threatens the "education-industrial complex."
The pro-charter Fordham Institute basically attributes the financial issues to growing pains, rather than systemic flaws inherent in the privatization of education. It argues that a 2015 modification in the Ohio charter school authorization law reversed "years of poor oversight" and strengthened accountability while " protecting the very school-level autonomy that is essential to the charter model." The "modification took 17 years to pass, and is now being challenged by ECOT in the Ohio courts.
Fordham has already declared, "Bottom line, implementation is on the right track, bringing promising changes to the state's charter school sector. If policy makers can maintain rigorous and faithful implementation, it will become increasingly likely that Ohio's recently enacted charter reforms yield positive results."
The Fordham report excuses charter malfeasance quoting Paul Berman of the Rand Corporation and paraphrasing 18th century Scottish poet Roberts Burns to the affect that "The best laid plans of social reform invariably go astray." A better quote is "You can't make a silk purse out of a sow's ear."
Related
Popular in the Community