The Cincinnati police department said it's reviewing its policies after an Ohio police officer used an electroshock weapon on an 11-year-old girl accused of shoplifting, an incident which prompted local city officials to call for a "complete investigation."  
Police said it all started inside a Spring Grove Village store around 9:30 p.m. Monday. The girl, a fifth grader who is not being identified because she is underage, was allegedly spotted taking merchandise at a Kroger grocery store and placing it in a backpack. Police claim that when an off-duty police officer approached the girl, she "ignored the Officer and continued to walk away." That's when the officer then shocked the child with the Taser's prongs, hitting her in the back.
Authorities have not defended the officer's actions. 
"We are extremely concerned when force is used by one of our officers on a child of this age," Cincinnati Police Chief Eliot Isaac said in a Tuesday statement. "As a result, we will be taking a very thorough review of our policies as it relates to using force on juveniles as well as the propriety of the officer's actions."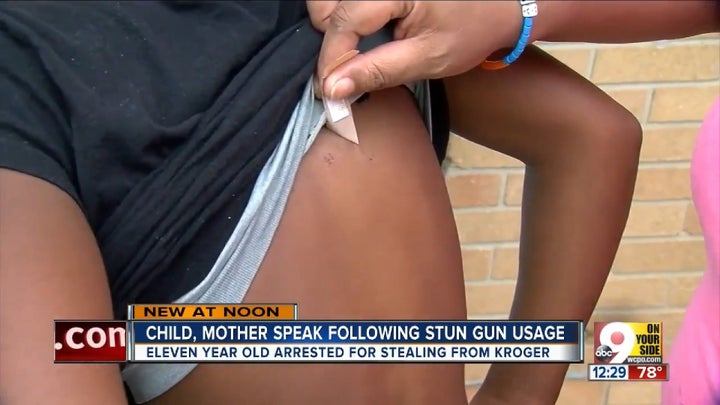 The manufacturer of the device, Axon, formerly known as Taser International Inc, did not respond to a request for comment from HuffPost. They note "some individuals may be particularly susceptible to the effects" of its weapons. They identify an array of "higher-risk populations" and other vulnerable groups, including children.
 The girl was taken to Cincinnati Children's Hospital, where she was checked out and eventually cleared for release into a guardian's custody, police said.
The Cincinnati Enquirer identified the officer as 55-year-old Kevin Brown. He was reportedly wearing a body camera when he used the stun gun on the child, but he did not activate it until after the Taser was used.
Vice Mayor Christopher Smitherman, chairman of council's Law and Public Safety Committee, told City Council members there needs to be a "complete investigation" of the incident.
"It's hard to understand why an 11-year-old would be tased," he said. "I expect answers."
"Children suspected of shoplifting who are guilty of nothing else than walking away from an officer should not be tased," a spokesperson for the ACLU of Ohio told HuffPost on Wednesday. "It's widely known that children of color receive worse outcomes from police encounters than white children and this story reinforces the truth behind that horrible narrative. The Cincinnati Police Department should look into any officer who resorts to such extreme force on an 11-year-old girl."
The girl's mother, Donna Gowdy, told WCPO Cincinnati Wednesday she doesn't believe children should be shocked with a Taser. She said her daughter is still in pain.
"If you can't run, then you need to get off the police force," Gowdy said. "If you can't handle an 11-year-old child, then you really need to get off the police force. You here to protect these kids."
Police charged the child with theft and obstruction of justice after the encounter. The girl is set to appear in Hamilton County Juvenile Court at a later date. Brown has been placed on restricted duty pending the outcome of an internal police investigation, according to a spokesperson for the police department. 
This article has been updated with a statement from the ACLU of Ohio.
Calling all HuffPost superfans!
Sign up for membership to become a founding member and help shape HuffPost's next chapter
BEFORE YOU GO