Two on-duty Ohio sheriff's detectives used racial epithets with co-workers while discussing the 2012 killing of Florida teen Trayvon Martin, according to a secret recording made by one of the deputies.  
A deputy who no longer works for the Hocking County sheriff's department recorded colleagues in 2013 calling Martin "n-----" and "thug" multiple times. One of the detectives used an accented voice to mock African-American callers to a radio program expressing outrage over the slaying of Martin, 17, by self-appointed town watchman George Zimmerman. 
The recording, made by former deputy Jeremy Dye, was first reported by the Logan Daily News last month. The Huffington Post independently obtained a copy of the audio this week. Dye declined to comment.
The recording features Patrick Allison, who left the department after learning of the tape, joking about starting a business that sells crosses to burn in the yards of black people.  
"We should make a little money if they all pay us to burn crosses in negroes' yards," Allison says on the recording. "We could sell portable crosses like a wood cross with a base. It could have the fire starter chunks built in it."
Edwin Downs, who still works for the sheriff's department, also used offensive language on the recording. "Maybe you shouldn't be black," Downs said, referring to African-Americans worried about their children's safety after Martin was shot.  
The sheriff's department required Downs and Allison to take racial sensitivity training "as soon as we heard about this incident," a spokesman told the Logan Daily News. 
"Of course, I don't condone that at all, from them or anybody," Sheriff Lanny North told the Columbus Dispatch. "We should be setting an example."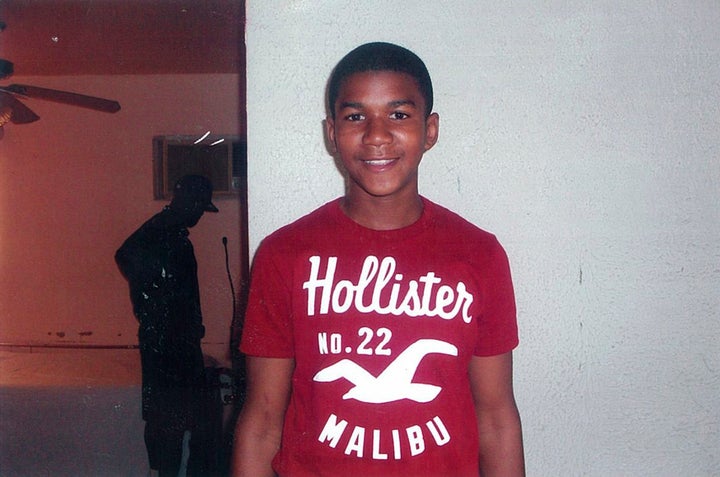 Hocking County, in southeast Ohio, had a population of 28,725 in 2014. More than 97 percent of residents were white and 0.7 percent were black, according to the census.
The recordings came to light last year in a roundabout way, as part of a lawsuit filed by Hocking County Coroner David Cummin against North, Downs and other local officials. Cummin sued for malicious prosecution and intimidation of a public official after he had been accused of failing to do his job, according to The Columbus Dispatch. The case against Cummin was thrown out. 
"Obviously someone is using them [the recordings] to try make them as public as possible to discredit Detective Downs and the sheriff," said attorney Randall Lambert, who represents Downs and North in the civil case. 
Calling all HuffPost superfans!
Sign up for membership to become a founding member and help shape HuffPost's next chapter
BEFORE YOU GO
PHOTO GALLERY
Powerful Black Lives Matter March In Washington