ANDREW WELSH-HUGGINS, AP Legal Affairs Writer
COLUMBUS, Ohio (AP) — Trying again to execute the country's only survivor of a botched lethal injection amounts to cruel and unusual punishment and double jeopardy, according to lawyers fighting a second execution try.
Romell Broom, 59, was sentenced to die for the 1984 rape and slaying of 14-year-old Tryna Middleton after abducting her in Cleveland as she walked home from a Friday night football game with two friends. The Ohio Supreme Court heard arguments from Broom's attorneys on Tuesday.
His 2009 execution was stopped by then-Gov. Ted Strickland after an execution team tried for two hours to find a suitable vein. Broom has said he was stuck with needles at least 18 times, with pain so intense that he cried and screamed.
An hour into the execution, the Department of Rehabilitation and Correction recruited a part-time prison doctor with no experience or training with executions to try — again, unsuccessfully — to find a vein.
Broom's appeals in federal court are on hold while the state court hears the constitutional arguments.
Broom has been back on death row since. No new execution date has been set.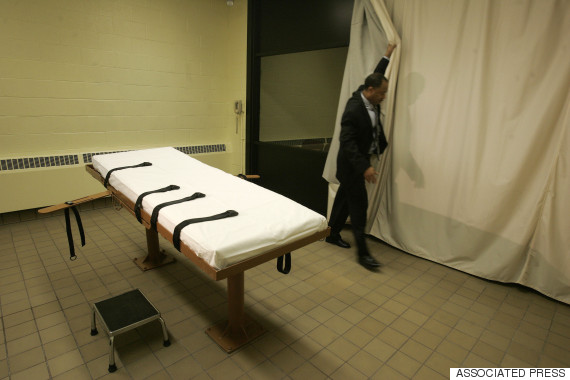 FILE - This November 2005 file photo shows the death chamber at the Southern Ohio Corrections Facility in Lucasville, Ohio. The sole U.S. manufacturer of a key lethal injection drug said Friday, Jan. 21, 2011 that it is ending production because of death-penalty opposition overseas _ a move that could delay executions across the United States. The current shortage of the drug in the U.S. has delayed or disrupted executions in Arizona, California, Kentucky, Ohio and Oklahoma. (AP Photo/Kiichiro Sato, File)
Requiring Broom to endure another execution attempt would double up his punishment by forcing him to relieve the pain he's already been through, his attorneys, Adele Shank and Timothy Sweeney, argued in a court filing last year.
On Tuesday, Shank rejected prosecutors' arguments that an execution attempt didn't happen simply because the lethal chemicals weren't administered. She also said the fact the execution team took a break after 45 minutes doesn't mean the procedure wasn't one long execution try.
"The only break he got was to be lying on a gurney being watched and guarded in a room with no one who was his friend, with only people who were there with the specific purpose of killing him," Shank told justices.
In 1947, Louisiana electrocuted 18-year-old Willie Francis by electric chair a year after an improperly prepared electric chair failed to work. The U.S. Supreme Court ruled 5-4 to allow the second execution to proceed, rejecting double jeopardy arguments. A state's administration of its criminal law isn't affected by due process rights, when "an accident, with no suggestion of malevolence, prevents the consummation of a sentence," the court ruled at the time.
The state says lower courts properly determined that any mistakes happened during Broom's execution preparations, not the actual procedure, and that no lethal chemicals ever began to flow through his veins.
Prosecutor Chris Schroeder said the evidence shows the state wasn't deliberately trying to hurt Broom and that nearly two dozen successful executions since 2009 mean such an event couldn't happen again.
"I would ask this court not to carve out an entirely new class of people exempt from the death penalty, a class of one that consists only of Romell Broom," said Schroeder, an assistant Cuyahoga County prosecutor. "This case has lingered for six years. It's time for finality for this little girl's family."
Calling all HuffPost superfans!
Sign up for membership to become a founding member and help shape HuffPost's next chapter
BEFORE YOU GO
PHOTO GALLERY
Executions - Famous Death Row Inmates