Ohio Gov. Mike DeWine (R) said Monday night that he is declaring a statewide health emergency in order to postpone Tuesday's primary election due to the coronavirus, essentially overriding a judge's ruling just hours earlier that blocked the governor's request to delay the election until June 2.
"During this time when we face an unprecedented public health crisis, to conduct an election tomorrow would force poll workers and voters to place themselves at an unacceptable health risk of contracting coronavirus," DeWine tweeted.
DeWine said in his health emergency announcement that Secretary of State Frank LaRose will "seek a remedy through the courts to extend voting options so that every voter who wants to vote will be granted that opportunity."
After DeWine's announcement, LaRose issued a directive postponing the primaries to June 2.
DeWine said earlier on Monday that he wanted to move Ohio's primary election amid concerns about the health risks that come with in-person voting during the pandemic, particularly for older and immunocompromised residents.
"It is clear that tomorrow's in-person voting does not conform and cannot conform with these CDC guidelines. We cannot conduct this election tomorrow," he said, referring to the Centers for Disease Control and Prevention guidance about COVID-19, the disease caused by the new coronavirus.
Because the governor doesn't have the power to change the election date, he first needs a judge's approval to move the date of the primary. Former Ohio Department of Aging Director Judith Brachman, 81, filed a lawsuit Monday in Franklin County so that elderly voters don't need to choose between their health and voting, according to the Columbus Dispatch.
Franklin County Common Pleas Court Judge Richard A. Frye denied that request on Monday evening.
With DeWine's new health emergency announcement, the back-and-forth on whether polls will be open Tuesday has left many poll workers and voters in Ohio wondering whether to cast their ballot in person.
To help this effort, DeWine said all of Ohio's gyms, fitness centers, recreation centers, bowling alleys, indoor water parks, movie theaters and trampoline parks have been ordered to close, indefinitely, starting at the end of Monday's workday.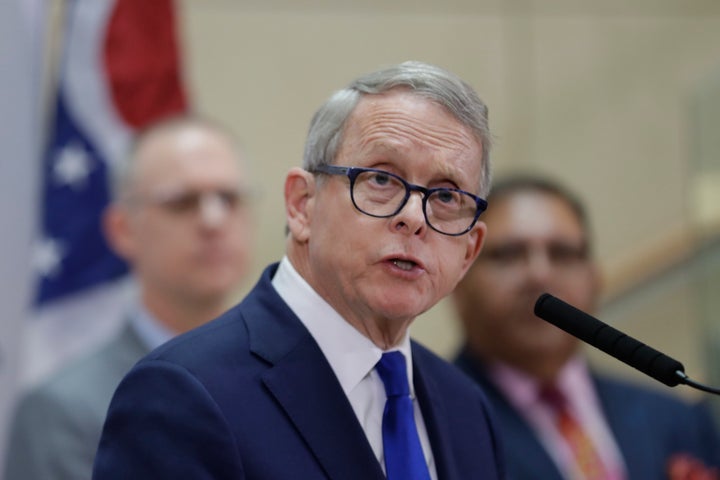 Primaries are also scheduled on Tuesday for Arizona, Florida and Illinois. At the time of DeWine's press conference, they had not been postponed. Asked about that decision, DeWine said his focus is not on them but on his own constituents.
"Everybody has to make their own call about what they think is the right thing to do," he said.
The Ohio Department of Health has confirmed 50 cases of COVID-19 in the state, 14 of which led to hospitalizations, as of Monday.
DeWine declared a state of emergency in his state on March 9 to help contain the spread of the disease.
CORRECTION: An earlier version of this article said DeWine postponed Tuesday's primary, but he does not have that power. He was requesting the primary be postponed and plans to file a lawsuit to make it happen.
Popular in the Community