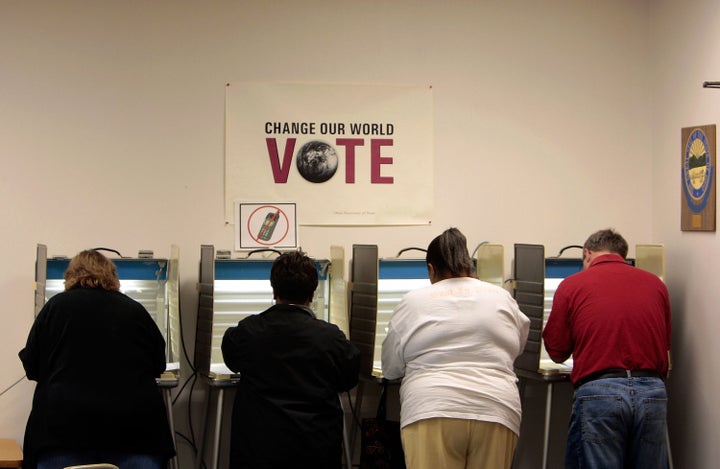 WASHINGTON -- Union officials in Ohio are questioning whether proponents of an anti-labor ballot initiative are trying to trick opponents of the measure into staying away from the polls on Tuesday, pointing to a robocall message voters received on the morning of Election Day.
At 9:37 a.m. on Tuesday, a Service Employees International Union (SEIU) staffer in Ohio received a robocall message inaccurately telling voters the election was "tomorrow."
"Hi, I am calling to remind you that tomorrow is Election Day," said the voice on the message. "It is critically important that you go vote and protect the future of our country. Tomorrow, please go to the polls and vote YES on Issue 2, and vote YES on Issue 3. Paid for by American Future Fund and not authorized by any candidate or candidate committee. 866-559-5854."
Voting yes on Issue 2 means voting in favor of SB 5, Gov. John Kasich's anti-collective bargaining law.
The number on the call goes to an automated message, directing callers to the website of the American Future Fund, a conservative advocacy group. The message also asks people if they would like to be added to the group's do-not-call list.
The American Future Fund did not immediately return a request for comment, so it's unclear whether the call was simply a mistake in timing.
But one union official suspected shenanigans, saying it was unlikely the American Future Fund would make the mistake of instructing its own supporters to turn out on the wrong day, if it was truly interested in increasing turnout.
"When you set an auto-dial to dial, you know how long it will take to go through those batch of numbers," said a union official. "And if they were legitimately trying to turn out their people they would make sure they didn't get the calls today."
Anthony Caldwell, a spokesman for SEIU District 1199, said it was the union's information technology officer who received the call and noticed, curiously, that the time stamp was slightly after 9:30 am this morning. The IT official is a registered Democrat, which made the call more suspicious.
"For a group [American Future Fund] that has coordinated a million dollar mail campaign, I find it highly unlikely they would make a simple clerical error and send out a robocall to non-supporters telling them to vote the day after Election Day," said Caldwell.
UPDATE: 1:25 p.m. -- Mandy Fraher, a spokeswoman for American Future Fund, acknowledged that automated phone calls were being made on Tuesday telling recipients that the election was being held "tomorrow." She insisted that the mix-up was due to "gross incompetence on behalf of the phone vendor" and that the group was "working to correct that problem immediately."
"As soon as we realized the problem we stopped those calls and we started calling those people back who received a call to inform them that today is Election Day," said Fraher.

Popular in the Community