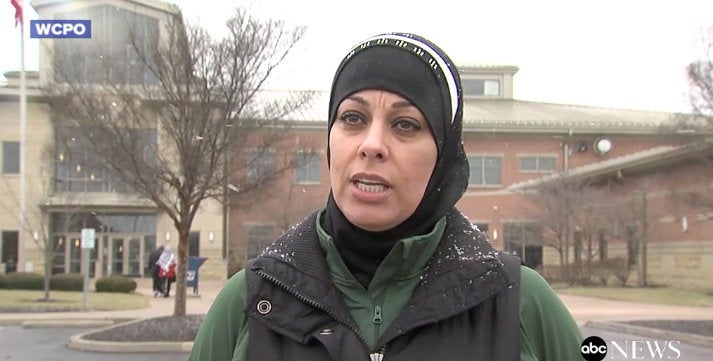 Ohioans have been rallying around Rawd Saleh, a 41-year-old mother of three from Mason, Ohio. Saleh came home from a weekend away to find out that flyers had been posted in houses in her neighborhood that falsely accused her family of having ties to terrorism. The anonymous "neighborhood terrorist warning" had Saleh's name, address, photo, and even a map showing exactly where her house was located.
"It was an awful feeling for me, to know that someone out there thinks that my life and my children's lives are not valuable at all, someone who would put my name and address out there for anyone who could possibly want to hurt us," Saleh, who has lived in America for 35 years, told The Huffington Post.  
But Saleh soon learned that this wasn't a fight she would have to face alone. When Saleh's neighbors found the notes in their mailboxes, they leapt into action ― alerting the police and reassuring Saleh's family that they supported her and her kids. 
Saleh told The Huffington Post that the neighbors have even pointed security cameras in the direction of her house in case anything suspicious were to happen. 
"They reassured me that they were here for me and for my children," Saleh said. "And that we're in this together." 
"I just started thinking about the women that wear hijab that are not as outspoken as me, or who haven't been here for 35 years, and who don't know their rights as Americans," Saleh said. "The more and more I thought about it, I realized this really isn't about me, it isn't about Muslims. This is about hate. No one should have to go through something like this."
Over 300 people, hailing from Mason and from other towns across Ohio, attended the rally on Sunday. They held signs, brought their children, and chanted their support for Saleh. 
Martin told The Huffington Post that she wasn't expecting such a large turnout. 
"Mason is a very diverse community but also a very conservative community so I was worried not many people would attend," Martin said. "Once the event was created on Facebook, it just kept getting shared and people from outside the Mason community came to show support too."
Ritter was inspired to get involved after attending the Women's March in Washington, D.C.
"The message we wanted to send to the community was that Hate would not be tolerated," Ritter wrote in an email. "We will show up, stand up, and stand against any hateful act in our community."
Saleh said was surrounded by support from the moment she joined the rally. It was "humbling" for her to see so many people she didn't know come out to stand in solidarity. 
"There's so much negativity right now in our country, but there's still so much goodness and kindness and people who are willing to help and stand up for what's right and support those who are being targeted," Saleh said. 
The Mason Police Department told The Huffington Post that they have no information about who was responsible for the flyers, but that they're conducting extra patrols in the area.
In an interview with The Washington Post, Ohio's governor, John Kasich, agreed that Trump is right to be concerned about vetting refugees who enter the country. However, he criticized the confusion the executive order has created and the fact that it sends "a message that somehow the United States was looking sideways at Muslims."
Saleh said she still feels nervous at home, since she's not sure if anyone out there still has ill intentions toward her family. She's had to warn her children to be extra vigilant, to lock doors and windows, and to keep the alarm system on. 
If she could speak to whomever distributed the flyer, Saleh said that she would forgive them. She hopes that the person will come forward soon.
Saleh said that the outpouring of solidarity has given her hope. 
"Out of this one hateful act, I've gained over 100 new friends. Neighbors who I usually wave to as I run by are actually coming over to get to know me, and I'm inviting them to have breakfast with me," Saleh said. "The outcome has been the opposite of what this person wanted it to be."
REAL LIFE. REAL NEWS. REAL VOICES.
Help us tell more of the stories that matter from voices that too often remain unheard.
BEFORE YOU GO
PHOTO GALLERY
Muslim Women Who Made A Difference In 2016