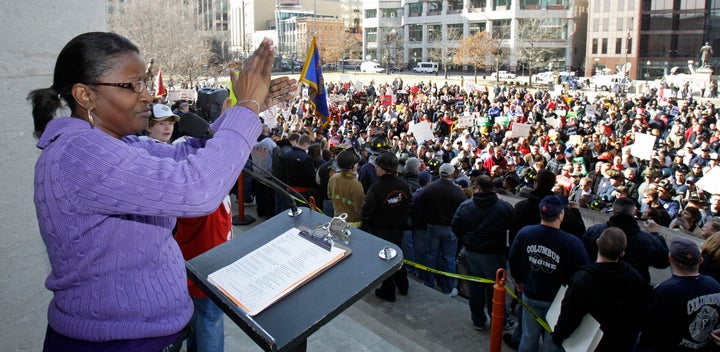 This is the first part of a collaboration between The Huffington Post and Patch regarding the November referendum over Ohio's new collective bargaining law. The collaboration will focus on various aspects of the debate leading up to the Nov. 8 vote.
Ohio follows Wisconsin and New Jersey as the latest battleground in the war between Republican governors and labor unions over collective bargaining.
Differing from the recall approach in Wisconsin, Ohio unions have banded together to utilize a little-known Ohio referendum law to put the fate of the state's collective bargaining law -- Senate Bill 5 -- on the November ballot. Ohio law allows for a statewide referendum on laws passed by the governor and legislature if enough petitions signatures are gathered. Ohio unions gathered 1.3 million signatures -- a million more than the needed amount to put the measure on the ballot. Voters are being asked to decide the fate of a bill that eliminates collective bargaining regarding benefits for public employees, and that Gov. John Kasich (R) has said is central to his ability to control the state budget.
While different from previous battles, the scope of the legislation and resulting fight with the unions place Ohio in the same boat as Wisconsin and New Jersey, which have seen similar efforts to battle public employee benefit reforms from first-year Republican governors.
"It was part of a trend, many of the Republican governors elected in the last few years are reforming state and local government," said John Green, the executive director of the Ray C. Bliss Institute of Applied Politics at the University of Akron. "Many of these reform packages have changes to bargaining as part of the reform process."
Green did note that the main difference between the three states is that New Jersey Gov. Chris Christie (R) and Wisconsin Gov. Scott Walker (R) were the primary drivers of the laws in their states, while Kasich backed a bill that originated from State Sen. Shannon Jones, a Cincinnati area Republican. At the same time, Kasich has become closely associated with the law.
"He has become the primary defender of the bill," Green said.
Green said that Ohio political observers believe that Kasich, who pledged to reduce state spending and not raise taxes during his 2010 campaign, would have ultimately proposed the law.
The debate over S.B. 5 could easily be confused for debates in New Jersey and Wisconsin regarding collective bargaining and public employee benefits. Kasich spokesman Rob Nichols said the bill was needed to provide "a tool" to local governments to control spending at a time of declining property tax revenue. Nichols pegged the bill as providing a $1 billion dollar savings to local governments. Christie has long called his local government reform package-- much of which is stalled in the Democrat-controlled legislature -- a toolkit for local governments and school districts.
Nichols said the law would allow local governments to protect jobs.
He was was quick to distance S.B. 5 from the other states.
"We are aware of what is going on in other states," he said. "But Ohio has unique needs."
Statements from the union side of the equation sound similar to those from the other states, however.
"S.B. 5 was a frontal attack on unions," said Harriett Applegate, the president the North Shore AFL-CIO in Cleveland. "We consider this the fight of our lives."
Applegate was quick to argue against Nichols' comments about local government job protection, saying that Kasich's cuts to the state's local government fund were going to cause layoffs in towns and cities around the state. Melissa Fazekas, the spokeswoman for We Are Ohio, the union-backed group campaigning to overturn S.B. 5, cited cuts of all but one police officer in the village of Mount Sterling as evidence of the layoffs resulting from Kasich's changes to the local government fund.
Building a Better Ohio, the advocacy group campaigning to keep S.B. 5 as a state law, issued a press release over the summer saying that the measure would allow communities like Mount Sterling to avoid layoffs. This argument was rebuffed by the Ohio Fraternal Order of Police, which blamed Kasich.
A spokesman for Building a Better Ohio did not respond to a request for comment from The Huffington Post.
The Ohio debate over local aid cuts echos one made in New Jersey in 2010, when Christie's first budget dramatically cut state aid to local governments and school districts, leading to job cuts. At the time Christie announced the cuts, local officials greeted them with a variety of responses ranging from one school official describing the reductions as "draconian" to a Republican town councilwoman calling Christie's budget "awesome."
Applegate and Fazekas both said that unions have been willing to work with local governments on such issues as health care givebacks and said ending collective bargaining would not allow this practice to continue. They said that collective bargaining allows for a discussion on local finances and gives unions information to guide decision-making during negotiations.
An August poll showed 50 percent of Ohio voters favored repealing S.B. 5, down from 55 percent in May.
Green said that, along with union-supported protests in Madison and Trenton, the union side has been the most active in terms of driving the campaign. Christie still faces union protests at his public appearances.
"I think we will have a very intense campaign," he said. "The supporters of S.B. 5 have a lot of work to do."
Green did note that he does not believe the November vote will make or break the rookie governor.
"I am not sure it's a referendum on him," Green said. "It is a referendum on the law."
Calling all HuffPost superfans!
Sign up for membership to become a founding member and help shape HuffPost's next chapter