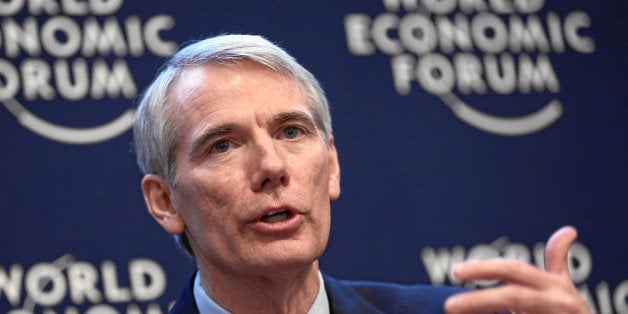 Ohio's 2016 Senate race looks competitive. Republicans nationwide prefer a candidate who avoids a no-tax-hike pledge. And wording matters more than usual for the Indiana 'religious freedom' law. This is HuffPollster for Monday, April 6, 2015.
SENATE 2016: STRICKLAND LEADS IN OHIO Quinnipiac University: "In the 2016 U.S. Senate race in Ohio, former Gov. Ted Strickland, the Democrat, leads Republican incumbent U.S. Sen. Rob Portman 48 - 39 percent. Independent voters back the Democrat 50 - 32 percent… Ohio voters approve 49 - 23 percent of the job Portman is doing and give him a 38 - 18 percent favorability rating. Strickland has a 49 - 29 percent favorability rating, while 89 percent of voters haven't heard enough about [potential Democratic challenger P.G.] Sittenfeld to form an opinion of him. Voters approve 52 - 27 percent of the job U.S. Sen. Sherrod Brown is doing. Ohio Gov. John Kasich gets a 61 - 28 percent job approval rating, continuing his trend as one of the highest-ranked governors in any of the nine states surveyed by Quinnipiac University." [Quinnipiac]
FL & PA - More from Quinnipiac: "Republican State Chief Financial Officer Jeff Atwater is the strongest candidate in an early look at the 2016 U.S. Senate race in Florida, getting 38 percent to 34 percent for U.S. Rep. Patrick Murphy. Florida voters disapprove 49 - 42 percent of the job Gov. Rick Scott is doing, continuing a four-year streak of negative ratings…If the 2016 U.S. Senate race in Pennsylvania is a rematch of the 2010 race, Republican incumbent U.S. Sen. Pat Toomey leads Democratic challenger Joe Sestak 48 - 35 percent… Voters approve 46 - 26 percent of the job U.S. Sen. Robert Casey Jr. is doing. Pennsylvania's new governor, Tom Wolf, gets a 44 - 34 percent approval rating."
Swing states favor legalizing marijuana More: "Voters in three critical swing states, Florida, Ohio and Pennsylvania, support legalization of medical marijuana by margins of 5-1 or more and also support legalization of recreational marijuana use by smaller margins. Support for allowing adults 'to legally possess small amounts of marijuana for personal use' is 55 - 42 percent in Florida, 52 - 44 percent in Ohio and 51 - 45 percent in Pennsylvania."
2016 'CLOUT' FOR CLIMATE CHANGE, AVOIDING NO TAX PLEDGE - Gary Langer: "Two issue positions show potential to carry unexpected clout in the 2016 presidential election - support for action to address climate change and opposition to a no-tax pledge, a new ABC News/Washington Post poll finds. Openness to political compromise also has the support, and the priority, to carry weight in the national conversation that lies ahead....[O]pposing a no-tax pledge has the broadest base: Seventy-two percent of Americans hold this view, including big majorities across party lines. Only about half in this group overall call the issue an important one, but their views on it are so lopsided that it wins a high score, nonetheless. Supporters of a tax pledge, by contrast, are much more likely to call it an important issue -- but there are few of them. Desire for the next president to support action on climate change takes a different path: It's low among Republicans, but broad enough among Democrats and independents, and important enough to them, to give it potential influence. Overall, Americans by 59-31 percent say they want the next president to be someone who favors government action to address climate change, and 58 percent call it an important issue. Again there's a sharp difference in importance depending on one's position: Among those who favor federal action, 68 percent call it an important issue. Among those who oppose action, far fewer say it's important to them, 39 percent." [ABC]
Good news for Bush? - Aaron Blake: "George H.W. Bush famously came to regret his 'Read my lips: No new taxes' comment. His son, Jeb Bush, is making no such promise in 2016. But will it hurt him?...according to a new poll, he's actually on pretty solid ground -- even among Republicans. The latest Washington Post-ABC News poll shows just 21 percent of registered voters say they would prefer a presidential candidate who 'pledges never to raise taxes,' while 74 percent prefer 'someone who does not make such a pledge.' Among Republicans, it's nearly as lopsided against the pledge. Twenty-six percent say they want a pledge supporter, while 69 percent prefer someone who doesn't pledge not to raise taxes. That's a pretty small universe of voters who insist on the pledge. And indeed, this isn't the first poll to suggest quite limited support for Norquist's pledge...And oftentimes on an issue like this, the enthusiasm is on the more conservative (pro-pledge) side. But that's not really the case here. Twenty-three percent of Republicans and Republican-leaning independents in the Post-ABC poll oppose the no-tax pledge and say it's 'extremely' or 'very' important to them -- slightly more than the 18 percent who support it and say the same." [WashPost]
HALF THINK U.S. RELATIONSHIP WITH ISRAEL HAS WEAKENED - HuffPollster: "A majority of Americans think the relationship between the U.S. and Israel has frayed, a new HuffPost/YouGov poll finds. Fifty percent say the relationship between the two countries has gotten weaker over the past year, while a quarter say it's stayed the same. Just 2 percent say it's gotten stronger, and the remaining 22 percent are unsure. Americans are more split on what the ideal relationship between the two countries should be, with 30 percent saying the U.S. isn't supportive enough of Israel, 22 percent saying that it's too supportive and 20 percent saying the current level of support is about right....[O]pinions are deeply divided along partisan lines. Republicans are more than eight times as likely as Democrats to say that the U.S. isn't supportive enough of Israel, and more than five times as likely to say Obama's policies have hurt the relationship. Just 5 percent of Republicans say they trust Obama more to handle relations between the two countries, while 60 percent of Republicans have greater trust in Netanyahu." [HuffPost]
WORDING MATTERS FOR INDIANA LAW - Matt Yglesias "[T]he Indiana religious freedom controversy...is an issue where the polling seems highly subject to framing effects driven by the exact wording of the question. As the debate moves from an abstract one about religious freedom to a more concrete one about gay rights, the Democrats are going to find themselves on stronger and stronger footing. Consider a June 2014 Public Religion Research Institute poll that asked, 'Do you think that a small-business owner in your state should be allowed to refuse to provide products or services to individuals because they are gay or lesbian if it violates their religious beliefs?' Eighty percent of respondents said no. But a September 2014 Pew poll showed a much closer split. That poll asked, 'If a business provides wedding services, such as catering or flowers, should it be allowed to refuse those services to same-sex couples for religious reasons, or required to provide those services as it would to all other customers.' Forty-seven percent said they should be allowed to refuse, and 49 percent said they should not be allowed to refuse. Putting together the Marist poll and the PRRI poll, you get a clear sense of what the public thinks. Voters strongly believe in religious freedom and think observant people should get exemptions from 'government laws.' Voters also believe strongly in nondiscrimination norms, and strongly support policies that would ban discrimination against gays and lesbians — even discrimination that is grounded in religious faith." [Vox]
For public opinion polls, 'language is the only thing that matters' - Gregory Ferenstein: "The [Indiana] law is sparking headlines and nation-wide protests, but, it's damn near impossible to figure out what the American people think about the issue, because depending on the wording, one can easily get a majority of citizens to both support and oppose discrimination. Based on the specific language, 67 percent of Americans 'Oppose a law allowing refusal of service,' while 60 percent of Americans oppose a law 'forbidding refusal of service,' according to two simultaneous national opinion polls I conducted this week. The problem with asking people about the Indiana discrimination law is that they inherently fall victim to a very common error in survey methods: the forbid-allow asymmetry. Americans tend to loathe the government telling people what to do. For instance, many more Americans support both interracial marriage and gay marriage when asked if couples should be forbidden from getting married, rather than being asked if couples should be allowed to get married....Aside from the importance of language, there are two other concepts at play here: 1). Americans are more concerned with government interference than the topic at hand...2). Americans haven't thought about the issue very much...And without caring much about an issue, it's easy to be swayed by language." [Pacific Standard]
HUFFPOLLSTER VIA EMAIL! - You can receive this daily update every weekday morning via email! Just click here, enter your email address, and click "sign up." That's all there is to it (and you can unsubscribe anytime).
MONDAY'S 'OUTLIERS' - Links to the best of news at the intersection of polling, politics and political data:
-Early voting for Tuesday's Chicago runoff election exceeds levels in first primary. [@ChicagoElection here and here via @AoSHQDD]
-Despite an announcement bump, Ted Cruz polls in worse today than he did in 2013. [Bloomberg]
-Jeb Bush is struggling to be liked on Facebook. [Buzzfeed]
-John Sides points out how Democrats are divided by cultural issues. [WashPost]
-There are a half million elected officials in the U.S. [Daily Kos]
-Leah Libresco calls for marking Autism Awareness Month by surveying people with autism. [538]
Popular in the Community