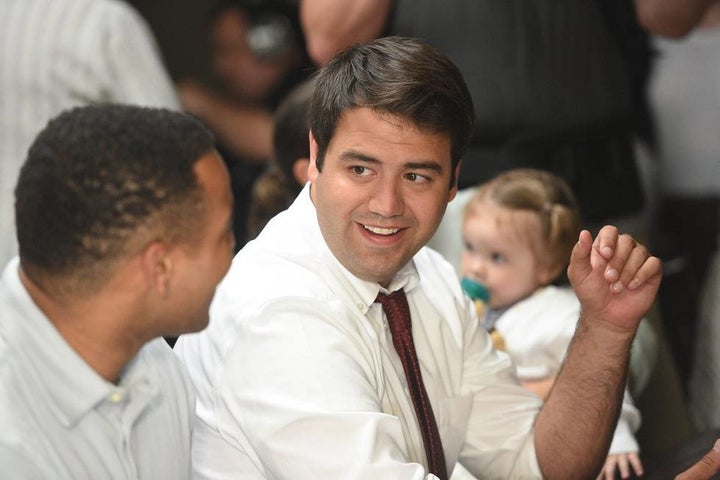 The special election results for Ohio's 12th Congressional District were too close to call Wednesday morning, with Republican Troy Balderson leading Democrat Danny O'Connor by more than 1,700 votes with all of the district's precincts reporting.
Ronna McDaniel, chairwoman of the Republican National Committee, nonetheless, congratulated Balderson on winning, issuing a statement Tuesday night.
"Today, the voters of Ohio's 12th District elected a true conservative committed to pro-growth policies that have already brought new jobs and economic confidence to the state under President Trump's leadership," she said.
O'Connor's campaign is waiting on 1,722 provisional ballots and 1,750 absentee ballots to be counted, according to a campaign spokesperson.
"We always knew this was going to be a close race," O'Connor said in a statement Tuesday night, "and while we don't know the results quite yet, I know that this campaign left it all on the field. No matter what happens next, I'm proud to stand beside the thousands of volunteers who have made this campaign possible."
Regardless of the final outcome, the pair will meet again in November's general election, meaning that the immediate effect of Tuesday's outcome on Congress could be short-lived.
The mere fact that the contest was competitive is likely to be a source of concern for the GOP. If a Republican running in a district that voted for Donald Trump by a margin of 11 percentage points in 2016 required a massive influx of national resources, then dozens of Republicans in more marginal districts appear to be that much more vulnerable.
As the contest tightened in the final weeks, national Republicans privately lamented Balderson's underwhelming fundraising ability.
Since O'Connor outraised Balderson on the strength of small donations, the national party swooped in to make up the difference. GOP groups outspent their Democratic counterparts in the race by a ratio of nearly 5 to 1.
Should the current results hold, activists are almost certain to question whether greater spending on the Democratic side could have made the difference for O'Connor.
Balderson nonetheless gave O'Connor his fair share of ammunition, telling The Columbus Dispatch's editorial board that he was open to raising the Social Security and Medicare eligibility age for future workers. He also refused to say whether he would support scandal-ridden Rep. Jim Jordan (R-Ohio) for House speaker.
And on election eve, in a gaffe sure to make it into Democratic ads ahead of November, Balderson told supporters, "We don't want someone from Franklin County representing us." The populous county is home to Columbus and many of its suburbs, parts of which are in the district.
For his part, O'Connor appealed to many country-club Republicans and independents with his moderate temperament and policy platform. He ran on defending the Affordable Care Act; undoing the GOP tax cuts for the wealthy and corporations, but not ones for the middle class; and defending Social Security, Medicare and union pensions. If elected, O'Connor planned to join the business-friendly New Democrat Caucus, whose PAC contributed to his campaign.
Popular in the Community