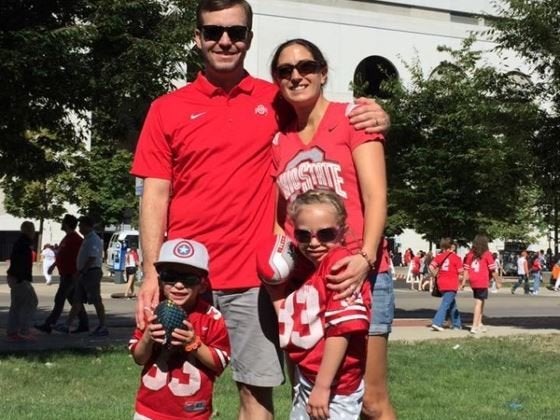 Zach Lawrence is in a coma from which doctors said he may never wake up. But the Ohio man has shown his fighting spirit — and his football loyalty — in an unexpected gesture that has brought hope to his grieving family.
Lawrence, who sustained life-threatening injuries in a car crash in March, has struggled to communicate since the accident. But the lifelong Ohio State University football fan recently made something emphatically clear: He really doesn't like the University of Michigan.
Lawrence was given a "yes" button and a "no" button with which he could respond to questions while undergoing treatment at OSU's Dodd Hall Rehabilitation Center. Lawrence pushed the "no" button when asked recently if he likes Michigan, The Columbus Dispatch reported Friday.
Then he pressed it again for good measure.
"He always makes a face when we mention Michigan," his wife, Meghan, told the paper. "We're pretty sure he's in there."
The father-of-two was treated in the country before being transferred to a hospital in Austria and eventually to the center in Ohio. Doctors told Lawrence's family that he may never wake up from his coma, and that they should be prepared to remove his feeding tube within a year.
However, Lawrence has far surpassed his doctors' expectations. Lawrence has been making "a lot of progress" since returning to Ohio, according to posts on a fundraising page set up by his family to cover his medical expenses. He can now give a "thumbs-up" sign on command and has started to make sounds. In an update earlier this month, his family wrote that he'd grabbed his wife's hand and kissed it.
"We know he is still fighting!" the family wrote in June.
Popular in the Community