Has Ohio State University had a problem with roadside bombs recently?
No, but you'd be forgiven for thinking that after seeing the school's new mine-resistant ambush protected (MRAP) vehicle. OSU received the vehicle from the U.S. military through a state military surplus program last week.
(Story continues below)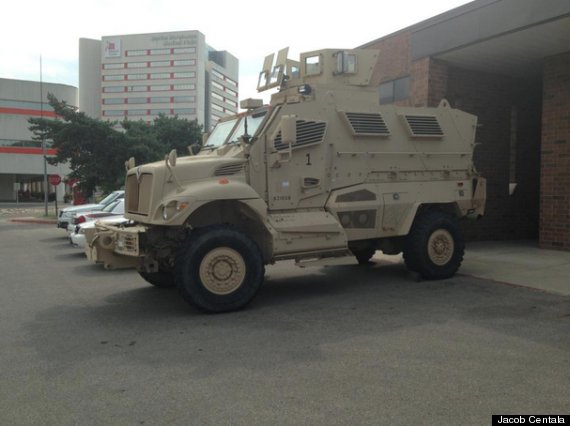 Ohio State University's new toy. (Photo courtesy of Jacob Centala)
But with an absence of IED's buried in the roads of Columbus, Ohio, what does OSU need this thing for?
Campus Police Chief Paul Denton told The Huffington Post that it's a "multi hazard kind of response vehicle." He cited a number of scenarios where it could be useful. Among them: natural disasters, like tornadoes and derechos, or bomb threats and shootings. (The school has dealt with all of these in the past, Denton said.)
"We pride ourselves on being self-sufficient from local authorities," Denton said, noting that Columbus' local police force does not have a bomb squad. "Frankly, we have to be. We are the primary responder."
While police departments across the country have been acquiring MRAP's at an alarming pace, colleges have had less success. Last year, when University of California-Berkeley campus police tried to buy an 8-ton armored truck, university officials canceled the order, saying such a vehicle was "not the best choice for a university setting."
Popular in the Community