A male suspect, whom police have identified as Ohio State University student Abdul Razak Ali Artan, attacked people with a vehicle and a butcher knife at the school Monday

11 people were injured; one is in critical condition

Police quickly shot and killed the suspect
Ohio State University was left reeling Monday after a student attacked people with his car and a butcher knife, leaving 11 injured. OSU police said an officer fatally shot the student, Abdul Razak Ali Artan, less than a minute after the attack began.
Students and staff were milling around outside a science building after a fire alarm had gone off when man drove his car over a curb and plowed into them, authorities said. The man then left the vehicle and began attacking people with the knife.
OSU Police Officer Alan Horujko, 28, opened fire after the suspect failed to obey commands, police Chief Craig Stone said. Authorities said Artan acted alone. 
None of the 11 victims sustained life-threatening injuries, but one is in critical condition.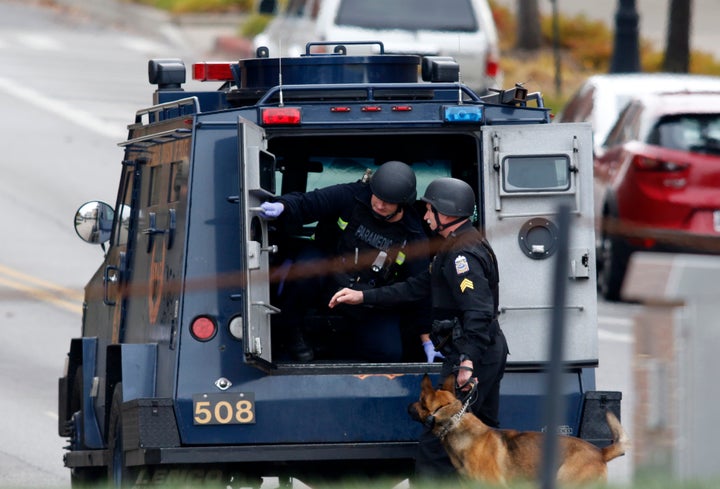 Authorities declined to speculate on the suspect's motive or a possible connection to terrorism. The FBI has joined as a partner in the investigation.
The school sent out an emergency alert at 9:56 a.m., telling students: "Active Shooter on campus. Run Hide Fight." The campus remained on lockdown for about 90 minutes. 
"Run, hide, fight" is the phrase that the Department of Homeland Security advises as the default response to an active-shooter situation. The order suggests that people in danger should run if they're able to and seek shelter if they cannot. A person's last resort is to fight in order to "incapacitate" an attacker approaching them. 
"I was sitting in my dorm room and heard gunshots and 10 seconds later heard sirens," Stephen Yunker, an OSU freshman, told The Huffington Post via Twitter. "Looked outside to see a fire truck + cops a couple streets away and a body laying on the ground."  
"Smelled what was like gun smoke as people rushed into buildings," Mackenzie Bart, another student at the university, said over Twitter. "Police and fire were everywhere. Got locked into a building with just 4 other girls and pushed everything we could find against a door." 
OSU student Jake Bowers said he was "100 feet from the guy with the knife" when the suspect drew the weapon. He was outside between the science buildings Kolffolt Labs and Watts Hall as the scene unfolded, he told HuffPost over Twitter.  
"The man just stared at the cop, didn't say anything," Bowers said. 
OSU is one of the largest public universities in the country, with more than 66,000 students. Nearly 60,000 attend school on the main campus in Columbus, where the incident occurred Monday. 
"This is a diverse, welcoming, and warm community where we welcome people from all over the world," Columbus Mayor Andrew Ginther said Monday at a news conference. "That is what makes us so special. I ask everyone to lean in, to pray for one another, to look out for one another, and … continue to focus on what brings us together as opposed to what divides us." 
People across the country, including Ohio politicians and the transition team for President-elect Donald Trump, shared their thoughts and prayers.
See more photos from the OSU attack below:
PHOTO GALLERY
Ohio State University Attack
Jenna Amatulli, Hayley Miller, Kim Bellware and Kate Abbey-Lambertz contributed to this report. 
This story has been updated throughout. 
Calling all HuffPost superfans!
Sign up for membership to become a founding member and help shape HuffPost's next chapter