From the outside looking in, Monica Weber-Jeter was far from isolated. The 35-year-old kept busy with five school-aged children, and worked at a bustling oncology clinic as a medical assistant. Her mom, her two older sisters and her identical twin sister all lived within a 10-mile radius of her home in North College Hill, Ohio, which she shared with her childhood sweetheart. The sisters each had their own rapidly expanding families, and weekends were punctuated with kids' birthday parties and play dates. But in many ways, Weber-Jeter was entirely alone.
In interviews, family members describe Weber-Jeter as becoming increasingly distant and secluded in the last year of her life. Something was happening at home. Her sisters knew that Weber-Jeter and her husband, Andrae Jeter, had struggled at times during their 19 years of marriage, but they didn't know the exact nature of their issues.
Melanie Simms, her twin sister, said Weber-Jeter had been private about her problems ever since she was a child. "She would always keep everything to herself," she said.
But from what Weber-Jeter did tell them, her husband could be mean and jealous, making cruel jabs about her weight and accusing her of having affairs with men she innocently crossed paths with, like the security guard at her job. Weber-Jeter was reticent to say much more; she didn't want her family to hate him. But her oldest son surreptitiously made calls to her brother, complaining of the chaos and fighting that plagued the house at night.
On Jan. 31, 2014, Weber-Jeter was sound asleep when her husband woke her up and began yelling at her. According to her police affidavit, when she tried to leave the room, he blocked the door and wrestled her to the floor in a chokehold.
With his arm wrapped firmly around her neck, he held her down and strangled her until she was woozy and unable to call for help. Weber-Jeter told police that when he finally let her go, Jeter threatened to bash her and all the kids' heads in with a baseball bat.
Jeter was arrested and charged with a first-degree domestic violence misdemeanor, an offense that carries a maximum of six months behind bars in Ohio. He pleaded no contest. After serving 11 days in jail, he was set free.
In the past 10 years, there's been a growing recognition across the country about the importance of prosecuting strangulations as serious, felony-level offenses. But some states, including Ohio, have lagged behind. The consequences in Weber-Jeter's case were deadly.

One Of The Most Lethal Forms Of Domestic Violence
There are few scarier things you can do to another person than deprive them of the ability to breathe.
Strangulation, defined as cutting off air supply or blood circulation by applying pressure to the neck, can lead to neurological damage within seconds and death in under five minutes. It's one of the most lethal forms of domestic violence, and depressingly common: Studies suggest anywhere from 10 to 68 percent of abused women have been strangled.
When men strangle, experts say, they're broadcasting their capacity to kill.
Thanks to years of research, we now know that strangulation is one of the best predictors of a future homicide in domestic violence cases. A 2008 study found that 43 percent of women murdered in domestic homicides and 45 percent of attempted murder victims had been strangled in the past year by their abusive male partners. If a woman has been strangled, she is seven times more likely to become a homicide victim.
"The minute you put pressure on someone's neck, you are really announcing that you are a killer," said Gael Strack, a former domestic violence prosecutor in California who is now one of the nation's leading strangulation experts.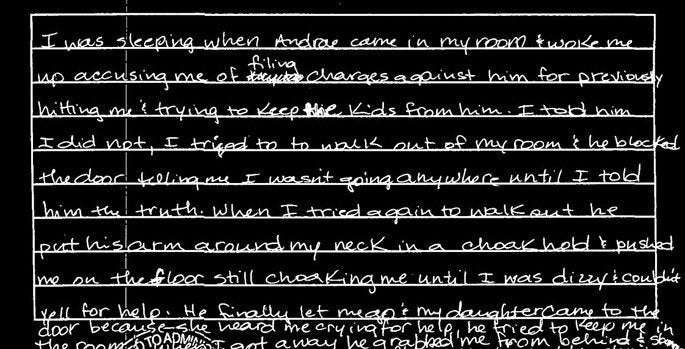 Until about 10 years ago, Strack said, most states treated strangulation about as seriously as if the victim was slapped in the face. That's because strangulation often leaves no visible injuries, making it difficult to prosecute on a level equal to the severity of the act.
In a groundbreaking 2001 study, Strack sifted through 300 strangulation cases that had been submitted for misdemeanor prosecution to the San Diego city attorney's office. What she found is now well-known: In the absence of obvious injuries, the criminal justice system didn't really have a way to appropriately prosecute strangulations.
To charge someone with felony assault, which carries more substantial punishment than a misdemeanor, the victim usually needs to have evidence of serious bodily injury, like broken bones or cuts. But in these cases, the victims just didn't have them.
"The lack of physical evidence was causing the criminal justice system to treat many 'choking' cases as minor incidents, when, in fact, such cases were the most lethal and violent cases in the system," she wrote in the August/September 2014 issue of The Domestic Violence Report.
She also found that while many strangled women didn't have visible external injuries, many had serious internal injuries that went undetected. Medical experts agree that the health consequences of strangulation can be devastating and long-term, and may include strokes, traumatic brain injury, post-traumatic stress disorder and even delayed death days or weeks after the assault.
Since Strack's published her research, she's been crisscrossing the country teaching police and prosecutors how to investigate and prosecute strangulation in the absence of visible injuries, and lobbying states to pass felony strangulation laws.
"We believe if you go after and start prosecuting these cases aggressively, you can prevent a homicide," she said.
It's Strack's mission to see all 50 states treat strangulation as a felony offense. Today, 38 states do so, with most states enacting legislation in the last decade. Ohio, where Weber-Jeter lived, is not among them.
A Separation, Too Brief To Stick
In the days following the attack by her husband, Weber-Jeter told her sisters she was afraid of him. She filed a temporary protective order, which mandated that Jeter would stay away from her and their five children.
After his 11 days in jail, Jeter was released and moved into his mother's house. A month passed.
In March, Weber-Jeter decided to drop the protection order so that Jeter could have visitation with the kids. She didn't feel right keeping them apart. Slowly, the couple began seeing each other again. First, the kids would stay with Jeter on some weekends. Then they went on a few dates. In May, he moved back in.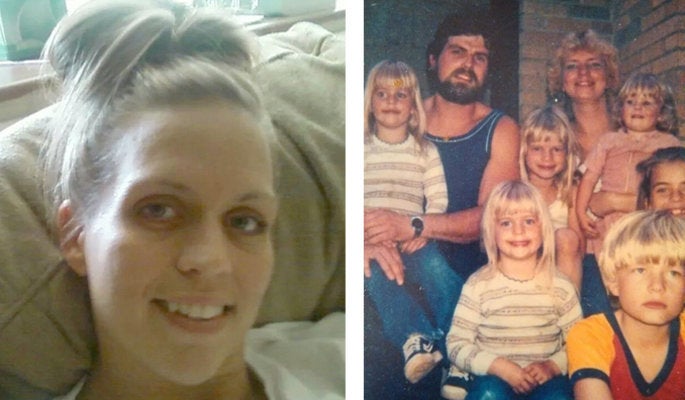 For Weber-Jeter, her sisters say, she wanted to keep her family intact.
"She really thought he had changed, and he was doing everything he was supposed to," said her older sister Tracy Fisher. "We grew up with divorced parents. I know that was really important to her to have her family stay together."
Over the next few months, Weber-Jeter seemed to withdraw. When her sisters called or texted her at night, their messages went unanswered. In early August, her family held a surprise party for Fisher's 40th birthday. Weber-Jeter didn't show. Despite her physical proximity to the family, she was becoming impossible to reach.
In the early evening of Oct. 7, 2014, Weber-Jeter showed up at Fisher's house without warning. Simms, Weber-Jeter's twin sister, was also there, and the three of them talked in the kitchen. Weber-Jeter was distraught, telling her sisters that she couldn't take it any longer.
"She was crying, and said, 'Please don't ever let me get back with him,'" Fisher said. "I just hugged her."
Around 8 p.m., Weber-Jeter decided to return to her own home to sleep, but she came back a few hours later, telling her sisters that Jeter wouldn't leave her alone. She curled up with her twin sister. It was the last time the twins would ever share a bed.
At around 1 a.m., they heard someone knocking at the front door. It was Jeter. Weber-Jeter, embarrassed that her husband was making a scene and waking up the household, left with him. "She said she was going to go home, otherwise everyone would be up all night," said Simms.
But a few hours later, Fisher's household was woken up yet again, this time by a phone call. It was Weber-Jeter's 12-year-old daughter, in hysterics. Her dad had attacked Weber-Jeter while she was asleep on the couch, she told them, and she was lying in a pool of blood, unable to breathe.
An ambulance took Weber-Jeter to the University of Cincinnati Hospital. She had been stabbed at least 28 times, and had lost a large amount of blood. Four of Weber-Jeter's kids were home at the time of the attack; two of her sons, a 9- and 11-year-old, were in the room to witness it.
She spent the next month in critical condition in the surgical intensive care unit, holding on to life. Despite her severe injuries, her family said, she was alert for much of the time, and would communicate by mouthing words. Even in the midst of her pain, her sister Heather Randolph said, "she would put a big smile on her face" when people entered her room. After 32 days, with family by her side, Weber-Jeter died from her injuries. She was 36.
After her death, North College Hill Police Chief Gary Foust told WLWT Channel 5 that they had been called to Weber-Jeter's house many times for verbal altercations in the past. In another interview, Foust said "there was a continuous pattern of conduct that was occurring over a length of time."
Jeter was charged with aggravated murder and has yet to stand trial.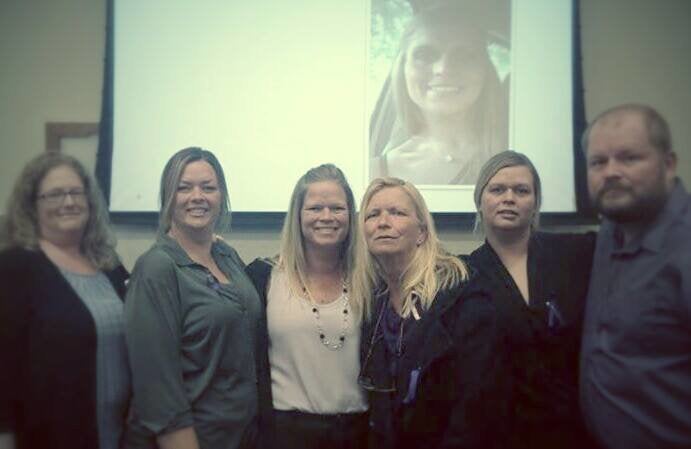 In the months after Weber-Jeter was killed, one thought began to gnaw at her siblings: Was her death preventable?
As they read up about the link between strangulation and homicide, they came to a stark conclusion: Ohio had failed Weber-Jeter. Their sister had experienced one of the leading predictors of future domestic homicide, and yet the state had treated it as if it were a minor offense. Why? And how many other women was Ohio inadvertently putting in danger?
Nancy Neylon, executive director of the Ohio Domestic Violence Network, said that Jeter's sentence for strangling Weber-Jeter was fairly typical. "It's generally ignored," she said. "Unless police are trained, it might not even been noted in the police report."
A month after her death, the family launched a petition on Change.org, calling for legislation that would make nonfatal strangulation a felony in Ohio. As of Oct. 9, "Monica's Law" had 93,235 supporters.
"The minute you put pressure on someone's neck, you are announcing that you are a killer."
The very first name on the petition's list of signatures is Weber-Jeter's daughter.
"I'm signing this for other kids and adults so they don't have to suffer like my brothers, me, or my mom," she wrote.
This week marks the anniversary of the attack that took Weber-Jeter's life. Without a mother, and with a father in custody, Weber-Jeter's five children have been taken in by her family and are currently in therapy. Her sisters, still in mourning, are cautiously hopeful that telling Weber-Jeter's story will help inspire legislators to act on strangulation in the state.
It is their belief that if Jeter's first documented assault been taken more seriously, their sister would still be alive.
"Had there been a law in place when Monica was strangled, Andrae would still have been in prison, and she would have enough time to gain strength and courage and confidence in herself to get her and her children away to a safe place," said Simms.
After Weber-Jeter's death, when her sisters were going through her belongings, they found a revealing clue about how much she was struggling at the end of her life. Lodged in between a bunch of self-help books on how to repair a marriage and how to forgive, they found divorce papers.
"It was at the point where she wanted to leave," said Fisher. "She just wanted her kids to be happy."
Support HuffPost
The Stakes Have Never Been Higher
Popular in the Community