Ohio authorities say they've found a teenager who had been missing since last August alive in an Ohio basement.
Police in Sugar Creek Township had been searching for 15-year-old Jacob Caldwell since Aug. 21, 2017. The teenager disappeared days after allegedly witnessing the fatal shooting of his father, Robert Caldwell. 
Jacob's grandparents had gained emergency temporary custody of him after his father's killing on Aug. 15, 2017. The boy, according to police, was last seen at an area Walmart.
This week, police received "very credible" information about Jacob's location, Sugar Creek Township Police Chief Michael Brown said at a Tuesday press conference.
According to Brown, the tip led investigators to a residence in Miami Township, which is roughly 40 miles from Sugar Creek. On Monday night, investigators found the teenager in the basement of the home, where he'd been living with four adults, Brown said.
The teen is reportedly healthy but went a year without attending school. Brown said it appeared he'd spent his time indoors, playing video games.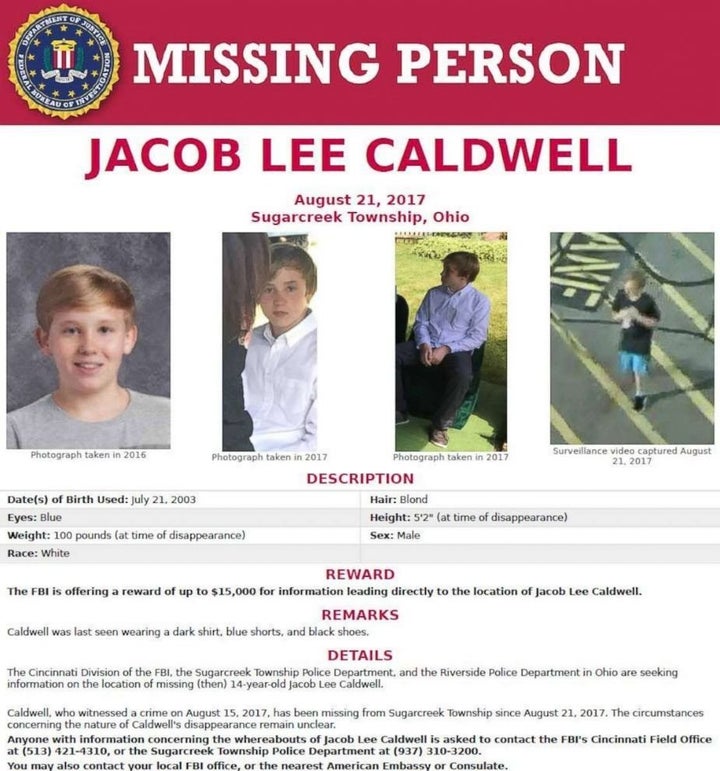 Authorities do not suspect that Jacob was abducted. Instead, they believe he was a runaway and that the basement was his "primary area of sleep," Brown said.
Investigators suspect the four adults at the home are linked to the teen's mother. Dayton's WKEF News reported that authorities are considering filing obstruction of justice charges against them.
In March, a grand jury indicted Robert Caldwell's ex-wife, Tawnney Caldwell, and her ex-husband, Sterling Roberts, in connection with the slaying, WKEF reported. Authorities reportedly suspect that Roberts fired the fatal shot.
Prior to his death, Robert Caldwell had apparently won custody of his children from Tawnney Caldwell.
"Once he got full custody, that's when all of this happened," the victim's brother, Tyler Caldwell, told Dayton's WRGT News.
Send David Lohr an email or follow him on Facebook and Twitter. If you're a teenager who has run away from home or a teenager who is thinking of running from home, or if you know somebody who is, visit the National Runaway Safeline or call 1-800-RUNAWAY.
BEFORE YOU GO
PHOTO GALLERY
Missing People