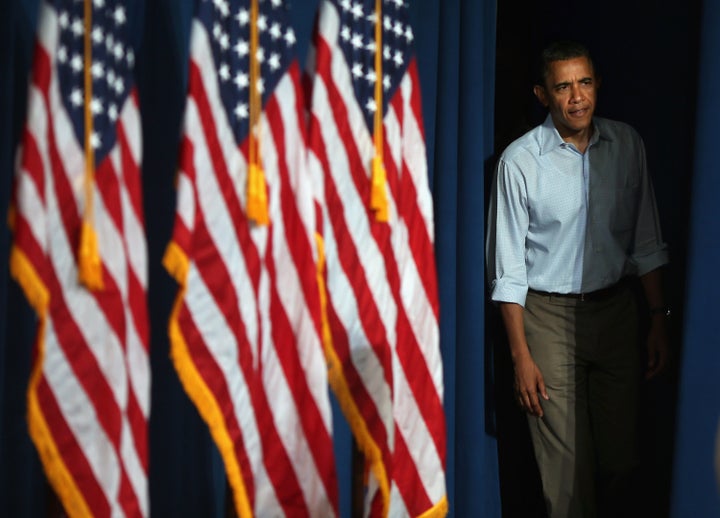 PARMA, Ohio -- The sun was low in the sky, the air was thick with heat, and a few dozen residents of this working-class neighborhood in the Cleveland suburbs were waiting for the leader of the free world, as he is still sometimes known, to drive past their homes.
"I want to see a glimpse of a president before I die," said Marilyn Larissey, 63.
President Barack Obama was due to arrive any minute Thursday evening at James Day Park, a former military anti-aircraft site, for the last of three campaign events in Ohio.
Larissey, wearing a white blouse and holding a 35 millimeter camera with a zoom lens attached to a strap around her neck, stood in a neighbor's front yard across the street, with a handful of others. One woman sat in a lawn chair in her driveway. There were knots of people all along West Pleasant Valley Road, lurking as close to the road as the uniformed local cops on the other side of the street would let them.
A retired nurse, Larissey said she was not a supporter of the president.
"But I respect the office, despite my political agenda," she said.
Her "biggest fear," Larissey said, is that Republican Mitt Romney doesn't win the election because of an "inability to win enough people over."
"Romney has a lot of experience in business and for that reason alone I like him," she said.
Larissey was one of numerous Ohio voters who, in interviews over two days, expressed feelings about Romney that ranged from disappointment to alarm, underscoring the challenge that the presumptive GOP nominee faces in introducing himself to the state and overcoming a largely negative perception. At the same time, Buckeye State residents who support the president acknowledged that a still grim economic picture is going to make it difficult for Obama to win reelection.
Ohio has been a key swing state for many election cycles now, and is once again in 2012. Along with Florida and Virginia, it is in a trio of states that Romney likely has to win to have any shot at defeating Obama. If Romney prevails in those three, he then needs only one out of a handful of other tossup states to put him over the 270 electoral votes required to win the presidency. Iowa, Colorado, New Hampshire, and Nevada are some of the most likely places where Romney could clinch it.
Polling in the state has narrowed steadily over the last three months and shows it now to be a dead heat, with Obama at 46.2 percent and Romney at 45.4 percent, according to The Huffington Post's poll average.
Much of the talk about Ohio in the national press focuses on its 7.5 percent unemployment rate, below the national average of 8.2 percent.
The auto industry, such as the massive General Motors plant in Youngstown that employs about 1,500 workers, has been helped by the auto bailouts extended by former President Bush and continued by Obama. And more significantly, huge natural gas deposits in the eastern portion of the state hold the keys to what many expect will be an explosion of manufacturing and skilled labor jobs.
"We're becoming a manufacturing center again, which is really something I don't think many of us thought would happen," Tony Paglia, with the Youngstown Chamber of Commerce, told The Huffington Post.
But the natural gas industry in Ohio is still just getting started, meaning the jobs harvest is not quite here yet. And voters expressed the same pessimism that characterizes many Americans around the country.
"It's tough right now. It is tough, I must admit, even though I don't want to," said Debbie McGuire, 60, a retired pre-school teacher who taught special needs children.
McGuire, a lifelong Democrat from Sandusky, in the central part of the state on Lake Erie, attended the president's rally there Thursday, where Obama spoke for 27 minutes and then moved quickly toward the crowd of about 300, shaking hands and engaging quickly and intensely with voter after voter after voter.
He was surrounded on all sides by hulking Secret Service agents wearing sunglasses and guayabera-like short-sleeved shirts. All of it -- the crowd surging toward Obama, the sound system playing a "Only in America," by Brooks and Dunn, and the sulfuric temperatures -- combined to make it seem as if the president was being carried along by the crowd. Then he was done, the music stopped, and Obama stood out of sight of the crowd, behind a giant gazebo, chatting with aides who included top advisers David Axelrod and David Plouffe.
McGuire wore a pin with Obama's picture on it that said, "Hope is in the air." But she was more anxious than hopeful when asked how her friends felt about the president.
"I've heard a lot of negative things about Obamacare," McGuire said. "I've heard a lot of socialism.
"I just say give him a chance. You can't do everything you want in one term. I think he's looking out for the poor and the middle class," McGuire said. Of Romney, she said, "I'm not sure that he has the same middle-class values that Obama has."
Numerous voters expressed similar concerns about whether Romney cares about the middle class, showing that despite the president's deep challenges because of the stagnant economy, the Obama campaign's core attack on Romney appears to be having a significant impact on how voters perceive the presumptive Republican nominee.
"I'm a sales guy and I talk to a lot of people. And a lot of people are down on Mitt," said Don Jerub, a mutual investments and insurance salesman, who was in Parma waiting for Obama on Thursday night.
"You don't want to live in this country if he gets in," Jerub said of Romney. "It's basically he's going to shift people to the poor house kind of deal."
Even those who support Romney -– or perhaps it is better to say they oppose Obama -- expressed similar doubts.
"I realize he's probably a good businessman and part of that is making decisions he had to make. I don't know how good he is for the middle class," said Kurt Trill, a 44-year old maintenance technician, who greeted Obama in Parma by placing a McCain/Palin sign from the 2008 election in his front yard, where the president could see it as he drove past.
"I'll probably vote for him," Trill said of Romney. "It's the lesser of the evils."
Down the road earlier in the day, Anna Ciancibello, the owner of Rito's Italian Bakery, looked depressed when discussing the economy and the election. Ciancibello said she had one daughter who had lost a job, one son who was unemployed, and another daughter who was in the process of losing her home to foreclosure.
"I'm not for anybody really. It's bad," she said. "There are no jobs."
Ciancibello was a McCain voter in 2008, and said she would not vote for Obama.
But, she added, "I wish we had someone better than Romney. It's a shame."
And so, for all the positive signs in Ohio, the voters still appear depressed, economically and emotionally, in part because the economy and their politicians are depressing.
Back in front of James Day Park, a man wearing an Ohio State shirt pedaled by Larissey and her friends and stared open-mouthed at the amount of police and security in and around the park.
"What the hell?" he said quietly, causing an outburst from Larissey.
"That's the part that scares me about this nation, that people don't know what's going on," she exclaimed.
Larrissey and her neighbors had been waiting for almost an hour for Obama to appear. She was sweating so profusely that the hair on the sides of her head was soaking wet. And as the minutes dragged by, and the early evening haze seemed to compress the heat and compound it, the locals talked about whether the summer of '88 was as hot as this one.
They jumped at the first signs of the president's motorcade.
"Oh here we go," a man said as five state troopers on motorcycles, their lights flashing, rode in a perfect formation next to one another, filling the road. "Get a picture of that."
"Oh I love this!" the woman in the lawn chair said.
Two more pairs of cops on motorcyles zoomed past, and then a single, and then a helicopter materialized overhead. The woman in the lawn chair seemed to think Obama might be arriving by air.
"Maybe he's in there. Is he in there?" she said of the helicopter. Her neighbors brushed off the question. But a young man said excitedly: "I guarantee you we've all got background checks."
"You watch too much Fox News," another man said, laughing.
The minutes dragged by, and a few more vehicles came by. Then, a squad car with lights flashing, another squad car, a black SUV, another black SUV, and then –- finally -– the jet-black campaign bus carrying the president came into view, a small presidential seal just below the windshield.
Obama himself stood in the front portion of the bus, next to the driver. He leaned against the dashboard and waved to the residents on the side of the road. But in the excitement, and with the light getting dim, some didn't see him.
"He was in the first bus," a man said.
"You think?" said another.
As the motorcade wound its way through the park and pulled up to the heavily guarded venue where Obama would make remarks to a few hundred supporters, the digital message board in front of Parma Baptist Church across the street flashed a message to the president.
"Mr. President, welcome! We are praying for you," the church greeting said. "Please protect all life, traditional marriage and our religious liberties."
The neighborhood residents began to walk or bike home, eager to get out of the heat.

Before You Go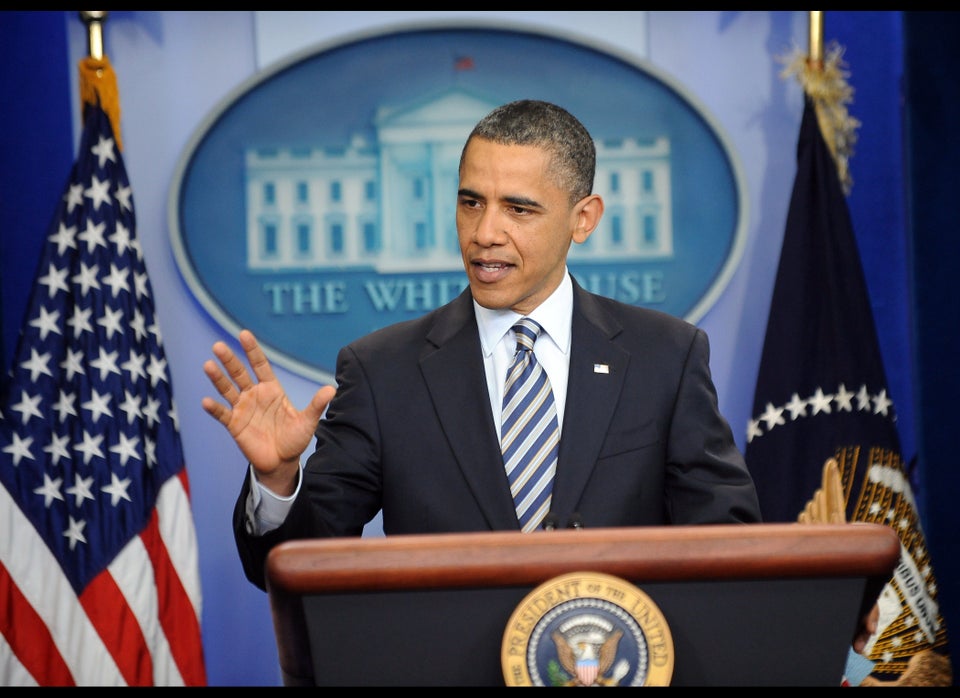 Barack Obama's Greatest Hits
Popular in the Community