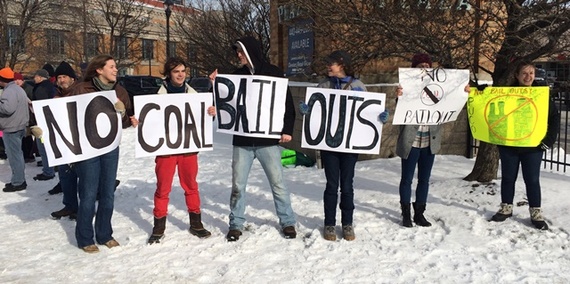 As coal plants around the U.S. become increasingly filthy and decrepit with old age, some utilities want ratepayers to pay billions of dollars to keep them running. We're already paying with our health, our air, and our water - plus, Americans want clean energy like wind and solar. Why should we shell out billions to prop up harmful fossil fuels, when we could instead create thousands of good clean energy jobs that will protect the health and livelihoods of workers and communities?
Well, Ohioans have recently come out in force to three public hearings to ask just that question. Right now Ohio utility FirstEnergy is embattled in a high-profile case before the Public Utilities Commission of Ohio. The company is requesting, along with other Ohio utilities, sweeping bailouts for its aging coal and nuclear power plants -- to the tune of $3 billion!
Instead of competing in the open market where clean energy and efficiency are driving down prices, FirstEnergy wants customers to be stuck paying the bill to bail out old plants that can no longer compete in the marketplace. What's worse, the way they want customers to pay for this bailout.

In the past two weeks, Ohioans have turned out en masse to public hearings in Akron, Toledo, and Cleveland to say "No coal bailouts!" The Cleveland Plain Dealer even used the word "pummeled" when describing FirstEnergy's plan vs. the Cleveland public hearing crowd. These big crowds know that money would be better spent on clean energy investments, not propping up fossil fuel plants.

While local activists say all the testimony has been overwhelmingly in favor of blocking the bailouts, some particular testimony has stood out.

Just this past Tuesday at the Cleveland hearing, one 16-year-old high school student's testimony brought the crowd to its feet with thunderous applause.

Hilary Vogelbaum is a whip-smart high school junior. She's recently spent time interning with a professor at Case Western Reserve University to study organic solar cells. Vogelbaum thinks that's where the billions should be going - to clean energy research and investment.

"It takes a long time to get meaningful (solar cell) research done because of lack of supplies, equipment and personnel," said Volgebaum in her testimony -- which you can read in its entirety here. "If we had the same funds for renewable energy research that FirstEnergy is asking for as a subsidy for its outdated coal and nuclear plants, we would have innumerable new jobs because we would create a thriving new renewable energy industry."

And she's not alone in her views. The coal plant bailout cases have drawn extreme criticism from residential and business electricity consumers alike and other groups, including AARP. Back in October, a group of 12 Ohio businesses, including Lowe's Home Improvement, Staples Inc., and Macy's Inc., sent a letter urging the PUCO to reject the bailouts proposal.

The businesses cited a poll by Public Policy Partners showing a strong percentage of Ohio electricity customers favor clean, renewable energy sources to power the state -- and do not support paying more to keep aging coal plants in operation.
Our state and regional leaders should be helping us build a healthy and prosperous future for our families as we transition away from the dirty fuels of the past. They should take advantage of the growing clean energy industry, investing in local economic development and providing programs that create opportunities for our workforce with good, family-supporting jobs.

Sierra Club Ohio is also part of a broad, diverse coalition of groups fighting the coal bailout - including Ohio Citizen Action, Public Citizen, the Citizens for Keeping the All Electric Promise, the Cleveland Environmental Action Network, the Ohio Organizing Collaborative, CURE Ohio and many others.

I hope Ohio's Public Utilities Commission takes the advice of Hilary Vogelbaum and the rest of our supporters - don't approve the coal bailout! Clean energy should be powering the Buckeye State.
TAKE ACTION: Tell the Ohio PUC to say no to the bailout plan!
REAL LIFE. REAL NEWS. REAL VOICES.
Help us tell more of the stories that matter from voices that too often remain unheard.