 An off-week for the Ohio State football team possibly swelled the number of Franklin County Ohio voters that stood outside of Veterans Memorial to vote.
The convention hall in downtown Columbus opened at 8:00am on the Saturday before the historic election and those on line that early in the morning cast their vote between four to five hours later.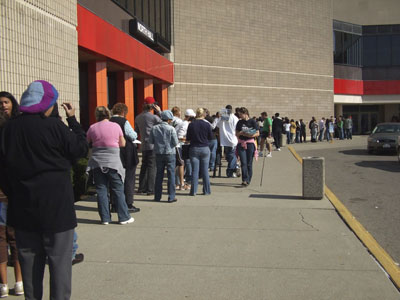 The line outside of Veterans Memorial wrapped around the building and continued its winding path inside.
According to an Obama organizer no one from the McCain camp appeared to have stopped by the site where dozens of voters waited in line. From the look of things, the McCain camp continued to focus on the undecided voters and on this line all had their minds made up -- to vote for Obama.
(Total running time: 1:00 minute)
"I voted for Obama. We 'Baracked the Vote,'" a voter said.
As people exited the polling site, they cheered and encouraged those still on line to "stick with it" and that "it was worth it." Many needed the motivation as news spread that the one hour line outside the building was followed by at least two to three more hours of waiting inside.
Some first time voters felt the weight of this election because the outcome affected their futures and they wanted to decide for themselves what that future would look like
(Total running time 1:00 minute)
But in true Saturday Buckeye tradition, Ohioans came prepared to "tailgate," this time without football.
"The Obama team bought a bunch of refreshments for folks on line," said Dan O'Connor, a New Yorker who came this weekend to Ohio to help turnout the vote. "Anybody like a cup of coffee?"
(Total running time 1 minute 30 seconds)
Popular in the Community