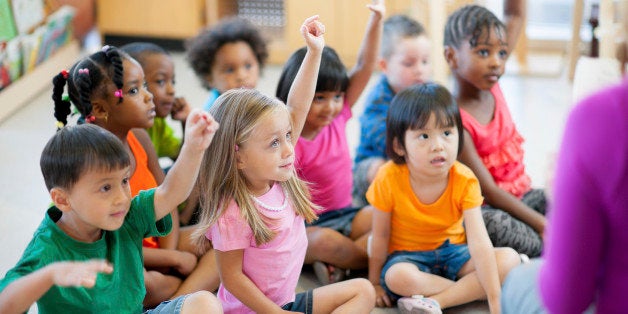 Beyond the presidential election, Ohio is ground zero for two other big fights .
When voters go to the polls in Cincinnati and Dayton, Ohio on November 8th, they'll be voting for more than president and other candidates - they'll also be casting ballots on historic proposals to expand preschool to thousands of children and improve the wages of the educators who teach and prepare them for school and a lifetime of learning.
Rather than wait to see who gets elected president, and what, if anything, the new president and Congress will do to improve early childhood education, smart and forward-thinking Dayton and Cincinnati leaders have taken matters into their own hands by putting on the ballot revenue-raising measures that will pay for significant expansion of pre-kindergarten in their communities.
In Cincinnati, the AMOS Project, a faith-based affiliate of the Ohio Organizing Collaborative, joined forces with Preschool Promise, teachers, and other community stakeholders to successfully negotiate a levy proposal with the Cincinnati Public School (CPS) system that will significantly expand pre-K seats for low-income children, especially children of color. The measure is the product of months and months of community organizing, and builds on AMOS's successful campaign to ban suspensions and expulsions for children in pre-K to third grade, actions that disproportionately punish children of color.
"This didn't come out of thin air," says Elizabeth Hopkins, a mother of children aged one and three and a parent-leader in the AMOS campaign. "We had to organize and make a lot of noise to get this far, and make the point again and again that equal access to education is at the root of a just and healthy community. This is about expanding opportunity for our kids, addressing poverty head on, and making this a better and more affordable city for parents."
In August, after months of negotiation among the parties, the School Board unanimously voted to put the proposal, Issue 44, on the ballot for the November election (to find out more and get involved, click here).
The measure will raise $48 million a year for five years, of which $15 million a year will be used to expand preschool citywide to about 80% of the 4-year-olds in the city (6,000 kids over five years), raise the pay of educators, and offer targeted contract opportunities for independent centers and home-based early childhood education providers. The property tax levy will cost an owner of a $100,000 property about $277.55 per year or about $5 a week.
Issue 9 would cost a taxpayer making $35,000 per year about $1.60 per week. Forty percent of the tax revenue, or approximately $4 million, will go to pre-K. The majority of the new revenue will be paid by those who live outside Dayton, but work there and use city services. This is the first income tax increase in Dayton since 1984.
"We're at a fork in the road," says Bill Dudley, a lead organizer for MVOC. "Either we move forward with this investment and take advantage of the new opportunities it creates for our children and the city, or we can watch our kids fall behind and not get the education and support they need and deserve."
What's significant about these two measures is that they demonstrate the growing demand that exists across the country to fix America's child care and pre-K crisis. The need is great and our kids can't wait.
Only 29 percent of 4-year-olds and 5 percent of 3-year-olds are enrolled in publicly-funded pre-K programs. Just over half of 3- and 4-year-olds are enrolled in public or private preschool programs.
Child care is increasingly unaffordable for all but the wealthiest of families - typical child care expenses exceed rent in all 50 states, and are more than college in the majority of states. Low wage workers are totally priced out of the market and left without any options.
"It saddens me, that the jobs these women have keep them in poverty," Cincinnati's Hopkins said. "These are the most important positions. They're the ones tending to our children."
But the solution to this crisis can't be town by town and state by state. We have a national problem and need a national solution.
We need a massive federal investment to bring affordable, accessible, high-quality child care and pre-school to every child and family in America.
So, this election the choice is clear - for the people of Cincinnati and Dayton, and for the rest of us. Vote child care and pre-K. Vote for kids and families and communities. We're all in this together.

Ethan Rome is the executive director of the Child Care and Early Learning Action Hub, a network of parents, providers, and educators united for high-quality child care and pre-K for all families, and a minimum of $15/hr. and a union for all workers in the industry.
Popular in the Community