In February, a cadre of Republican elder statesmen unveiled their plan to put a tax on carbon emissions, arguing that "mounting evidence of climate change is growing too strong to ignore."
That plan got the backing of Big Oil on Tuesday, as Exxon Mobil Corp., BP, Royal Dutch Shell and Total announced a new campaign to push Congress to consider passing a carbon tax.
Those companies are getting a lot of credit for supporting a carbon tax. But they also have a record of doing so when it seems highly unlikely that such a policy would pass Congress and get a presidential signature. And the industry has a history of working to undermine plans to price carbon when they do stand a chance of becoming a reality.
The Republican-backed carbon tax already has the support of former Treasury Secretary James Baker and former Secretary of Labor George Shultz, who have aligned with business and environmental leaders under the banner of the Climate Leadership Council. Industrial heavyweights, including Johnson & Johnson and General Motors, also have backed the plan. It calls for a $40 per ton tax on emissions, and would phase out much of the Environmental Protection Agency's regulatory authority over planet-warming greenhouse gas emissions. Revenue from the tax would be returned to taxpayers in the form of quarterly dividends administered through the Social Security Administration.
"We have been encouraged by the proposal put forth by the Climate Leadership Council as it aligns closely with our longstanding principles," Exxon Mobil CEO Darren Woods said in a statement on Tuesday. "We are pleased to support the Council as a Founding Member and work constructively to support their policy development process."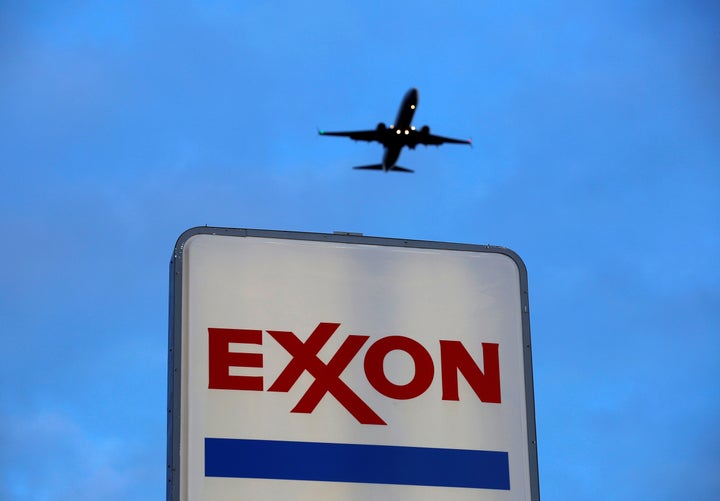 On the face of it, support from a group that includes Exxon Mobil may seem like a coup for those seeking to avert catastrophic climate change. After all, the company spent decades funding a disinformation campaign to discredit climate science, and remains so politically influential its last chief executive, Rex Tillerson, became the secretary of state without any diplomatic experience.
Climate change has become impossible to deny outright, and an overwhelming majority of Americans on both ends of the political spectrum want lawmakers to do something about it. At this point, regulations to limit emissions from burning fossil fuels, industrial farming and deforestation seem inevitable. Big polluters are likely to face fewer restrictions and have a bigger say under a plan sanctioned by business-friendly Republicans.
"What seems interesting about today's announcement is Exxon Mobil," Joseph Majkut, director of climate policy at the libertarian think tank Niskanen Center, told HuffPost by phone. "As far as I can tell, this is the first time they've been publicly attached to such a specific set of policy ideas."
"We've known for a while that Exxon is supportive of carbon pricing as a mechanism," he added. "They add a weight that, along with all these other large business leaders, could provide political cover for Republicans to embrace carbon pricing."
But the oil industry has publicly supported curbing planet-warming emissions for over a decade while quietly working to sabotage any such legislation ― both by funding the campaigns of climate change deniers and torpedoing aggressive policy proposals.
In June 2009, the Democrat-controlled House of Representatives passed a bill to create a cap-and-trade system, which would allow companies to buy and sell credits to pollute. Much of the oil industry came out hard against the legislation: The American Petroleum Institute launched a PR campaign insisting a cap-and-trade market would put regular Americans out of work en masse, a compelling message at any time, but particularly in the midst of the Great Recession. Exxon Mobil, a member of API, ramped up its own lobbying, spending a total that year of $27.4 million ― more than the entire environmental lobby combined, according to the nonpartisan Center for Responsive Politics.
Other oil giants, such as BP and ConocoPhillips, initially supported cap-and-trade talks, though their influence seems to have largely kneecapped the legislation as they pushed aggressively for compromises on transportation fuel. A year in, they abandoned negotiations.
Tillerson, meanwhile, made a splash in 2009 during deliberations over the cap-and-trade bill by declaring that Exxon Mobil supported a tax on carbon instead ― a first for a company whose public messaging previously dismissed the science behind global warming as nonsense. Some environmental leaders said discussing a carbon tax at that point was "a distraction" from the urgent need to put a cap on carbon emissions. Sure enough, the cap-and-trade bill failed to gain traction in the Senate.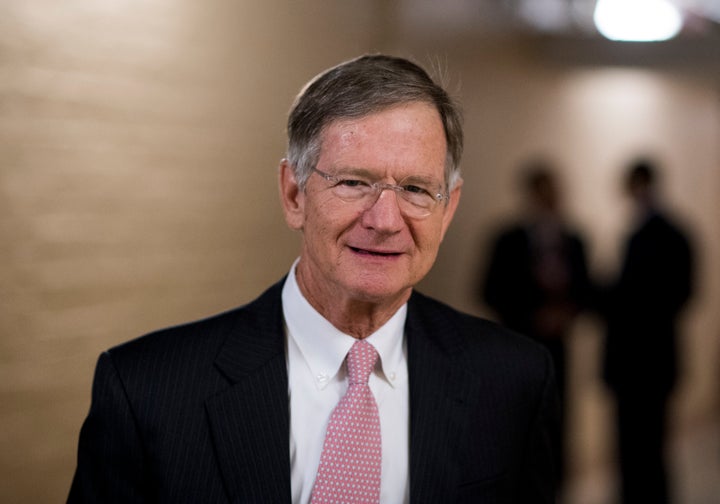 In 2015, a number of oil companies advocated for the Paris climate agreement. Exxon Mobil and Shell also prominently urged President Donald Trump not to withdraw the U.S. from the nonbinding deal to cut emissions two years later. But public statements aside, big corporations, including Exxon Mobil, continued funding the U.S. Chamber of Commerce and other powerful trade associations that lobbied for the new administration to leave the accord and pull back on climate action.
A carbon tax has an uphill climb to gain support among the most hard-line fossil fuel allies in Congress. Rep. Lamar Smith (R-Texas), a vehement climate change denier, leads the House Committee on Science, Space and Technology and is up for re-election next year. Trump, who dismissed climate change as a hoax during his campaign, has aggressively rolled back environmental regulations and moved to bolster fossil fuel use and production. He has indicated he wouldn't push for a carbon tax.
Myron Ebell, a once-fringe climate change denier who oversaw Trump's EPA transition team, said the proposal is, for now, "dead on arrival." He rejected the tax plan as tilted in favor of urban dwellers who he said require less energy than rural folks.
"At least for now it's dead on arrival."
"One of the things that is particularly objectionable about the Shultz-Baker carbon tax dividend is it rewards people in highly urban areas who have very non-energy-intensive lives and jobs," Ebell, who leads climate policy at the Washington, D.C.-based conservative Competitive Enterprise Institute, told HuffPost by phone. "So say you're somebody who commutes to work on the Washington Metro, as I do. I would get a check equal to somebody who has to drive a long way to work every day, who required a four-wheel-drive vehicle because he lives in an area with lots of snow and may have a job that includes heavy hauling, like a plumbing business."
"We should introduce a bill to allow any company that wants to put a carbon tax on itself to do so and send the money to the U.S. Treasury every year," he added. "Consumers would then have the opportunity to go to an Exxon station and pay more for their gasoline because that would be great, because those consumers who agree there should be a tax would be able to put it on themselves."
Oil prices remain another significant factor in the tax proposal's viability. A glut, fed in part by the boom in U.S. shale production, has kept prices per barrel below $100 since mid-2014. Prices hovered around $44 per barrel on Tuesday. That's bad for oil producers, who historically needed prices at $80 to $85 per barrel to break even. Some producers are now breaking even at $50 to $60 prices today, according to data from the firm Rystad Energy cited by The Wall Street Journal. Some companies are even making money on $40 per barrel. Multinational energy giants such as Exxon Mobil and Total can hedge their business enough to remain profitable under a carbon tax, but smaller producers may not be as receptive.
Those low prices, however, may mean this is the best time to get voters behind the proposal.
"From a political point of view, on any big moves toward carbon pricing ― which will have visible price effects for consumers, drivers and industries that use energy ― the low-price future that we apparently have in front of us might ease the pain of standing up a carbon price," Majkut said. "It's easier to do at $2 a gallon than it is at $4."
Before You Go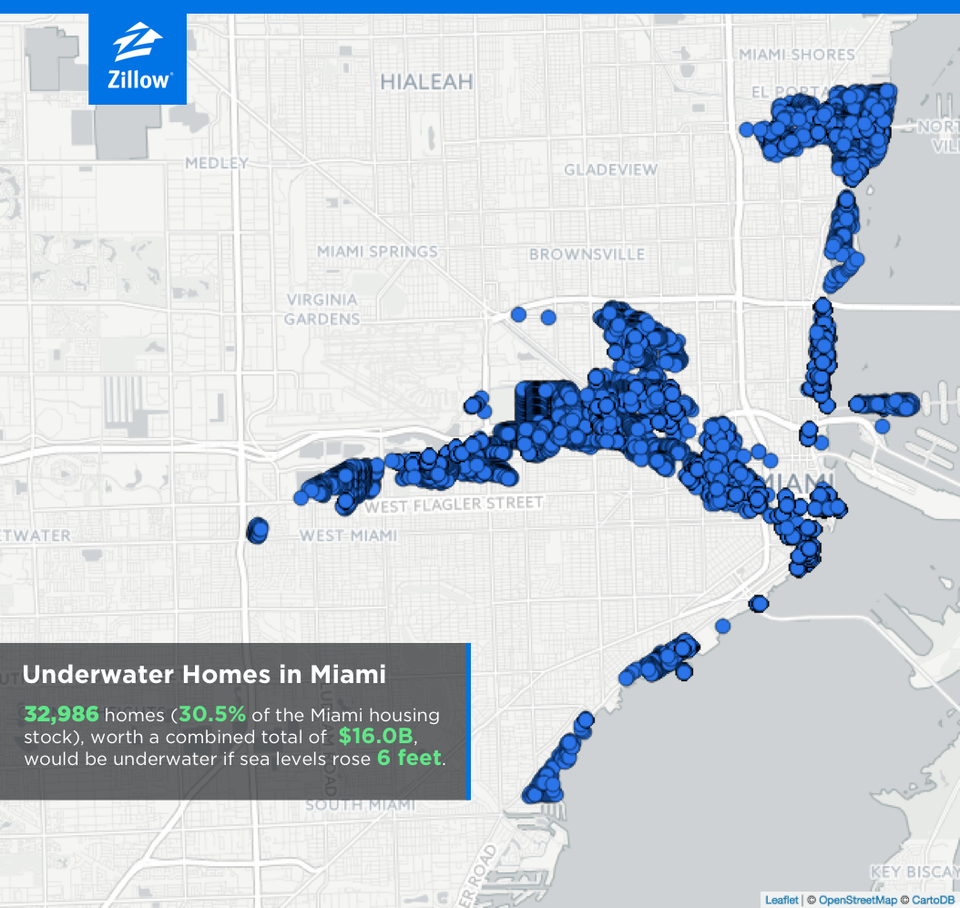 How Climate Change Could Affect The Housing Market
Popular in the Community