Ever since the oil spill happened in the Gulf of Mexico on April 20th, it seems that the federal government has not yet learned from its mistakes in granting a federal waiver to BP in spite of reported problems with environmental and worker safety issues. A report by the Sun-Herald shows that since the ecological disaster happened, over 27 federal waivers have been granted by the Obama administration to oil and gas companies to continue offshore oil exploration studies:
The waivers were granted despite President Barack Obama's vow that his administration would launch a "relentless response effort" to stop the leak and prevent more damage to the gulf. One of them was dated Friday -- the day after Interior Secretary Ken Salazar said he was temporarily halting offshore drilling.

The exemptions, known as "categorical exclusions," were granted by the Interior Department's Minerals Management Service (MMS) and included waiving detailed environmental studies for a BP exploration plan to be conducted at a depth of more than 4,000 feet and an Anadarko Petroleum Corp. exploration plan at more 9,000 feet.
The MMS said that the exemptions were granted because they do not represent final drilling approval. So does President Obama's temporary moratorium on offshore drilling only relate to oil companies that have entered final drilling approval? It's not clear at this point, and has confused environmental advocates like these below:
"Is there a moratorium on off shore drilling or not?" asked Peter Galvin, conservation director with the Center for Biological Diversity, the environmental group that discovered the administration's continued approval of the exemptions. "Possibly the worst environmental disaster in U.S. history has occurred and nothing appears to have changed."
There has to be an actual moratorium on offshore drilling, and that should relate to any stage of oil exploration, whether they have been granted final drilling approval or not. Right now, oil is washing ashore the beaches of Louisiana, Mississippi, and is headed on its way to Florida, with projections given for a possible reach on the East Coast.
That's mind-boggling. A disaster of this reach affecting Texas, Louisiana, Mississippi, Florida, and along the East Coast. The fishing industry is facing unimaginable financial losses, and tourism this summer will take a major hit. People will be facing unemployment and possible hikes in grocery prices as a result of this disaster.
We need to do better than this. We need to end our addiction to oil, and call for a new change in our energy approach. Please take action by urging President Obama to fully reinstate the moratorium on offshore drilling, and ask him to fully consider energy alternatives instead of taking on even more of "clean coal" and "nuclear energy" as a solution to our energy problems.

Here's how you can take action:
You can call your Representatives and Senators at (202) 224-3121, and ask them to support the reinstatement of the ban on offshore drilling. The climate bill must also be changed to strike any provisions relating to offshore drilling.
They often say a picture is worth a thousand words. In this case, I say a photo is worth a thousand reasons why NOT to continue offshore drilling.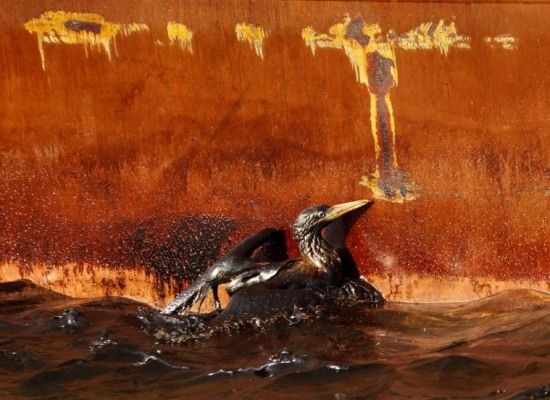 REAL LIFE. REAL NEWS. REAL VOICES.
Help us tell more of the stories that matter from voices that too often remain unheard.