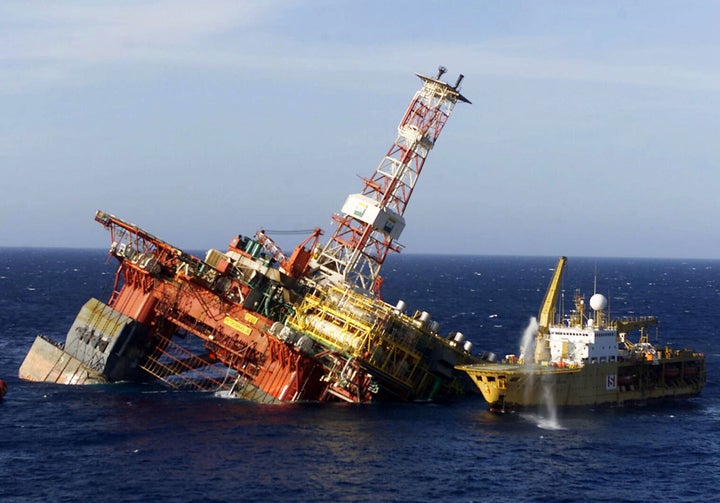 Oil companies are getting hammered by investors for being oil companies.
The price of a barrel of crude is down 60 percent in the last two years. The New York Stock Exchange index for oil and gas stocks has fallen about 25 percent over the same period. Exxon Mobil has been downgraded by Standard and Poor's for the first time since the 1930s. Royal Dutch Shell reported Wednesday its earnings fell 58 percent in the first three months of 2016 from the same period a year earlier. The Paris climate treaty aims to keep global warming below 2 degrees Celsius by cutting fossil fuel emissions. Even Saudi Arabia is trying to get out of the oil business.
How can oil companies react to that sort of decline? They could quit spending billions of dollars to find oil that may eventually be worth nothing, according to Carbon Tracker, an environmental think tank.
Telling an oil company to stop looking for oil is a bit like wanting a car to become a bicycle. Searching for oil in remote, harsh locations is what oil companies have built themselves to do. But Carbon Tracker says in a report released Wednesday that companies may indeed give up ambitious, expensive exploration because, in part, such a move could be profitable.
The world's seven largest publicly traded oil companies could boost the market value of their assets by a combined $100 billion if they built their businesses around the assumption that the world's economy will become low-carbon, according to Carbon Tracker's financial analysis. That would mean they would have to stop spending billions of dollars trying to find new, expensive sources of oil and instead rely on deposits that are easier to reach.
It may seem counterintuitive to think that oil companies would be worth more if they cut back on their perpetual search for places to drill new wells. But it makes sense in a world that responds to emissions restrictions by reducing the need for oil.
Carbon Tracker estimates $2 trillion worth of energy assets could be rendered essentially worthless if climate change is addressed. That means petroleum deposits claimed by oil companies would be stranded assets -- something that has become obsolete and must be recorded as a financial loss.
Some big oil companies are beginning to acknowledge that climate change poses a risk to their usual way of doing business. But the industry is still a long way from making the huge shift that Carbon Tracker argues would be truly beneficial to shareholders.
Calling all HuffPost superfans!
Sign up for membership to become a founding member and help shape HuffPost's next chapter
BEFORE YOU GO