It's been a while since I traded derivatives, or cared about commodity prices, but every so often, I see a chart that makes me miss working at the Federal Reserve Bank. Here is one such chart: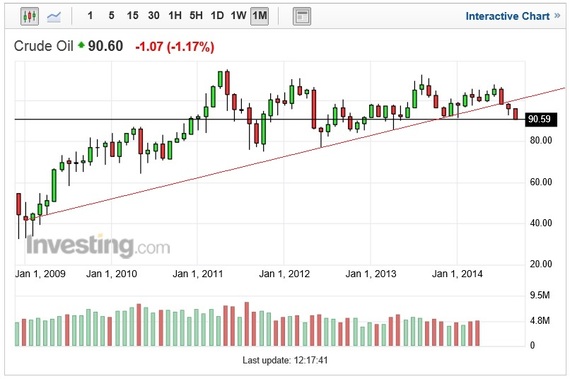 Oil prices fell for the third month in a row as leaders of over 100 nations prepare for the United Nations' Climate Summit, which aims to spur countries to reduce carbon dioxide emissions, largely from fossil fuels. Most media attribute oil price slumps to oversupply from US fracking, omitting the fact that governments are discussing whether oil companies will be allowed to extract all the fossil fuel they've already priced into their stocks.
"Yes, I think when it dawns on the industry that we really can't pull all these hydrocarbons out of the ground, prices of hydrocarbon equities will drop," says Dr. Amir Ali Farman-Farma, Managing Partner, Connexion Capital LLP, a commodity and emerging markets focused alternative investments firm. "You can look for clues in dominant psychology," he added. "When headlines become dominated with climate change risk, when it becomes clear that 'business as usual' jeopardises the survival of the species, and you get mass movements to put a stop to the craziness, and politicians reacting to that, then there will be changes to the way oil companies are valued."

The Japanese started using candlestick charts in the 18th century for rice trading. This monthly Japanese candlestick chart shows oil breaking out of its range with a bearish engulfing pattern. Engulfing patterns are among the simplest, most reliable candlestick patterns. This pattern consists of two candles, the first month being June 2015 (fourth from the last--the last green candle). It's a narrow-range candle that closes up for the month. In June, the buyers are still in control of the price, but because prices stay in a narrow range, volatility is low, and buyers are not very aggressive. The next month, July 2015, is a wide range red candle that 'engulfs' the body of the preceding candle and closes below the bottom of the range. The sellers have overwhelmed the buyers (supply is greater than demand). Sellers take control in August and September breaking through support into the free-fall zone.
"The technical outlook is poor," says political economist Marc Chandler, Global Head of Markets Strategy at Brown Brothers Harriman. "A break of $90 would target $83-$85. I would put it in the broader context of weak commodity prices. I think supply-demand is also negative for oil--US producing the most in several decades and China demand softening."
Oil was lackluster on President Obama's announcement of airstrikes in Syria on September 10th. "I was surprised by the muted reaction of energy and precious metals prices to catastrophic geopolitical news: whether it's gas prices and Russia or oil prices and ISIS," says Farman-Farma. "Gold should be on a tear now, and it isn't, perhaps because traders are pricing in coming interest rate rises, which are bearish for Gold. There is a bearish psychology in the commodities market--look at corn!--and a bullish one in the equity markets, which in the last year have shrugged off bad news, tapering, bad employment numbers, and slow growth. I think this trend will continue until commodities are seriously oversold and equities seriously overbought."
There are some pretty big investors selling fossil fuels: the Central Committee of the World Council of Churches, a fellowship of over 300 churches which represents some 590 million people in 150 countries, recently endorsed fossil fuel divestment, agreeing to liquidate its own holdings and encouraging its members to divest. The decision resonates among the World Council of Churches Central Committee, made up of dozens of influential religious leaders from around the world.
Will they be quick enough?
"Oil prices continue their nosedive," Carsten Fritsch, an analyst at Commerzbank AG in Frankfurt, says, following up his report that if oil falls further, OPEC may reduce output.
The World Council of Churches plans to finish divesting in fossil fuel by June 2018. Nobody can say what the value of oil will be by then.
Clean energy looks like a good deal. Solar and wind power prices have fallen since the last time many countries pledged emission cuts in 2009 at U.N. climate talks in Copenhagen, Denmark, according to Jennifer Morgan of the World Resources Institute, a research group.
Support HuffPost
The Stakes Have Never Been Higher
Related
Popular in the Community