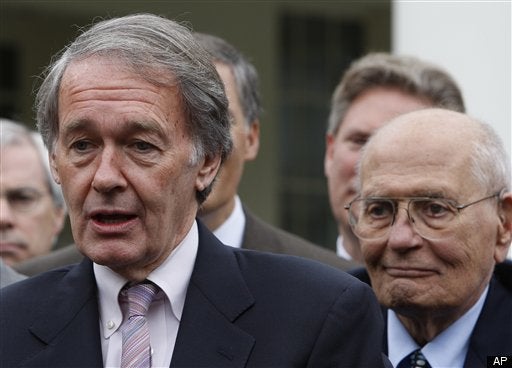 The House Select Committee on Energy Independence and Global Warming has called the chief executives of America's top five oil companies to testify on the growing Gulf Coast spill and the companies' rising profits coupled with rising prices for consumers.
Committee Chairman Ed Markey (D-Mass.) blasted out a press release Thursday, reproduced below:
Markey Calls Oil CEOs to Congress

Oil Spill in Gulf, Energy Policy, Effects of Gas Prices on Economy Prompt Request for Oil Heads

WASHINGTON (April 29, 2010) - A large, growing oil slick in the Gulf of Mexico has been set on fire to contain the damage and is threatening the coastline. Oil profits are up. And the nation's largest oil companies are finally coming to the table to discuss America's energy policy.

With these multiple issues at play, Rep. Edward J. Markey (D-Mass.) sent formal notice to the heads of America's top five oil companies to soon appear before the Select Committee on Energy Independence and Global Warming, which Rep. Markey chairs.

"From the health of our economy to the health of our environment, it's time for the American public to hear from the oil companies," said Rep. Markey. "Their opinions and answers on the issues of energy policy are vital given the push in Congress to construct a comprehensive energy independence strategy for our nation."

The Gulf of Mexico oil spill, which is now leaking at a rate of 5,000 barrels of oil per day, could by next week exceed the size of the Santa Barbara oil spill of 1969. This accident follows the release of thousands of miles of coastline by the Obama administration for potential new offshore drilling.

Meanwhile, gas and oil prices have continued to rise, even as American families and businesses are beginning to recover from a recession. The average price of gasoline has now crept towards three dollars, averaging nearly $2.90 per gallon, an increase of about 85 cents compared to this time last year. And driving season hasn't even yet begun.

"Four dollar gasoline helped break our economy's back. And now, just as we are starting a recovery, the price of gas is creeping back towards three dollars, threatening the budgets of families and small businesses across the nation," said Rep. Markey. "We need to craft a comprehensive strategy that protects consumers, and our nation's oil companies must join us in that effort."

Oil profits are also up for the top five oil companies -- Exxon Mobil, BP, ConocoPhillips, Shell and Chevron. Exxon Mobil today reported a quarterly profit increase of 38 percent, or $6.3 billion. BP, which owns the sunken rig, reported a first quarter net profit of $6.08 billion, an increase of 137 percent. ConocoPhillips reported increased earnings of $2.1 billion for the first quarter. Shell announced profits of $4.8 billion, rising by 60 percent. Chevron will announce its earnings report on Friday.

The exact date and time of the hearing will be announced soon.
Calling all HuffPost superfans!
Sign up for membership to become a founding member and help shape HuffPost's next chapter