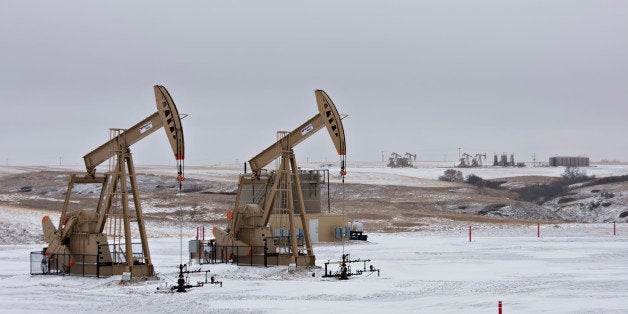 WASHINGTON -- A new report from the environmental group Natural Resources Defense Council has analyzed the data on spills and other violations at oil and gas wells across the country. But perhaps the most interesting aspect of the report is how little data the group was able to turn up.
Based on NRDC's evaluation of dozens of state databases, only three states -- West Virginia, Pennsylvania and Colorado -- have easily accessible, publicly available data on spills and other violations. That's three states out of 36 that have active oil and gas development.
"We looked at 36 states, and there are only three states where it would be easy for a member of the public to sit down at their computer and get some information about a company's compliance record," said report co-author Amy Mall, a senior policy analyst at NRDC.
There are other states where citizens can file requests for data, but these three are the only ones where the information proved relatively easy to access, the group said.
Even among these three states, it turned out there was some inconsistency in the types of data available. Colorado's database isn't searchable, nor does it include descriptions of any violations. Pennsylvania and West Virginia both organized their violation data in ways that NRDC called "overly vague." West Virginia's database for spills, for example, lists the names of affected streams, but doesn't describe the extent of any potential damage. Colorado, meanwhile, lists how far each incident occurred from drinking-water sources and notes whether groundwater or surface water was affected, but it doesn't name any of the bodies of water in question. The laws about what constitutes a violation also differ for each state.
"Because these companies operate right in people's backyards -- and sometimes they operate in peoples' backyards that don't want them there, and they won't benefit -- people should know who these companies are and whether they're good actors," said Mall.
Despite the varied data, the group tried to come up with an assessment of violations across the states. In Colorado, the data showed 235 violations and 1,933 spills between 2009 and 2013. In Pennsylvania, there were 3,978 violations, but the number of spills was not available. In West Virginia, there were 364 violations listed and four spills.
The group looked at the number of violations in those three states from the 68 largest oil and gas companies operating in the U.S. The report lists the top three companies in terms of total violations: Chesapeake Energy, Cabot Oil and Gas, and Talisman Energy.
They also break out the top number of violations by state. In Colorado, Chevron's 1,426 wells racked up the most violations, with 53. In Pennsylvania, Chesapeake Energy had 589 violations at 2,618 wells. And in Ohio, EQT Corporation had the most violations, with 92 incidents at 502 wells.
The Huffington Post reached out to the companies listed above for comment, but only received responses from Chesapeake, Talisman and EQT. Chesapeake declined to comment for this article, while Talisman and EQT offered statements.
"We work extremely hard to be a responsible operator, and we're disappointed that these numbers represent a part of our early operating history in Pennsylvania," a spokeswoman for Talisman told HuffPost in an email. "While the majority [of violations] from this period were categorized as administrative in nature, we took every one extremely seriously, ensuring each was addressed, closed to the satisfaction of the regulator and used for improvement purposes, as indicated by the more than 75% decline in violations after 2010 to fewer than 20 in 2014."
"We are very encouraged to know that the states in which we have our primary operations -- Pennsylvania and West Virginia -- have some of the most transparent reporting of the oil and gas industry in the country," an EQT spokeswoman said. "When reviewing the NRDC's report, however, it's important to keep in mind that a 'Notice of Violation' (NOV) has a broad array of criteria and simply stating a gross number of NOVs does not clarify the severity of a given incident. An NOV may be issued for anything from a critical operational incident to something purely administrative in nature. Therefore, it is difficult to determine from this report the nature and extent of the violations in question."
The NRDC report notes that data on federal violations is also not particularly easy to find. The Environmental Protection Agency has an online violation tracking system known as the Enforcement and Compliance History Online (ECHO), which contains information on a number of violations of federal environmental regulations across all types of industry. But NRDC argues that the database is isn't exactly user-friendly. Users have to know specific industry codes in order to narrow down their search, and even then, researchers found that information like the date of the violation or the party responsible was sometimes missing from the database.
"ECHO reflects the data that is directly reported to EPA from our state partners," an EPA spokeswoman told HuffPost on Wednesday. "ECHO continues to be enhanced to make information more accessible to the public, using the most current information technology."
NRDC argues that states need better regulations and disclosure policies that would "ensure that the public can easily find information on violations, and that illegal acts are recorded." Federal regulators could also work to make information more easily available to the public, the researchers said.
"Transparency is a good thing," said Mall. "Companies that are better actors are going to look good. And for regulators, the public wants to see they're out there issuing notices."
Update, 2:10 p.m. -- Cabot Oil and Gas issued a statement about the NRDC report Thursday afternoon.
"It is hard to respond to a report that is vague and self admits that 'information is often incomplete, misleading, and/or difficult to interpret,'" reads the emailed statement. "Rather than just randomly list companies, Cabot would rather be judged on its strong and clear record of industry-leading water recycling efforts, use of its own gas to help power its operations and fleet of vehicles and our long list of contributions to our community partners. Not vague innuendo put out by anti-industry groups."
This story has been updated to include comment from EQT and Cabot Oil and Gas.
Before You Go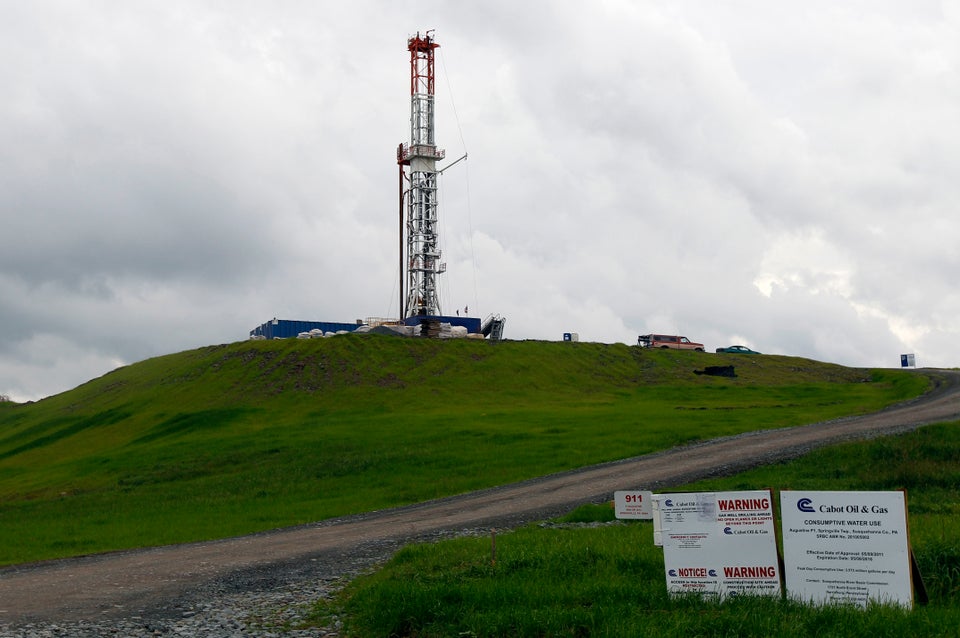 Drilling And Fracking Photos
Popular in the Community