The U.S. oil industry remains heavily dependent on state and federal subsidies to make drilling profitable, particularly as the price of crude stays at historical lows, a new study found.
Forty-seven percent of discovered oil reserves that remained untapped by the middle of last year required subsidies to turn a profit with prices at about $50 per barrel, according to the research published Monday in the journal Nature.
"Almost half of new U.S. oil fields would not be profitable, and would not go ahead without subsidies," Peter Erickson, the study's lead author and a senior scientist at the nonpartisan Stockholm Environment Institute, told HuffPost by phone. "This is an industry that's been around for a century, so for it to still be so dependent on these tax breaks, most of which are permanent, was surprising."
The analysis provides one of the most detailed pictures to date of the industry's reliance on tax breaks and government handouts. Federal allowances ― of which the Obama administration identified nearly $4 billion in 2012 ― abound. For example, producers can write off oil and gas that gets flared or used on drilling sites to power equipment, and never have to pay royalties on it. They can deduct many drilling and field development costs. Special exemptions for so-called "master limited partnerships" allow huge chunks of the industry to avoid corporate income taxes.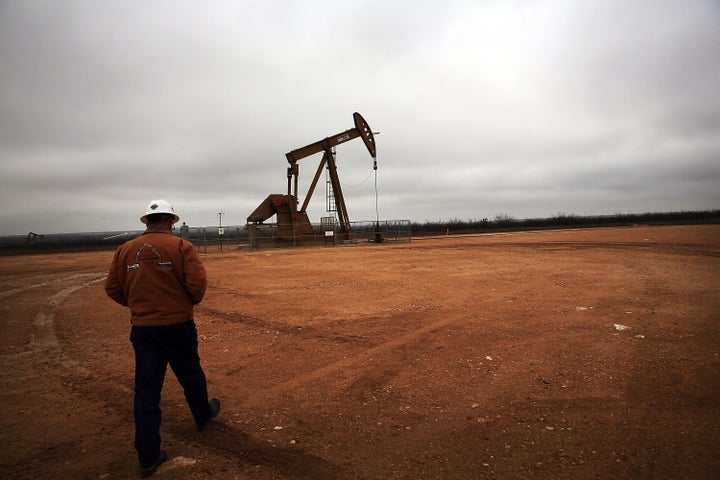 States can be even more generous. Some, such as North Dakota and Texas, pay to repair roads damaged by oil and gas drillers, cover the risk of transporting the fuels by rail, or allow companies to provide funding to close exhausted wells at well below the expected rate, transferring the cost to the public.
Using industry data purchased from the oil investor research firm Rystad Energy, the Seattle-based Stockholm Environment Institute calculated how big an impact subsidies make on how much drillers can earn from a field. The rate of return on a drilling site in Texas' Permian Basin, for instance, increases on average from 7.5 percent to 18.5 percent after subsidies are factored in.Because the industry considers a 10 percent rate of return the minimum required to proceed with drilling, the aid makes a huge difference.
"Without it, nearly half of new U.S. oil can't stand on its own feet," Erickson said.
Fossil fuel advocates ― ignoring their hypocrisy ― make the exact same argument against government assistance for renewable energy. Conservative groups, often backed by the oil industry, have repeatedly inveighed against subsidies and tax breaks for solar energy, insisting they "only help the rich." In an op-ed for The Hill last year, the American Enterprise Institute scoffed that "solar energy can't survive without massive subsidies."
Such critics found a bogeyman in Solyndra ― the Silicon Valley solar-panel startup that collapsed in 2011, leaving taxpayers on the hook for $535 million in federal guarantees. The company fell victim to competition from cheaper Chinese imports. Yet those same imports have since allowed the rooftop solar installation industry to boom in the U.S. The solar industry created 1 in every 50 new jobs in the U.S. last year.
Meanwhile, most subsidies benefiting renewable energy remain temporary, such as the 30 percent federal tax credit for the solar industry set to expire by 2021. By contrast, most of the oil industry subsidies are permanent.
"Here we have this century-old industry in the U.S., which should be able to stand on its feet at $50 a barrel, and it's not."
"Subsidies have a purpose, they make sense when you're trying to help a technology in its early stages that's going to provide a big public good," Erickson said. But in oil companies, "we have this century-old industry in the U.S., which should be able to stand on its feet at $50 a barrel, and it's not."
The sweeping tax overhaul sought by the White House is unlikely to eliminate the giveaways to oil producers. President Donald Trump made increasing domestic oil and gas drilling a top priority under his so-called America First Energy Plan, slashing environmental regulations and moving to open wildlife refuges to drilling.