For more than a decade, there's been a boom in U.S. oil jobs. Now, with the price of crude below $50 a barrel for the first time since a financial crisis plunged the economy into a deep recession, the end of that boom seems near.
The U.S. economy added 252,000 jobs in December, the Bureau of Labor Statistics reported on Friday. Just 400 of those jobs, or 0.16 percent of the total, were in oil and gas extraction. That's a huge reversal: Since 2008, the oil and gas sector has added 61,500 jobs, accounting for nearly 4.5 percent of new U.S. jobs, according to Convex Capital Management research director Sonu Varghese.
It's pretty easy to guess why oil companies might not be keeping up the rapid hiring pace of the past few years: Oil has tanked. Here's a chart showing the price of oil and the total number of people employed getting oil and gas out of the ground over the past decade.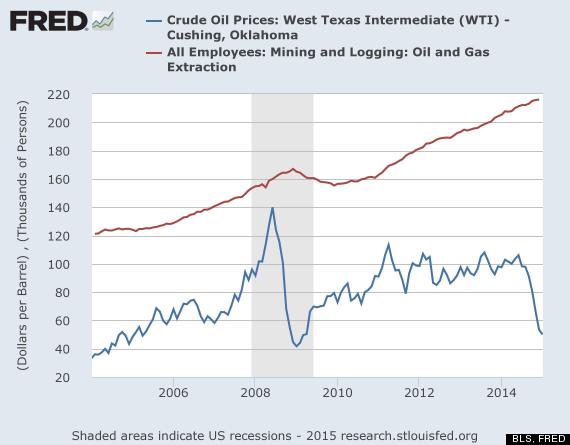 In the short-term, the floor has fallen out from beneath the price of oil, and the rate of new oil jobs has slowed to a trickle. In 2014, the U.S. economy added 2.95 million jobs. Just 10,800 of those jobs were in oil and gas, a paltry 0.37 percent of the total.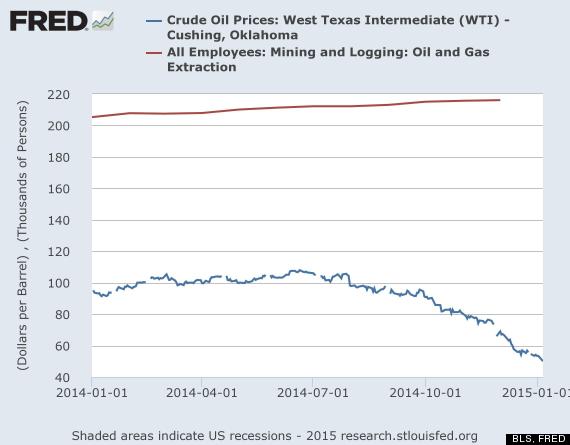 Oil has crashed, and it's likely to take the decade-long boom in U.S. oil jobs with it.
What we aren't seeing, just yet, is a sharp decline in oil jobs to match what we've seen in oil prices. It takes a while for oil companies to adjust the size of their workforces to their projected profitability based on the real-time price of oil. Not hiring anyone is an easy and quick decision. Laying off people is a much harder and bigger decision for most companies. There are already reports that companies are planning significant layoffs. U.S. Steel isn't technically speaking an oil company, but it is planning to lay off 756 people who work in its oil and gas pipe-making business.
It also takes time for decisions at individual companies to show up in the monthly jobs report. Baker Hughes cut its number of oil rigs by 29 between December 29 and January 5. Several oil companies announced at the end of the year that they planned to suspend drilling operations at some sites. Any jobs lost from those decisions won't show up until next month's jobs report.
More anecdotally, in the formerly booming petro-state of North Dakota, the "Bakken Club," a private drinking and eating club in Williston, North Dakota, that cost $25,000 to join, is no more. The club, named after the region's shale-oil formation, was evicted last month for failing to pay rent, Bloomberg reported.
Calling all HuffPost superfans!
Sign up for membership to become a founding member and help shape HuffPost's next chapter