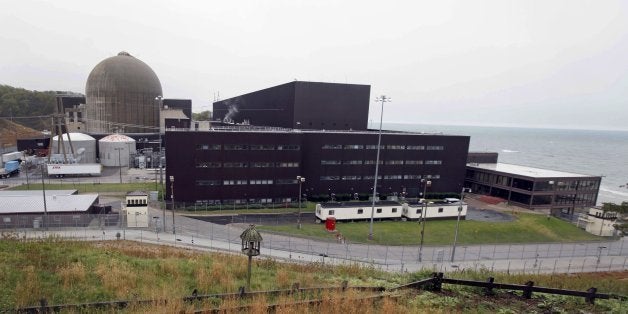 A leak at a nuclear power plant went undetected for weeks, allowing up to 2,000 gallons of oil to flow into Lake Michigan.
Staff at the Cook Nuclear Plant in Bridgman, Michigan first began actively looking for the leak December 17 after discovering that the oil level had declined in one of the facility's turbine lube oil reservoirs. The turbine lube oil system contains about 25,000 gallons of hot, non-radioactive oil that runs across tubes and is cooled by the water of Lake Michigan. The leak allowed oil to run into one or more of the tubes and mix with the cooling water, ultimately washing into the lake.
"We regret that this happened," Bill Schalk, communications manager for the plant's owner, American Electric Power, told The Huffington Post. "We're working to make sure this doesn't happen again."
Staff are not sure exactly when the leaking began, but determined through maintenance records that the earliest it could have started was October 25. Cook officials believe oil leaked at about 0.04 gallons per minute, compared to a total water discharge of 1.5 million gallons per minute.
Schalk said that environmental impact was a priority, but no cleanup was possible because the oil had dispersed by the time the leak was discovered.
Andrew Maynard, director of the University of Michigan's Risk Science Center, said that because the oil leaked slowly over time, it may not have had as great an impact than if it had occurred in the same volume over a shorter period.
"Two thousand gallons is a lot of oil -- around 47 barrels -- but in this case it was released into a large body of water over a relatively long period, and therefore most likely dispersed pretty effectively," Maynard wrote in an email to HuffPost. "This doesn't mean that there are no environmental concerns, just that the impact will be significantly lower than if the oil had been released all at once."
The plant said it has notified the U.S. Environmental Protection Agency and the U.S. Nuclear Regulatory Commission, as well as county and state officials, about the oil leak.
Indiana Michigan Power, a division of American Electric Power, runs the Cook Nuclear Plant. Unit 2, where the leak occurred, is licensed to operate through 2037.
Calling all HuffPost superfans!
Sign up for membership to become a founding member and help shape HuffPost's next chapter
BEFORE YOU GO
PHOTO GALLERY
Net Zero Beautiful - How location and design can save you energy