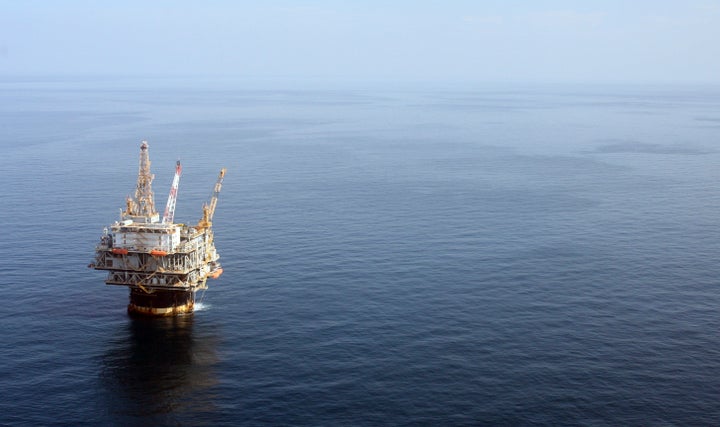 WASHINGTON -- In the month leading up to an early May vote over whether to expand oil drilling in the Gulf of Mexico and open the coastal waters of Virginia for exploration, three of the nation's top oil companies made donations through their political action committees to 26 House lawmakers.
All but one of those lawmakers, including five Democrats, ended up supporting the oil-industry-backed bill. The 26th lawmaker, Rep. Sam Johnson (R-Tex.), abstained from voting, according to data compiled for The Huffington Post by the good government group Public Campaign.
The House of Representatives ultimately passed the Restarting American Offshore Leasing Now Act by a 266 to 149 margin, meaning that even if these 26 lawmakers had flipped their votes, the measure would have passed anyway.
The amount donated by Exxon, Chevron and ConocoPhillips -- information for other oil company PACs has not yet been made public -- was a relative pittance: Just $40,000 in total was distributed among the 26 House members in the month leading up to the vote. By contrast, the 67 co-sponsors of the Restarting American Offshore Leasing Now Act have received a combined total of $8.8 million in campaign contributions from the oil and gas industry over the course of their careers.

That said, the last minute tending the oil industry paid to House members is emblematic of how invested it was in the outcome of that particular legislation and its ability to quickly flex its political clout.
"The pattern doesn't get more clear than this -- those who sided with Big Oil received campaign contributions," said David Donnelly, National Campaigns Director for Public Campaign Action Fund. "Those who didn't got nothing. Oil companies walk away with record profits while sticking it to Americans at the pump. But it's really these politicians who are in the tank."
The bill, which forces the federal government to conduct three lease auctions in Gulf and mid-Atlantic areas by June 2012, was the first step in a GOP-led plan to loosen restrictions on offshore drilling. Environmental activists have raised concern about the damage that could be caused by encouraging more offshore oil exploriation. Energy experts, meanwhile, have questioned whether the leases would have any impact on the price of oil -- both in the short and long term.
Below if the list of lawmakers and the contributions they received this past April:
Rep. John Culberson (R-Tex.) received $2,500 from Exxon's PAC;
Rep. John Barrow (D-Ga.) received $2,000 from Exxon's PAC and1,500 from Chevron's PAC;
Rep. John Graves (R-Ga.) received $5,000 from Exxon's PAC;
Rep. Ralph Hall (R-Tex.) receives $1,000 from Exxon's PAC;
Rep. John Carter (R-Tex.) received $3,000 from Exxon's PAC;
Rep. Cynthia Lummis (R-Wyo.) received $2,000 from Exxon and1,000 from Chevron's PAC;
Rep. Kevin Yoder (R-KS) received $1,000 from Exxon's PAC;
Rep. Marsha Blackburn (R-Tenn.) received $1,000 from Chevron's PAC;
Rep. Dan Boren (D-OK) received $1,000 from Chevron's PAC and1,000 from ConocoPhillips's PAC;
Rep. Michael Burgess (R-Tex.) received $1,000 from Chevron's PAC and1,000 from ConocoPhillips's PAC;
Rep. James Costa (D-Calif.) received $1,000 from Chevron's PAC;
Rep. Tim Griffin (R-Ark.) received $1,000 from Chevron's PAC;
Rep. Sheila Jackson Lee (D-Tex.) received $1,000 from Chevron's PAC;
Rep. Samuel Johnson (R-Tex.) received $1,000 from Chevron's PAC;
Rep. Cathy McMorris Rodgers (R-WA) received $1,000 from Chevron's PAC;
Rep. Michael Ross (D-Ark.) received $1,000 from Chevron's PAC;
Rep. Bill Flores (R-Tex.) received $1,000 from Chevron's PAC;
Rep. Edward Whitfield (R-KY) received $1,000 from Chevron's PAC;
Rep. John Campbell (R-Calif.) received $1,000 from Chevron's PAC;
Rep. John Carter (R-Tex.) received $1,000 from Chevron's PAC;
Rep. John Mica (R-FL) received $1,000 from Chevron's PAC;
Rep. Jeff Denham (R-Calif.) received $1,000 from Chevron's PAC;
Rep. Devin Nunes (R-Calif.) received $1,000 from Chevron's PAC;
Rep. Clifford Stearns (R-FL) received $1,000 from Chevron's PAC;
Rep. Pete Olson (R-Tex.) received $1,000 from Chevron's PAC;
Rep. Charles Boustany (R-LA) received $1,000 from ConocoPhillips's PAC;
Popular in the Community