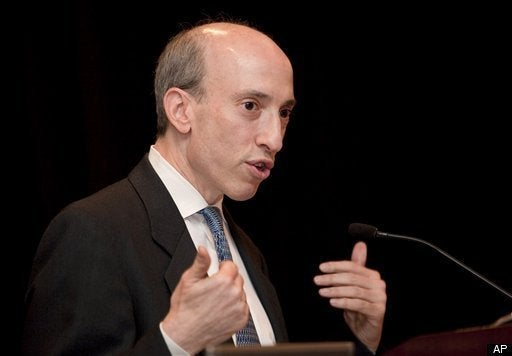 The Dodd-Frank Act gave the Commodity Futures Trading Commission (CFTC) until January 2011 to set mandatory position limits to curb the pervasive and excessive speculation in the energy markets. Well lo and behold, on Dec. 15 the Goldman Sachs alumnus and chairman of the CFTC told congressional lawmakers that the CFTC wouldn't meet the deadline "because it doesn't yet have sufficient data." A few days earlier, Commissioner Jill Sommers, forever happy to lend a good word supporting delay, delay, delay, would instruct us that it was "bad policy to promulgate regulations that are not enforceable." Thus permitting Chairman Gary Gensler, as part of the Sommers/Gensler duo -- the CFTC's own Abbott and Costello act -- to intone, "It's just appropriate to let this one ripen a little more." Just "ripen a little more." Really?
In remarks made on Sept. 19, 2008, before the First Asia Derivatives Conference in Tokyo, Ms. Sommers was quoted as saying:
The U.S. Futures markets have been the focus of intense scrutiny by law makers, the press, and the public over the past year as prices for crude oil and many agricultural products reached record highs. The question on everyone's mind is whether trading is responsible especially with the influx of new traders into the markets... One of the primary tasks of market regulators is to foster high level of market integrity necessary to preserve the important management and price discovery the futures market perform.
Succinct words from a commissioner whose formation included service with the International Swaps and Derivatives Association as head of Government Affairs and Policy, working closely with congressional staff as well as time spent with the Chicago Mercantile Exchange (CME) being responsible for oversight of regulatory and legislative affairs. Talk about putting the lady fox (the reverse would be inappropriate) in the hen house. This past week as the CFTC put forward a proposal to institute a rule to restrict the number of contracts a firm can hold, and called for a 60-day, public-comment period, Ms. Sommers, now some two years since her Tokyo dissertation, let it be known she would vote against the rule, thereby assuming the mantle of the "Queen of Delay and Obfuscation" on issues relevant to reforming our severely tainted commodities trading institutions and procedures.
In the meantime, Chairman Gensler has been busy passing himself off as a reformer. Gensler is an ex-Goldman Sachs partner, having worked at the firm for 18 years, and was brought into the Treasury Department by ex-Goldman Chairman and Treasury Secretary Robert Rubin (Rubin, perhaps now best remembered for his defense of unfettered derivatives trading with minimal government oversight -- the derivatives market now reaching some $300 trillion or 20 times the nation's annual output). Gensler was quoted extensively in a New York Times article, "Goldman Deal-Maker Now Advocates Regulation": "Wall Street's interest is not always the same as the public's interest," and "Wall Street thrives and makes money in inefficient markets, and I am creating efficiencies in the market." This coming from a man who, according to the Times, "in 2000 played a significant role in shepherding through Congress deregulation measures that led to explosive growth of the over-the-counter derivatives."
When Gensler assumed his post in May 2009, the price of oil was $60/barrel at a time when, according to a then-current overview in the Financial Times, "the fundamentals of supply and demand are weak -- much weaker than current prices imply." Today at $90/bbl with fundamentals still glaringly weak, with inventories near all-time highs and refineries working under capacity, his "efficiencies" or lack thereof, are draining $600,000,000 a day from the economy. We consume some 20,000,000 bbls/day X $30/bbl (the difference $90/bbl-$60/bbl) or a staggering tax on the economy of $18 billion a month with gasoline prices again over $3.00 per gallon and heating-oil costs spiraling.
Mr. Gensler, in his remarks this Dec. 15, went on to observe that 148 days had passed since passage of the Dodd-Frank Act was signed into law, calling for trading limits to be in place for oil contracts come January 2011. He assured that his staff had worked assiduously: "They have had more than 475 meetings with the public on rulemaking, had more than 300 meetings with other regulators and organized seven public roundtables."
All of which sounds very impressive. But, then again, not if you turn back the clock. Mr. Gensler has had much more than 145 days to deal with this issue. On July 27, 2009, the Wall Street Journal blazoned a headline that, "Traders Blamed For Oil Spike," advising that the CFTC was to issue a report next month "suggesting speculators played a significant role in driving wild price swings in oil prices." We are still waiting.
Also in July 2009, the CFTC announced it was considering volume limits on energy futures by financial/proprietary traders and tougher information requirements. That wasn't 148 days ago, that was nearly 500 days ago, and now they want even more time. Or to quote Gensler once again, "It's just appropriate to let this one ripen a little more," and all the while "it" is ripening we are paying through the nose.
And who has access to the CFTC while the issue is "ripening a little more"? A plethora of industry lobbyists such as the CME Group Inc., the world's largest futures/derivatives trading platform pushing the CFTC to defer setting limits, and Gensler's professional alma mater, Goldman Sachs. A Forbes article on April 13, 2009, "Did Goldman Goose Oil?" hypothesized that Goldman played a key role in the massive short squeeze on Semgroup Holdings, whose oil positions amounted to 20 percent of the nation's crude oil inventories. The squeeze itself was deemed to have a dramatic impact on the price of oil leading up to the $147/barrel on July 12, 2008. Semgroup Holdings filed for bankruptcy on July 22, 2008. And the likes of the Vitol Group, the oil trading behemoth that in August 2008 held oil contracts equal to 57.7 million barrels, according to the CFTC. At the time, according to the Washington Post ("A Few Speculators Dominate Vast Market For Oil Trading") the CFTC also determined that a massive amount of oil trading activity was concentrated with a handful of speculators, and at that time alone 81 percent of the NYMEX was held by financial firms speculating for their clients or for their own account -- seemingly not enough to light a fire under Mr. Gensler nor the CFTC to do the needful, setting trading limits in place post haste. Clearly letting themselves be stonewalled by industry lobbyists was a greater priority than bringing transparency and constructive limits to what by then had clearly become a trading racket, leaving the nation's consumers to stake the chips of the financial casino high rollers.
Meanwhile the economy staggers under indefensibly high prices while our CFTC Commissioners delays and delays, running out the clock to a gullible Congress and Department of Energy. Two commissioners, Scott O'Malia and Michael Dunn, have already advised that though they are "voting in favor of publishing the rule for public comment that they may not ultimately support imposing position limits." We need more public servants like that?
There seems to be but one forthright voice on the Commission -- Mr. Bart Chilton, who earlier this month, stated that the CFTC is "facing pressure from inside and outside the agency" to find a way around the implementation deadlines. "First we have no legal authority to do so. Second that is exactly the type of dancing on the head of a legal pin Washington-speak that folks in the country are tired of -- and they should be."
Mr. Gensler may be a good man, he may be genuine in his efforts, he may have truly distanced himself from his formative underpinnings of Wall Street and the influence of power. Perhaps, perhaps not. If you permit me a baseball analogy, i's the eighth inning. The CFTC All-Stars are playing the Oil-ogopoly All-Stars. The CFTC All-Stars have their ace pitcher on the mound, Gary Gensler, facing the Oil-ogopoly batters. They have already scored six runs this inning and have the bases loaded. The score is Oil-ogopoly 9, CFTC 6. No matter Gensler's previous record, he now needs be pulled from the game. It's high time for Obama to play Yogi Berra "the manager" and get that guy off the mound and maybe cashier the whole team. He might want to keep Chilton in the dugout at least, so that he could give instruction and guidance to the new players coming on board.
And if something isn't done soon the bleachers may collapse, because that is the only ticket anyone will be able to afford.
Related
Popular in the Community