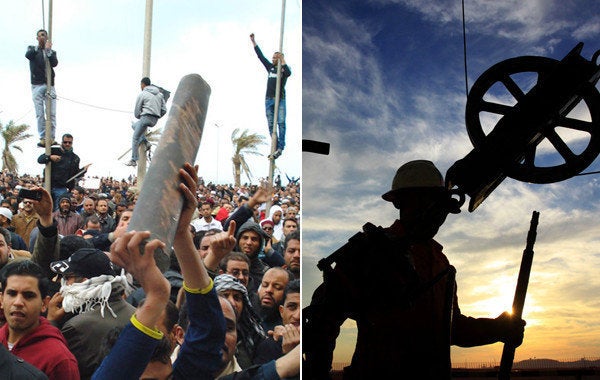 LONDON -- Oil prices charged to fresh 2-1/2 year highs on Monday as traders reacted to increasing violence in major producer Libya, which fed investor fears about rising inflation and unsettled other markets.
Globally, equities were lower but U.S. markets were closed for a holiday.
European equities lost more than 1 percent on a combination of uncertainty over the future of the oil price, increasing signs that higher interest rates may be coming and more evidence of a surprisingly poor earnings season.
Together, the worries overshadowed reports of solid European economic growth.
Gold powered to its highest levels in seven weeks, above $1,400 an ounce, helped along by both inflation fears and risk aversion.
Protests broke out in the Libyan capital Tripoli for the first time following days of unrest in the city of Benghazi and some army units defected to the opposition in what has become one of the bloodiest revolts to convulse the Arab world.
Financial markets are particularly sensitive to the violence in Libya because it exports around 1.1 million barrels per day of crude.
Brent crude gained $2.50 a barrel to hit a new 2-1/2 year high above $105.
Rising oil prices feed into inflation, one of the main current concerns of investors, who are otherwise in a generally bullish mood on expectations that the global economic recovery is now sustainable.
"The situation in Libya looks pretty bad and we're seeing safe-haven flows on the back of that," said Alan McQuaid, chief economist at Bloxham Stockbrokers in Dublin.
MSCI's all-country world stock index was down 0.3 percent and the FTSEurofirst 300 closed down 1.3 percent.
The European weakness came despite euro zone manufacturing data above consensus and the strongest Ifo sentiment data out of Germany since reunification.
European stocks have been hit by mixed earnings. Thomson Reuters Proprietary Research reported on Monday that the number of European companies missing fourth quarter expectations is outpacing those beating them.
The earnings growth rate, actual and predicted, for the STOXX 600 is 18.9 percent, compared with a December estimate of 36.1 percent.
Shares in Carlsberg, for example, fell on Monday after the brewer posted a surprise fall in fourth-quarter operating profit.
The euro slipped as the rising tensions in the Middle East dented risk sentiment.
But it earlier hit its highest level in more than 10 days against a background of hawkish comments from European Central Bank officials that added to expectations a rise in interest rates is on the way this year.
The common currency was trading at $1.3670, down around 0.1 percent on the day. It rose to $1.3727 earlier in the session, the highest since February 10, extending a rise on Friday that was also related to comments from an ECB Executive Board member.
With an Irish election on Friday likely to put in power a party which is openly calling for a renegotiation of its EU bailout agreement, strategists say there is a risk that the euro could come under pressure.
Euro zone policymakers are also struggling toward a more comprehensive package that they hope can put an end to debt troubles.
"With neither the core nor the periphery signaling willingness to find a compromise on the issues for now, the chances are that potential political impasses could erode euro sentiment going forward," said Valentin Marinov, strategist at Citi FX.
Core euro zone bond yields were lower as investors bought safer assets in the face of the Middle East and North Africa events.
(Additional reporting by William James and Anirban Nag; Editing by Susan Fenton)
Popular in the Community