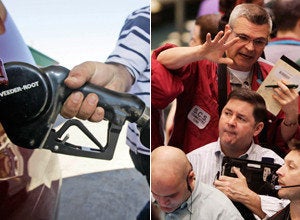 This post has been updated.
NEW YORK -- Oil prices took a nosedive Thursday in a historic selloff, erasing weeks of gains and indicating that the months-long climb in energy prices may have hit a ceiling.
Crude oil plunged 10 percent as startled investors unloaded their positions and a weeklong decline accelerated into an outright freefall. The price of U.S. crude went from triple digits to double digits, falling below $100 after opening at close to $110. Brent crude, a European benchmark, lost $12 at one point in a sell-off that exceeded the one following Lehman Brothers' collapse, Reuters reported.
An oil correction is underway, experts said, as the price is moving toward what fundamental economic factors dictate it should be. For the American consumer, plagued by weeks of rising energy prices that have begun to weigh heavily on the economy, a bit of respite may be at hand.
"This is just a market that rolled over and started feeding on itself," said John Richards, head of North American strategy for the Royal Bank of Scotland.
[UPDATE FRIDAY 9:45a.m. -- Oil prices are jittery on Friday. U.S. crude hit a low below $95, for a 13 percent fall from Thursday's opening price. Brent touched a low just above $105, logging a fall of nearly 13 percent from Thursday's open. Both are now trending upward.]
It's difficult to say what exactly caused the fall. After the news broke Sunday evening that Osama bin Laden was killed, stocks rose and oil prices declined. Stocks later came down from that high, but oil kept declining. On Thursday, the news broke that applications for unemployment benefits jumped last week by the largest degree since August, indicating that high unemployment still drags on the economy. But experts said it's impossible to pin the oil price decline on any single factor.
"There was no triggering single event of news that would account for this. It's just much more the market's own internal dynamics taking prices down here," Richards added.
The price of oil has shot skyward in recent months, as fighting escalated in the Middle East and investors feared a supply shortage. Even as the Organization of Petroleum Exporting Countries pledged to correct any oil supply disruption, the price of a barrel of crude continued to rise. As of the recent peak on Friday, Brent was up 50 percent compared to this time last year. Oil prices had reached levels not seen since the summer of 2008, when months of record-high energy prices helped drag the U.S. economy into recession.
And the price of gas followed. A gallon of regular gas in the U.S. now costs an average of nearly $4, according to the American Automobile Association. That has strained the economy in myriad ways, increasing transportation costs for consumers and businesses and generally making people feel poorer. As prices continued to rise, economists slashed their forecasts for U.S. economic growth.
Almost half of Americans in a recent survey said they had cut back spending or canceled vacation plans due to high gas prices, according to the Royal Bank of Canada, which released its latest U.S. Consumer Outlook Index on Thursday. As energy prices have pushed up transportation costs across the board, a fifth of Americans have scaled back plans because of high air fares, RBC said.
But that trend appears to be reversing.
"Prices can't go up forever," said Mark Vitner, a senior economist at Wells Fargo. "The threat was very real, but it's also very self-correcting."
The effect of Thursday's market move on gas prices remains to be seen. But experts said it's a correction that was long overdue.
"Clearly these markets were overblown," said Nariman Behravesh, chief economist of IHS Global Insight. "We've been saying all along the fear factor has probably added 10 to 15 dollars to the price of a barrel."
Related
Popular in the Community