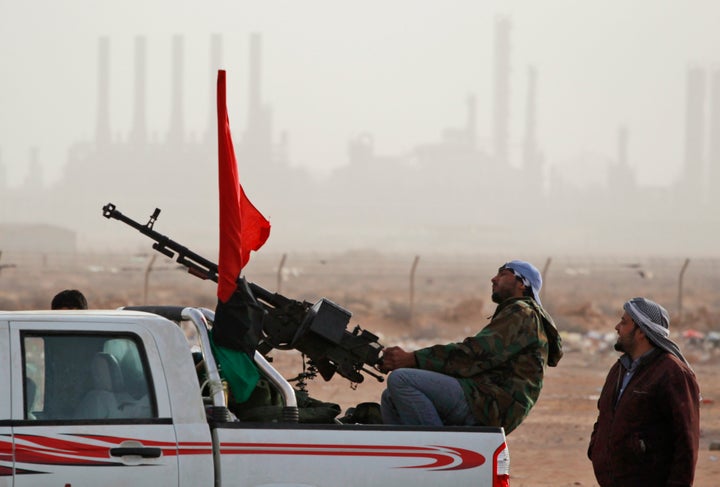 Yet another group of analysts have issued a grim warnings about the recent run-up in oil prices.
In a letter to clients, analysts at Bank of America Merrill Lynch have cut forecasts for global economic growth after continuing unrest in Libya led to rocketing oil prices. The economists cut global gross domestic product expectations for this year to 4.3 percent from 4.4 percent.
They also warn that if oil prices keep climbing and stay high, there could be another recession.
The price of Brent crude, an industry benchmark, hit $116 a barrel on Wednesday after clashes intensified in Libya. Oil production in the country, Africa's largest oil exporter, has been greatly diminished, choking off 1 percent of the global oil supply.
The Bank of America Merrill Lynch economists warned that if prices hit $150 a barrel, and stayed there, there would be a serious risk of global recession. If prices hit $200, a recession would be almost certain.
Right now, rising oil prices were a symptom of anxiety, said Thorbjørn Bak Jensen, oil market analyst at Global Risk Management. "We have seen these increases before. If it lasts for just three months, everything should return to normal," said Jensen. But, he said, "as a rule of thumb, every 10 percent increase in oil prices means a 0.5 percent decrease in global growth."
Nouriel Roubini, one of the economists who predicted the financial crisis, also warned of another downturn. "If you had the oil price going up to where it was in the summer of 2008, at $140 a barrel, at that point some of the advanced economies will start to double-dip," the New York University professor told the Abu Dhabi-based newspaper The National.
A new Reuters poll suggests that a majority of economists believe the global economic recovery is on track, but rising oil prices still pose a major risk.
The impact of high oil prices is already being felt, Americans have started to reduce on spending, and small companies have delayed or skipped plans to hire new workers.
There are also fears that rising energy prices could thwart a recovery in the U.S. housing market as everything from the price of gas, to heating fuel to food is affected. Analysts at Bank of America Merrill Lynch also expect inflation to increase, with their forecast rising to 3.9 percent from 3.7 percent this year.
Libya's oil production has been decimated since the unrest began. Earlier this week, Morgan Stanley announced it would cut off all oil trades with Libya. Analysts say right now, the global economy can cope with current levels of oil disruption: "As long as it does not spread to the UAE, Kuwait, Qatar or Saudi Arabia or worsen in Bahrain, Yemen or Iran, oil supplies from Saudi Arabia and Kuwait should be able to make up shortfalls in Libya," analytics firm Cameron Hanover said in a report.
But $200 oil could be a very real possibility if protests threatened the government of Saudi Arabia, one of the world's largest oil producers. Though Saudi Arabia has increased oil production, it's not clear that the kingdom could make up for a major shortfall in oil production around the world.

The Organization of Petroleum Exporting Countries (OPEC) has also pledged to increase the world's oil supply if it is significantly constrained, news that slowed the climb in oil prices. But the oil minister for OPEC member country Algeria told Reuters this wasn't necessary just yet.
"We are very concerned about the situation," Algeria's oil and energy minister Youcef Yousfi told the news agency. "But for the time being, I think there is no physical deficit in the market."
Calling all HuffPost superfans!
Sign up for membership to become a founding member and help shape HuffPost's next chapter