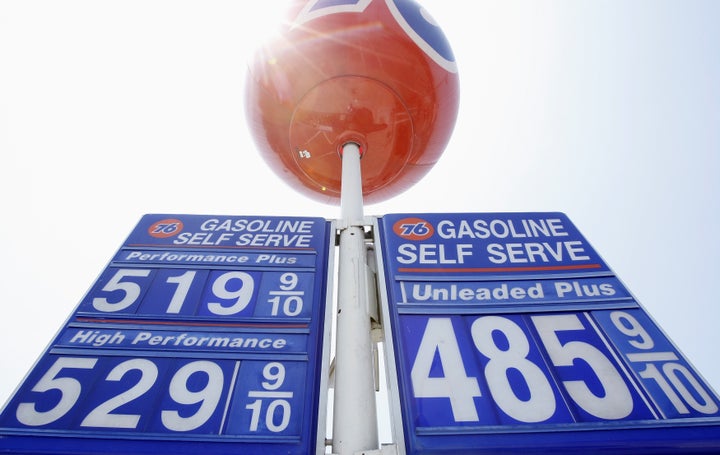 Fears that flooding along the lower Mississippi would disrupt gasoline production at the region's refineries were eased Wednesday, but highlighted the key role the river plays in shaping the nation's energy and commodity prices.
Gasoline futures closed at just over $97 last friday, a low unseen since February, and, as a result, analysts predicted that pump prices would fall in June. Then, cable news networks filled the airwaves with images of the swollen Mississippi River and frightened people who live and work nearby.
Some of the river's major tributaries had begun flowing backwards. The Army Corps of Engineers were imploding dams and talking about opening certain spillways to distribute the water volume. Those decisions produced some flooding but also threatened to swamp refineries in the lower Mississippi River region.

Crude oil costs and gasoline futures contracts are closely watched in part because both inform the price of gas at the pump. When consumers have to pay more for gas, they have less to spend on other goods and services, a scenario that could dampen the economic recovery. But what refiners have to pay for the crude oil they transform into gasoline and consumers pay at the pump is not just a function of what traders buy and sell. It is also a function of how much oil moves down the Mississippi.

"I think that there were a lot of us who thought you had this perfect storm of sorts to bring prices down until we realized the magnitude of what might happen along the Mississippi," said Phil Flynn, a PFGBest Research senior market analyst based in Chicago.

A cluster of 11 lower Mississippi River region refineries have the combined capacity to process about 13 percent of the nation's petroleum products, said Flynn.

The process begins when barges and tankers stop and unload crude oil at river facilities known as docking terminals. When a river swells, it can become impossible for a barge to dock at a terminal. Tanker ships require extra tugboat assistance to remain at terminal. And, a swollen river can render a ship unable to pass beneath bridges to reach certain terminals.
On Wednesday the amount of water flowing in the Ohio River, the Mississippi's largest tributary, forced the U.S. Coast Guard to close 20 percent of its terminals, according to a Reuters report. At least one ship was also unable to clear the Interstate-10 bridge near Baton Rouge, La., because of the Mississippi's volume.

If those sorts of problems continue or spread, the volume of crude oil available to refineries will shrink and refineries will, in turn, slow down gasoline production, Flynn said. This could tighten the gasoline supply and contribute to rising prices at the pump.
Wednesday's events did mark a new twist in May's already dramatic crude oil and gasoline futures price fluctuations.

"This month has been, if you like, bipolar," said Tom Kloza, chief oil analyst at the Oil Price Information Service. The service tracks petroleum prices and is based in Maryland. "To call this May simply volatile is a little like calling Trump a little bit pompous or the Atlantic a little bit wet...But I do not believe that this is the apocalypse."

Crude oil prices rose in January amid political protests in Middle East. In February and March, the spread of unrest in additional oil-producing nations and a joint U.S. Nato bombing operation in Libya pushed crude oil prices even higher. But, in the last two weeks, the value of the U.S. dollar rose, an event that typically pushes crude oil prices down. Then, a combination of power outages and tornado damage in Texas and Alabama dampened refinery production. That is the type of event that might typically push gasoline futures prices up. Instead, futures prices fell Friday in what's generally been explained as a bubble burst.

This week's logistical problems on the Mississippi are happening at a time of year when refining activity is already curtailed for scheduled maintenance and a production switch from winter to summertime gasoline, said Flynn. But so far this year, high gas prices at the pump have kept demand for gasoline low.

"That's the beauty of the market at work," said Flynn.

In fact, a weekly U.S. Energy Information Agency report released late Wednesday morning indicated that demand for gas slipped because drivers are facing an average pump bill of almost $4 per gallon.

The report also indicated that last week U.S. refineries processed 14.1 million barrels of oil. That pushed gasoline inventories about 2.6 million barrels higher than had been expected.

And, information emerged Wednesday that while flooding might force the Army Corps of Engineers to open spillways such as the Morganza in Louisiana, only one small refinery would be certain to close under those circumstances, said Andrew Lipow, president of Lipow Oil Associates, a Houston-based consulting firm. The refinery contributes less than half a percent to in nation's total refining capacity, Lipow said.

"Even if there are some disruptions, other disruptions, we're talking about oil that might have been processed at a refinery in Baton Rouge, having to go to Houston or Beaumont(,Texas) or Corpus Christi (,Texas)," Lipow said.

Commodities markets responded.

On Wednesday, Oil prices began at nearly $104 a barrel and ended the day at $98.57. While crude oil prices were dropping, so were gasoline futures contracts. Gasoline futures -- agreements with large volume gasoline buyers and investors that deeply influence the price of gas at the pump -- fell from about $3.38 cents a gallon to about $3.12 around noon. The 26-cent drop triggered a five-minute halt on gasoline futures trading on the New York Mercantile exchange, according to the Wall Street Journal. By the day's end, gasoline futures rebounded to $3.37.

"It's sometimes difficult to tell what's going to happen," said Lipow. "As more information gets out there ... people are realizing that we are not going to have the worst case scenario -- if the levees hold."
Market activity on Wednesday even sparked a new round of complaints about financial speculation -- and lawmakers' hesitancy to control the activity -- in Washington, D.C.

"What we have now on Wall Street is a crude oil casino, and it has been opened and is now being protected by the Republicans," said Rep. Ed Markey (D-Mass.) at a press conference.

In late April, Attorney General Eric Holder announced that he had created the Oil and Gas Price Fraud Working Group. The task force will explore the possibility of illegal activity in the energy market.

People who think that oil prices have been particularly volatile should think back a few years, Lipow said. In July 2008, the price crude oil reached near $145 per barrel. By January 2009, crude oil was selling for about $40 per barrel.

REAL LIFE. REAL NEWS. REAL VOICES.
Help us tell more of the stories that matter from voices that too often remain unheard.