For the first time since the last oil shock of the early 1980s, global greenhouse gas emissions are poised to fall significantly. The International Energy Agency (IEA) just released its monthly oil report within which they lowered oil demand projections by 1 million barrels per day (Mbd) from last month. Such a fall in consumption brings total demand down 2.4 Mbd (2.8%) from 2008 and translates into a fall in carbon emissions by that percentage.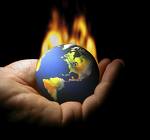 Of course, oil is not the only fossil fuel. Carbon dioxide also is produced by the combustion of coal and natural gas. As long as average growth for these two fuels is less than 1% in 2009, carbon emissions from energy will likely fall overall. And with the IEA projecting global GDP to fall 1.4% for the year, coal and natural gas demand will probably be closer to zero or even negative.
Oil demand is projected to be the lowest in five years, falling at a similar rate to the early 1980s. Such a fall in demand supports OPEC maintaining their current ~4 Mbd cuts through the summer (with impressive ~83% compliance in March). Oil output from non-OPEC countries is now forecast to fall ~.3 Mbd (like last year), mainly due to lower biofuel production, to 50.3 Mbd. Lower non-OPEC oil field investment may translate into continued output declines in 2010, especially in the US where the oil rig count fell a whopping 9% this week to 204 rigs (54% below the November 2008 peak of 442 rigs).
Bottom Line: Emissions aren't just falling in the US. With global demand for oil forecast to fall more than 2.5%, it is likely that global greenhouse gas emissions will fall significantly in 2009. This is great news for the climate, but can only be replicated sustainably and prosperously if we ramp up energy efficiency and renewables deployment in our economic recovery of 2010 and beyond.
I'll continue to give you updated info, along with demand details for coal and natural gas, as the weeks roll by.
Popular in the Community