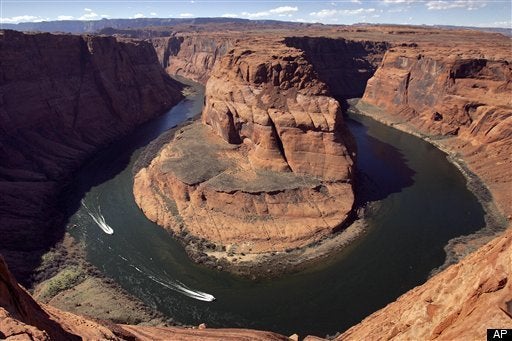 Eyebrows were raised over the weekend when Colorado's Statewide Water Supply Initiative released a report that predicted the state will have difficulty meeting the demand for as much as 1 million more acre-feet of water by 2050.
Somewhat lost in the report's stunning finding that Colorado may need as much as 1 million acre-feet more water in 40 years than it does now were the predictions that the development of an oil shale industry could boost water demand by up to 120,000 acre-feet on the Western Slope.
Oil shale development involves extracting kerogen, a precursor to crude oil, out of the earth by first heating it to the point where it becomes liquid. The federal government estimates that there are roughly 800 billion barrels of recoverable oil are locked in rocks in the Green River Formation of Western Colorado, Utah and Wyoming.
The oil shale extraction process, however, is still in its experimental phase, and has been extremely controversial. In the 1980's, Exxon abandoned its Colony Project, a pioneering oil shale extraction undertaking in Northwest Colorado. The failure of the project left thousands in the region without jobs.
In the waning days of the Bush administration, then-Interior Secretary Gale Norton leased several parcels of federal land in Colorado, Utah and Wyoming for oil shale experimentation, a move that was quickly nixed by the Obama administration in 2009.
Obama's Interior Secretary, former Colorado Senator Ken Salazar, announced a new, smaller, round of experimental oil shale leases in October. In accordance with an interior department official's statement in April that the shale industry was "not ready for prime time," the new leases will be aimed at gauging environmental impacts and the effectiveness of extraction technologies, rather than commercial development.
Despite Salazar's more measured approach to facilitating oil shale development, concern is mounting in the wake of reports indicating a pending water-shortage crisis in Colorado.
The Glenwood Springs Post-Independent reported in 2007 that, based in existing technologies, each barrel of oil produced from shale could could require 1 to 3 barrels of water to produce.
At the time, it was predicted that water use in Colorado, Utah and Wyoming would increase to 4.8 million acre feet--up from 3.8 million from 2001-2003--by 2020. A full-scale oil shale industry could increase that use by another 0.2 to 0.4 million acre feet.
The Statewide Water Supply Initiative's report from this month predicted that a developed shale industry could add 120,000 to the 630,000 acre-feet by which the state may exceed its allotted water supply in 2050.
"Surface and underground mining of oil shale will produce waste rock that, according to the literature we reviewed and water experts to whom we spoke, could contaminate surface waters," the report read.
Whether a booming oil shale industry will develop in the Rockies will depend largely on what is determined from the research and development being performed on leased land. However, the current political emphasis on finding domestic energy sources means energy companies are sparing few expenses in developing the technology to extract the oil from shale.
"The potential for oil shale development in Colorado, and the economic opportunity that it represents, is huge," then-Colorado Governor Bill Ritter said in 2009. "But the prospect of commercial-scale activities raises significant questions."
Popular in the Community