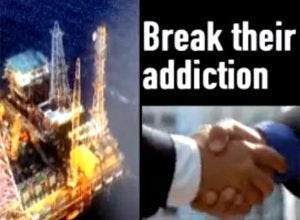 A leading environmental group is upping the ante in the climate change debate, making a major ad buy targeting predominantly Democratic senators to get them to push for more progressive energy legislation in the wake of the oil spill in the Gulf.
Repackaging an ad that has already aired nationally, the Natural Resources Defense Council is now taking its effort local. The group is airing the same spot in key strategic states in an effort to compel more legislative leadership on the climate front. The senators on the list include several non-traditional targets, among them, Sens. Chuck Schumer (D-NY), Bernie Sanders (I-VT), Bill Nelson (D-Fla.), Russ Feingold (D-Wisc.) Dick Durbin (D-Ill.) Patrick Leahy (D-VT), Robert Menendez (D-NJ), and Herb Kohl (D-Wisc.).
There are, to be sure, Republican targets as well. The ads being run in Florida, for instance, will go after Sen. George LeMieux (undoubtedly hoping that the oil spill in the Gulf will have sufficiently spooked him into finding God on comprehensive energy legislation). NRDC is also going after Sen. Scott Brown (R-Mass), in the hope that his moderate voting streak will continue under enhanced political pressure.
But the main message sent is an intraparty one -- which, in part, reflects growing frustration in the progressive community that any action has been taken legislatively in the wake of the Gulf spill. Notably, NRDC is not directing the spots at the president who has urged senators to pick up the pace on energy legislation but has not gotten deep into the sausage-making process (as per his style).
"It's one thing to just fight Republicans deniers but Democrats need to use the devastation in the Gulf to actually lead on climate change," said an official working with the group.
NRDC will be spending six figures on the new ad campaign, which will include an online component targeting the same senators inside their states.
HERE IS THE VERSION OF THE SPOT BEING RUN AGAINST BILL NELSON:
Change shouldn't be this hard. Twenty-nine lost in a West Virginia coal mine. An economy in peril along our Gulf Coast. Mad men using oil profits to threaten the world. Deadly symptoms of a deadly addiction. And still, Congress won't pass a clean energy climate plan, to cut our addiction to dirty fuels. Because Congress is still addicted to Big Oil influence. It's time for politicians to break their addiction so we can break ours. Senator Neslon: We need a strong clean energy climate bill. Now.
Calling all HuffPost superfans!
Sign up for membership to become a founding member and help shape HuffPost's next chapter