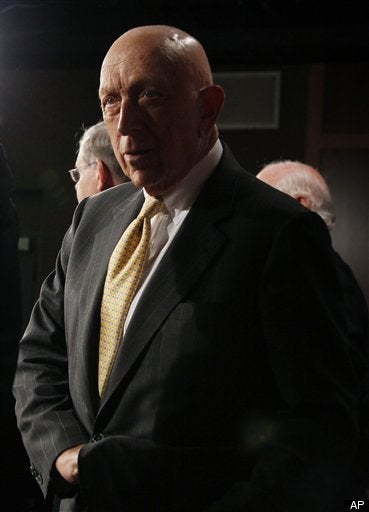 A leading opponent of offshore drilling is making a bold legislative gambit in hopes of preventing any future catastrophic spills.
Senator Frank Lautenberg (D-N.J.) introduced legislation on Tuesday that would require oil companies to begin drilling emergency relief wells concurrently with any new offshore drilling sites off the coast of the United States. The idea is to preemptively ensure that the most surefire safety mechanism is in place should major eruptions or spills occur. It would not apply to sites currently operating in the Gulf.
Officials in charge of stemming BP's spill have said that oil will likely only stop flowing once a relief well is completed in August. Had one been in place earlier, Lautenberg argues, the current ecological crisis could have been avoided.
"My bill takes a common-sense step to contain damages that come with the inherently dangerous drilling business. If relief wells had been in place before the BP rig explosion, the gushing oil could have been stopped in weeks instead of months," Lautenberg said in a statement sent to the Huffington Post. "Clean energy that will reduce our dependence on oil is the long-term solution - but while offshore drilling continues in the Gulf and Alaska, this bill provides a proven way to contain oil spill drilling disasters. I will also continue to oppose any energy proposal in the Senate that does not protect New Jersey from oil drilling in the Atlantic."
Titled the "Emergency Relief Well Act," the philosophical concept behind the legislation actually has some interest among key administration officials. Adm. Thad Allen -- the point man for the administration's response to the spill -- offered support for the suggestion during a briefing last week, calling it a "legitimate point." Both he and White House Press Secretary Robert Gibbs, however, said that it would be something for the Oil Commission to consider, as they craft their post-crisis recommendations.
Congress, of course, can supercede a presidential-appointed commission. And Lautenberg seems to be trying to set the guidelines for the legislative conversation well before the findings of that body are released. In a statement from his office, it is noted that "relief wells were also used successfully to stop two of the world's largest spills, the Ixtoc Spill in Mexico in 1979 and the Montara Spill in Australia in 2009. In both cases, the relief wells took several months to complete."
The Emergency Relief Well Act will be sent to the Senate Committee on Energy and Natural Resources.

Calling all HuffPost superfans!
Sign up for membership to become a founding member and help shape HuffPost's next chapter