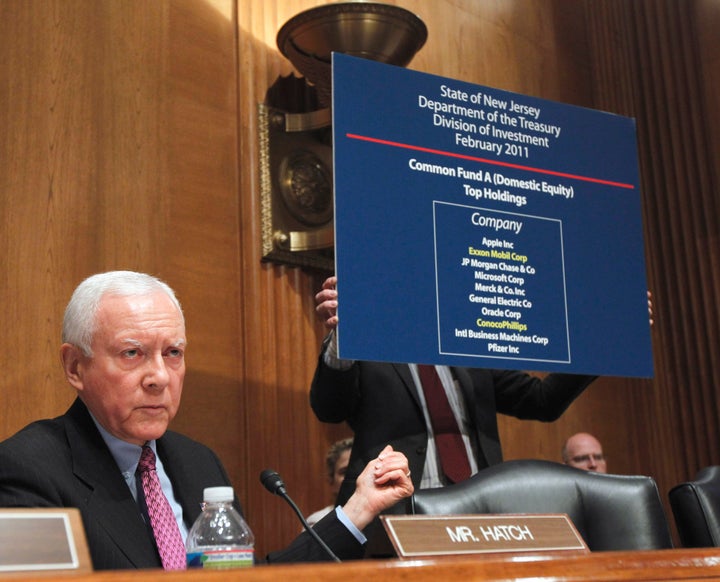 WASHINGTON -- A ceremonial vote over whether to end subsidies to major oil companies failed on Tuesday, with 45 Republicans and three Democrats voting to continue the tax incentives to the five largest oil companies.
Atlhough the 52-48 vote broke down mostly along party lines, Republican Sens. Olympia Snowe and Susan Collins of Maine split with the rest of the GOP to support the effort to repeal oil subsidies. Democratic Sens. Ben Nelson (D-Neb.), Mary Landrieu (D-La.) and Mark Begich (D-Alaska), voted against the bill.
Still, the debate over whether to end the subsidies is unlikely to die with Tuesday's vote. Senate Majority Leader Harry Reid (D-Nev.) vowed to continue pushing for the government to end the series of tax credits to five oil companies, which Democrats say could produce $21 billion over the next decade.
"I am confident that before we finish our budget negotiations here, and in anticipation of raising the debt ceiling, that that will be part of it," Reid said at a midday press conference.
The bill would have cut $12 billion in subsidies for producing oil within the United States for Chevron, Shell Oil, BP America, ConocoPhillips, Exxon Mobile. Another $6 billion would come from eliminating credits for taxes that the oil companies pay to foreign governments, with the final $2 billion from blocking them from writing off certain drilling and development costs.
Republicans said the bill would unfairly single out oil companies, harming their ability to hire American workers, and drive up the United States' dependence on foreign oil.
"Our oil and gas industry is an industry that creates jobs," Sen. Kay Bailey Hutchison (R-Texas) said on the Senate floor. "We ought to be giving every possible fair break to companies that hire in America."
Sen. Orrin Hatch (R-Utah) said the bill was an effort to bring in more government revenue and not reduce the deficit.
"Let's be clear about what's going on here: Democrats want to raise taxes to pay for more government spending," he said.
But Democrats say subsidies are unnecessary given the high price of gas, arguing the oil companies should be paying more taxes because they are making large profits -- a statement that has been echoed by at least one former industry leader. John Hofmeister, former president of Shell Oil, said in February that high gas prices mean that major oil companies do not need more incentives in the form of subsidies to produce in the United States.
Sen. Jay Rockefeller (D-W.Va.) criticized the CEOs of the five biggest oil companies, who appeared last week before the Senate Finance Committee. At that committee hearing, all five said they were against efforts to end the tax credits, which would cut about $2 billion from their profits each year, he said.
"They are so caught up in their profits that they have lost sight of what is happening...on Main Street and around the kitchen table," Rockefeller said on the Senate floor before the vote. "If they had expressed concern for people and then refused to give up their subsidies...at least that would have been a bend."
Even if the bill had passed, it would likely have run up against problems over its constitutionality, as Talking Points Memo's Brian Beutler pointed out. The bill would have increased revenue, running afoul of a rule that says revenue-increasing measures must originate in the House of Representatives.
But Democrats are eager to put Republicans on the record in support for oil subsidies, particularly when some GOP members have said in the past they would support ending them. House Democrats forced a similar vote earlier this month, which failed to gain Republican support.
Several Senate Republicans who previously expressed support for ending the subsidies voted against the bill Tuesday, arguing it was a political ploy by Democrats rather than an effort to lower gas prices or pay down the deficit. Sen. Lindsey Graham (R-S.C.), who has spoken out against the subsidies in the past, said on Tuesday he would vote "with his party" because he believes "oil subsidies should be part of a bigger package."
Republicans will offer a ceremonial vote on their own on Wednesday, when the Senate will vote on a bill to expand offshore drilling. That bill, offered by Senate Minority Leader Mitch McConnell (R-Ky.) is also expected to fail.
Popular in the Community