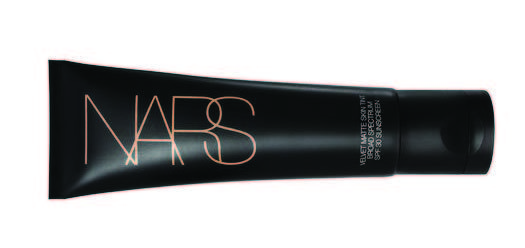 While reading Paper Magazine's latest issue Girls, Girls, Girls I came across the article Meet the Women Proving that their Skin is the Season's Hottest Accessory. Since having good skin is something I constantly try to achieve, I had to continue reading. The story highlighted Nars' new Velvet Matte Skin Tint and declared this product as the "holy grail of a product that matches, protects, mattes and lasts". After reading these positive reviews, I decided to put the foundation to the test and see if it could retain its matte finish and stay in place throughout a long and busy workday.
After prepping my face with Shiseido's IBUKI Protective Moisturizer, First Aid Beauty's Oil-Free Mattifying Gel, and dermatologist prescribed Acanya ®, I was finally ready to put on my makeup. I applied the foundation with my fingers for better blending and found that it had a silky texture; however, it was a little heavier than expected, but it was still extremely light weight for a full coverage product. Since I have a tendency to poke at blackheads (let's be real we have all done it) my nose was redder than usual and the product neutralized it completely. I finished my routine with bronzer for a light contour and blush. The Nars Velvet Matte Skin Tint foundation did wonders to my morning routine, only if I was going out for drinks and not to the office!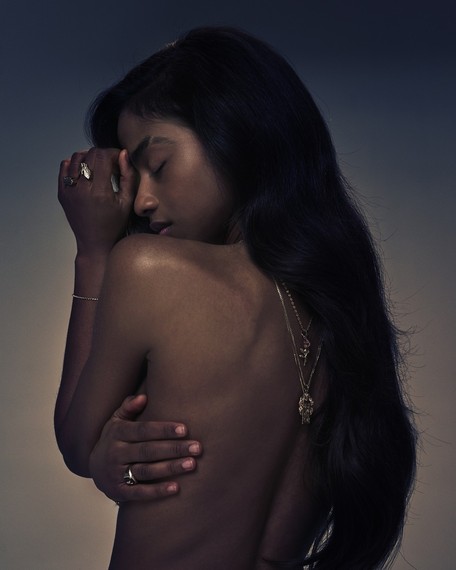 DJ, artist and designer Vashtie Kola posing in the buff with Nars Velvet Matte Skin Tint. Image courtesy of Paper Magazine.
Due to my Mediterranean and oily skin, I am always skeptical of products that proclaim to be 'matte' and 'long-lasting'. On a typical day, I end up finding my face covered in oil only after an hour or two of makeup wear, leading to an extreme amount of diffidence. On the day, I tested Nars' new foundation I found myself running to and from the bathroom to check my reflection, and to my surprise I wasn't the 'oil monster' I typically turn into when wearing liquid foundation. Today was the first day in a long time I truly felt I had a full day of perfect makeup.
Just like the beauties featured in Paper's article, I at times am self-conscious; however, I no longer have to be. Nars' Velvet Matte Skin Tint has not only changed my makeup routine, but also changed my level of self-confidence and made me feel comfortable in my 'own' skin.
To read Paper Magazine's article Meet the Women Proving that their Skin is the Season's Hottest Accessory click HERE
To buy Nars' Velvet Matte Skin Tint click HERE